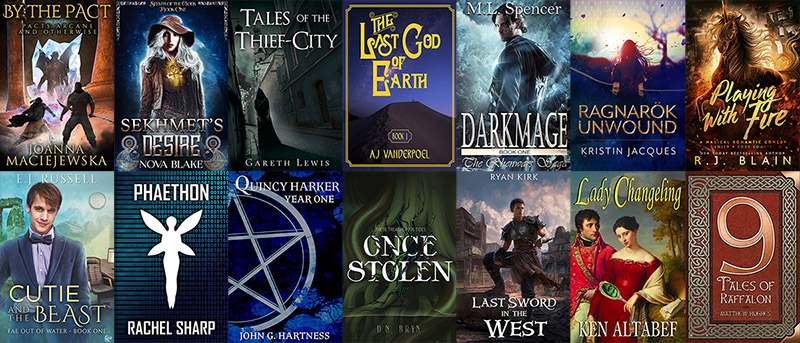 The SFWA Magic and Mayhem Bundle - Curated by the Self-Publishing Committee of the Science Fiction and Fantasy Writers of America (SFWA)
Every fantasy lover knows the basic rules of magic. It always comes at a cost and it never quite gives the expected results. Then it should come as no surprise that the magic in our stories has many explosive consequences! Demolish your way through fourteen novels that span the sub-genres of fantasy while showcasing magic-induced mayhem, from the hilarious to the horrible and everything in between.
SFWA is a nonprofit organization dedicated to promoting, advancing, and supporting science fiction and fantasy writing in the United States and elsewhere. This year the SFWA Self-Publishing Committee cast a wider net when seeking submissions and received substantially more novels to evaluate than ever before. We enjoyed sorting through so many excellent books but faced a doubly difficult task as we narrowed our selections down to these fourteen special stories.
Some of our favorites in this Bundle:
• Darkmage – ML Spencer's award-winning debut novel filled with epic battles, flawed heroes, and a brutal struggle
• Playing with Fire – R.J. Blain's snarky romantic comedy with a body count, featuring a fire-breathing unicorn on a mission of destruction
• Phaethon – Rachel Sharp's tech fantasy that weaves computer hackers, faeries, and corporate greed into a twisted tale
• Ragnarok Unwound – Kristin Jacques's story of a young woman tangled up in a prophecy that sets her off to save the world with the help of a brownie, a Valkyrie, and the goddess of death herself
• Cutie and the Beast – E.J. Russell's novel pairing a former Queen's Champion of Faerie's Seelie Court with a cheeky yet adorable human temp worker, as they prove, once again, that when fae consort with humans, it never ends well
• 9 Tales of Raffalon – Matthew Hughes's intriguing mosaic novel combining nine stories of an enterprising thief as he grapples with crooked guild masters, ghosts, spies, ogres, and a talented amateur assassin
– The SFWA Self-Publishing Committee
* * *
For StoryBundle, you decide what price you want to pay. For $5 (or more, if you're feeling generous), you'll get the basic bundle of four books in any ebook format—WORLDWIDE.
Sekhmet's Desire by Nova Blake
Tales of the Thief-City by Gareth Lewis
The Last God of Earth by AJ Vanderpoel
By the Pact by Joanna Maciejewska
If you pay at least the bonus price of just $15, you get all four of the regular books, plus TEN more books, for a total of 14!
Phaethon by Rachel Sharp
Darkmage by M.L. Spencer
9 Tales of Raffalon by Matthew Hughes
Ragnarok Unwound by Kristin Jacques
Lady Changeling by Ken Altabef
Quincy Harker - Year One by John G. Hartness
Cutie and the Beast by E.J. Russell
Once Stolen by D.N. Bryn
Playing with Fire by R.J. Blain
Last Sword in the West by Ryan Kirk
This bundle is available only for a limited time via http://www.storybundle.com. It allows easy reading on computers, smartphones, and tablets as well as Kindle and other ereaders via file transfer, email, and other methods. You get multiple DRM-free formats (.epub, .mobi) for all books!
It's also super easy to give the gift of reading with StoryBundle, thanks to our gift cards – which allow you to send someone a code that they can redeem for any future StoryBundle bundle – and timed delivery, which allows you to control exactly when your recipient will get the gift of StoryBundle.
Why StoryBundle? Here are just a few benefits StoryBundle provides.
Get quality reads: We've chosen works from excellent authors to bundle together in one convenient package.
Pay what you want (minimum $5): You decide how much these fantastic books are worth. If you can only spare a little, that's fine! You'll still get access to a batch of exceptional titles.
Support authors who support DRM-free books: StoryBundle is a platform for authors to get exposure for their works, both for the titles featured in the bundle and for the rest of their catalog. Supporting authors who let you read their books on any device you want—restriction free—will show everyone there's nothing wrong with ditching DRM.
Give to worthy causes: Bundle buyers have a chance to donate a portion of their proceeds to the Science Fiction and Fantasy Writers of America!
Receive extra books: If you beat the bonus price, you'll get the bonus books!
StoryBundle was created to give a platform for independent authors to showcase their work, and a source of quality titles for thirsty readers. StoryBundle works with authors to create bundles of ebooks that can be purchased by readers at their desired price. Before starting StoryBundle, Founder Jason Chen covered technology and software as an editor for Gizmodo.com and Lifehacker.com.
For more information, visit our website at storybundle.com, tweet us at @storybundle and like us on Facebook. For press inquiries, please email [email protected].