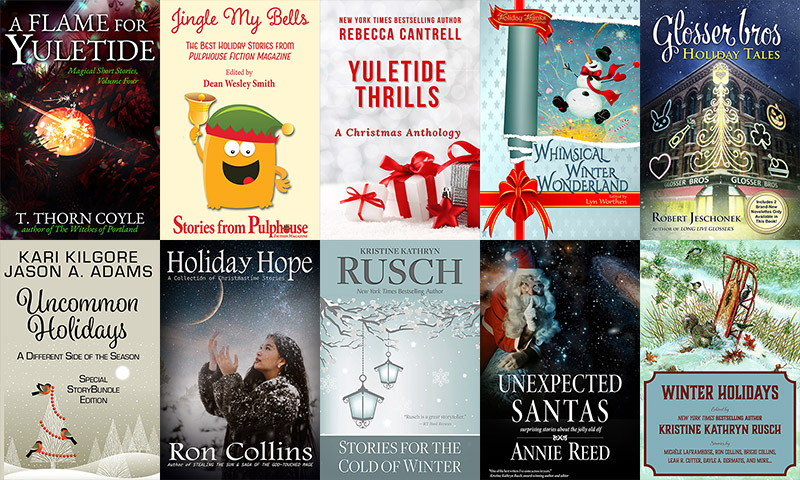 The 2023 Good Cheer Bundle - Curated by Kristine Kathryn Rusch
The holiday season goes by so very fast. I always have a dozen books lined up to read, filled with holiday stories to make me smile—or, in some cases, grimace. I do holiday charity runs, look at some of the free holiday events here in Las Vegas (there are many) and spend as much time with friend-family as possible.
By the end, I haven't read as much fiction as I'd like. Sometimes I only have the opportunity to read a novel or two before the year ends, and it's time to move onto other things.
But short stories…there's always time for short stories. And short stories in ebook form are even better. Just last week, I read a holiday story on my phone while standing in an incredibly long line (at Subway; don't judge me). The story made the time pass quicker, and led me to another story while I munched on my lunch.
When we discussed assembling a Good Cheer bundle, filled with holiday goodies, Dean Wesley Smith, who co-curated this bundle with me, suggested holiday short stories, and we all jumped on the chance. Short stories are perfect for the shortest days of the year. They also can distract us for as little as fifteen minutes while we are dealing with one year-end crisis after another.
Every year, I edit a calendar of stories that people can subscribe to in which they get a short story per day throughout the season. WMG Publishing then compiles those stories into an overall volume, as well as three theme volumes. We've included one of the theme volumes in this storybundle. The Winter Holidays features holidays that are not Christmas. I also included my most recent holiday short story collection, Stories For the Cold of Winter. And Dean contributed an offbeat holiday anthology of his own called Jingle My Bells.
We're not the only ones contributing what we've edited. Lyn Worthen has edited a number of holiday anthologies, and she gives us a much needed light one here, something she calls, "at least three parts cheer and several parts magic."
Then Dean and I asked some of our favorite short story writers to contribute collections of their own. Last year, I read Rebecca Cantrell's collection of thriller/suspense holiday tales, Yuletide Thrills, and I knew we had to include it. Robert Jeschonek's Glosser Brothers stories are perfect holiday fare, as is anything that Annie Reed writes.
T. Thorn Coyle always takes their own perspective on the season. They have an amazing ability to bring hope to darkness and, in this case, some magic to the holiday season.
Another writer couple, Kari Kilgore and Jason Adams, combine their talents to bring us Uncommon Holidays, things that are more than a little unexpected. The collection contains two brand new stories. And Ron Collins gives us a full exclusive—a brand new book that you can't get anywhere else.
Lots to read here, in little bits and bites, as you go about your holiday duties and combine them with your end-of-the-year panic. The stories will relax you and find a bit of magic.
And in that spirit, we've included a holiday charity. The Toys For Tots campaign reaches all across the country, and helps underprivileged kids have the best possible holiday. So as you pick up your holiday reading, chip in an extra dollar or two to make sure that someone else has some holiday cheer. – Kristine Kathryn Rusch
* * *
For StoryBundle, you decide what price you want to pay. For $5 (or more, if you're feeling generous), you'll get the basic bundle of four books in .epub format—WORLDWIDE.
Jingle My Bells edited by Dean Wesley Smith
A Flame for Yuletide by T. Thorn Coyle
Yuletide Thrills - A Christmas Anthology by Rebecca Cantrell
Whimsical Winter Wonderland edited by Lyn Worthen
If you pay at least the bonus price of just $20, you get all four of the regular books, plus six more books for a total of 10, including two StoryBundle Exclusives!
Winter Holidays edited by Kristine Kathryn Rusch
Stories for the Cold of Winter by Kristine Kathryn Rusch
Holiday Hope by Ron Collins (StoryBundle Exclusive)
Glosser Bros Holiday Tales by Robert Jeschonek
Uncommon Holidays: Special StoryBundle Edition by Kari Kilgore and Jason A. Adams (StoryBundle Exclusive)
Unexpected Santas by Annie Reed
This bundle is available only for a limited time via http://www.storybundle.com. It allows easy reading on computers, smartphones, and tablets as well as Kindle and other ereaders via file transfer, email, and other methods. You get a DRM-free .epub for all books!
It's also super easy to give the gift of reading with StoryBundle, thanks to our gift cards – which allow you to send someone a code that they can redeem for any future StoryBundle bundle – and timed delivery, which allows you to control exactly when your recipient will get the gift of StoryBundle.
Why StoryBundle? Here are just a few benefits StoryBundle provides.
Get quality reads: We've chosen works from excellent authors to bundle together in one convenient package.
Pay what you want (minimum $5): You decide how much these fantastic books are worth. If you can only spare a little, that's fine! You'll still get access to a batch of exceptional titles.
Support authors who support DRM-free books: StoryBundle is a platform for authors to get exposure for their works, both for the titles featured in the bundle and for the rest of their catalog. Supporting authors who let you read their books on any device you want—restriction free—will show everyone there's nothing wrong with ditching DRM.
Give to worthy causes: Bundle buyers have a chance to donate a portion of their proceeds to Toys for Tots!
Receive extra books: If you beat the bonus price, you'll get the bonus books!
StoryBundle was created to give a platform for independent authors to showcase their work, and a source of quality titles for thirsty readers. StoryBundle works with authors to create bundles of ebooks that can be purchased by readers at their desired price. Before starting StoryBundle, Founder Jason Chen covered technology and software as an editor for Gizmodo.com and Lifehacker.com.
For more information, visit our website at storybundle.com, tweet us at @storybundle and like us on Facebook.