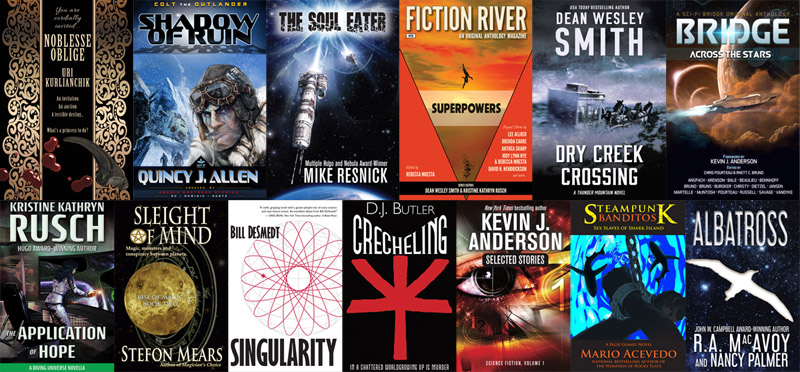 A Bundle of Adventure in Your Science Fiction
As the summer ends, you have just enough time to dive into a universe of exciting science fiction. I've curated a new StoryBundle of a dozen adventure SF books which only runs for three weeks from August 29 through September 19.
This bundle leads off with my newly released collection, Selected Stories: Science Fiction Volume 1, more than 130,000 words of my best stories, twenty tales including my very first published piece of fiction, "Memorial," when I was 12. There's also the Fiction River anthology Superpowers edited by Rebecca Moesta, and the seminal new anthology Bridge Across the Stars, edited by Rhett Bruno.
The nine novels in this bundle range from wild adventure SF (Nobless Oblige by Uri Kurlianchik, Shadow of Ruin Quincy J. Allen featuring Colt the Outlander from Heavy Metal magazine, created by the Aradio Brothers, and Steampunk Banditos, the new Felix Gomez novel by Mario Acevedo), to edgy thought-provoking science fiction (Albatross by R.A. MacAvoy and Nancy L. Palmer and Crecheling by D.J. Butler), disaster black-hole thriller Singularity by Bill deSmedt, and solid, compelling science fiction The Soul Eater by Mike Resnick, The Application of Hope by Kristine Kathryn Rusch, and Dry Creek Crossing by Dean Wesley Smith.
With StoryBundle, you name your own price, minimum of $5 for the base level of five titles, or $15 minimum for the full baker's dozen. A portion of the proceeds goes to support my favorite non-profit, the Challenger Learning Center for Space Science Education, and the rest of the proceeds goes to support the authors and indie publishers.
Fill your mind with stars and adventure. – Kevin J. Anderson
For StoryBundle, you decide what price you want to pay. For $5 (or more, if you feel generous), you'll get the basic bundle of five books in any ebook format worldwide:
Noblesse Oblige by Uri Kurlianchik
Shadow of Ruin by Quincy J. Allen
The Soul Eater by Mike Resnick
Superpowers by Fiction River
Dry Creek Crossing by Dean Wesley Smith
If you pay at least the bonus price of just $15, you get all five of the regular books, plus EIGHT more!
Albatross by R.A. MacAvoy and Nancy Palmer
Steampunk Banditos: Sex Slaves of Shark Island by Mario Acevedo
Selected Stories - Science Fiction, Volume 1 by Kevin J. Anderson
Crecheling by D.J. Butler
Singularity by Bill DeSmedt
Sleight of Mind by Stefon Mears
Bridge Across the Stars by Rhett C Bruno and Chris Pourteau
The Application of Hope: A Diving Universe Novella by Kristine Kathryn Rusch
This bundle is available only for a limited time via http://www.storybundle.com. It allows easy reading on computers, smartphones, and tablets as well as Kindle and other ereaders via file transfer, email, and other methods. You get multiple DRM-free formats (.epub and .mobi) for all books!
It's also super easy to give the gift of reading with StoryBundle, thanks to our gift cards – which allow you to send someone a code that they can redeem for any future StoryBundle bundle – and timed delivery, which allows you to control exactly when your recipient will get the gift of StoryBundle.
Why StoryBundle? Here are just a few benefits StoryBundle provides.
Get quality reads: We've chosen works from excellent authors to bundle together in one convenient package.
Pay what you want (minimum $5): You decide how much these fantastic books are worth. If you can only spare a little, that's fine! You'll still get access to a batch of exceptional titles.
Support authors who support DRM-free books: StoryBundle is a platform for authors to get exposure for their works, both for the titles featured in the bundle and for the rest of their catalog. Supporting authors who let you read their books on any device you want—restriction free—will show everyone there's nothing wrong with ditching DRM.
Give to worthy causes: Bundle buyers have a chance to donate a portion of their proceeds to The Challenger Learning Center for Space Education!
Receive extra books: If you beat the bonus price, you'll get the bonus books!
StoryBundle was created to give a platform for independent authors to showcase their work, and a source of quality titles for thirsty readers. StoryBundle works with authors to create bundles of ebooks that can be purchased by readers at their desired price. Before starting StoryBundle, Founder Jason Chen covered technology and software as an editor for Gizmodo.com and Lifehacker.com.
For more information, visit our website at storybundle.com, tweet us at @storybundle and like us on Facebook. For press inquiries, please email press@storybundle.com.