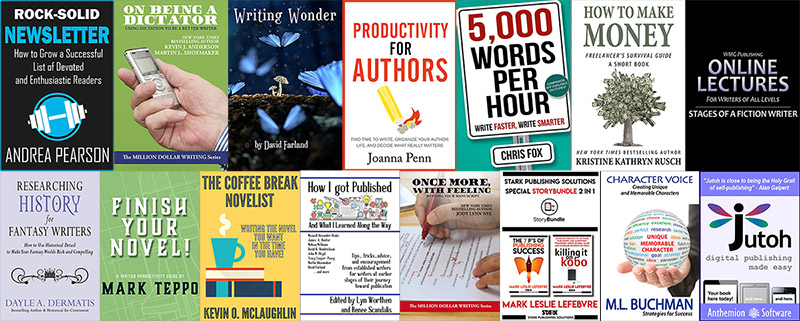 The 2019 NaNoWriMo Writing Tools Bundle - Curated by bestselling author Kevin J. Anderson
It's that time of year, NaNoWriMo: National Novel Writing Month…and it's time to get ready for your writer's journey. I've gathered another big grab bag of inspirational and informative books on various aspects of writing, publishing, and career building. This year's NaNoWriMo Writing Tools StoryBundle has 13 books and one video lecture, something for writers at all stages of their craft. Plus, you get a code for 50% off Jutoh and 75% off Jutoh Plus, a tool for formatting and creating your own ebooks!
Writing Craft—David Farland has Writing Wonder: From the time when children first began gathering around campfires, we have been seeking tales of wonder—the feeling you get when something is strange and exciting. Most of the books we read are what I call "wonder literature," yet writing wonder is a lesson seldom taught. This book delves into what "wonder literature" truly means and how to increase the level of wonder in your novel." Matt Buchman offers Character Voice: Creating Unique and Memorable Characters: Character lies at the core of every story. How to make them distinct and unforgettable, that's the challenge that faces every writer. Here are some answers.
Research—Researching History for Fantasy Writers: How to Use Historical Detail to Make Your Fantasy Worlds Rich and Compelling, by Dayle A. Dermatis: Narnia. Pern. Fillory. Oz. Earthsea. Middle Earth. Fionvar. Fantasy fans read to escape to another world. Your job as a writer is to make that world so compelling, they never want to leave. Here's a book to get you thinking about the historical details to use and the concepts to ponder in order to create rich, chewy, and believable fantasy worlds. Filled with trivia, tidbits, and a slew of resources, and written in a light, engaging style, Recreating History for Fantasy Writers is a must-read for any author of high fantasy.
Productivity—These four books will help you reach your goals for NaNoWriMo. Kevin McLaughlin's The Coffee Break Novelist shows you how to write the novel you want in the time you have. Are you tired of not having the time to accomplish your dream of writing a novel? Have you written a book before, but it took forever, and you don't know how you'll ever finish the next one? This book is for you. And Joanna Penn offers Productivity for Authors: Find Time to Write, Organize your Author Life, and Decide what Really Matters: Do you want to write more but feel frustrated at your lack of time? Are you doing 'busy' work instead of moving toward your creative goals? Is your To-Do list overwhelming? It's time to stop, reassess and take control of your time — and this book will help you discover the path to becoming a productive writer. Mark Teppo has Finish Your Novel! Starting is easy; it's getting to the end that is hard. Finish Your Novel! is more than a call to action, it's a full-purpose multi-tool, complete with a map, a fork, and all sorts of ways to keep you glued to your chair. And Chris Fox shows you how in 5,000 Words Per Hour: Write Faster, Write Smarter: 5,000 words an hour. Total BS, right? Check the reviews and you'll see that some people exceed that. Those that don't still write faster and more consistently after reading this book. It really works.
Editing—Once you're done writing, now what? Jody Lynn Nye shows you how in Once More, With Feeling: You've finished your book. Wonderful! What's the next step? No, not sending it to your agent or publisher. It's time to revise. Smooth out the rough spots. Fill in the missing details. Raise your book to the next level so readers will rave over it. We'll help you through the steps you need to make the book the best it can be.
Publishing—Mark Leslie Lefebvre offers a 2-in-1 bundle of The 7 P's of Publishing Success and Killing It On Kobo. Drawing upon more than three decades of experience in writing, publishing, bookselling, and having created and run Kobo's self-publishing platform, Mark shares a wealth of strategic insights focused on long-term author success. Both books provide concrete details and examples that authors can apply on their own unique journey through publishing. Lyn Worthen and Renee Scandalis have collected essays from twenty published authors in How I Got Published and What I Learned Along the Way: tips, tricks, advice, and encouragement for other writers about working through the rough times, making their first sales, and finding success in the publishing industry. And the most important thing! How to Make Money: A Freelancer's Survival Guide Short Book by Kristine Kathryn Rusch: Celebrities like Elvis Presley and Michael Jackson prove that you can always spend more money than you earn. Want to know how to make money while self employed? Learn how to manage the money you do earn. In this short book, international bestselling writer, Kristine Kathryn Rusch, shows you how.
Marketing/Readers Groups—Andrea Pearson's Rock Solid Newsletter: Do you wish there was a guide that could help you build a successful, healthy, and motivated group of readers? If so, look no further than Rock-Solid Newsletter - it will help you turn a tired list into a group of enthusiastic readers, eager to devour your next book.
Writing Life—a special bonus for the 2019 NaNoWriMo Writing Tools StoryBundle, Dean Wesley Smith presents a 50-minute-long video lecture, Stages of a Fiction Writer, in which he talks about the four stages a writer moves through if they keep learning. From a beginning writer worried about only grammar to a top professional controlling reader's minds with every word. What do you need to work on and learn to move up.
This StoryBundle has something for every writer, and you will need it in your writer's toolkit. – Kevin J. Anderson
Rock-Solid Newsletter by Andrea Pearson
Writing Wonder by David Farland
On Being a Dictator by Kevin J. Anderson and Martin L. Shoemaker
Productivity for Authors by Joanna Penn
If you pay at least the bonus price of just $15, you get all four of the regular books, plus NINE more books, a video lecture and codes for up to 75% off ebook creation software!
5,000 Words Per Hour - Write Faster, Write Smarter by Chris Fox
Researching History for Fantasy Writers by Dayle A. Dermatis
WMG Publishing Presents: Stages of a Fiction Writer Lecture by Dean Wesley Smith
How to Make Money by Kristine Kathryn Rusch
Once More, With Feeling by Jody Lynn Nye
The Coffee Break Novelist by Kevin McLaughlin
How I Got Published And What I Learned Along the Way by Lyn Worthen and Renee Scandalis
The 7 P's of Publishing Success & Killing it on Kobo (two books in one!) by Mark Leslie Lefebvre
50% off Jutoh and 75% off Jutoh Plus! by Jutoh
Finish Your Novel! by Mark Teppo
Character Voice by M.L. Buchman
This bundle is available only for a limited time via http://www.storybundle.com. It allows easy reading on computers, smartphones, and tablets as well as Kindle and other ereaders via file transfer, email, and other methods. You get multiple DRM-free formats (.epub and .mobi) for all books!
It's also super easy to give the gift of reading with StoryBundle, thanks to our gift cards – which allow you to send someone a code that they can redeem for any future StoryBundle bundle – and timed delivery, which allows you to control exactly when your recipient will get the gift of StoryBundle.
Why StoryBundle? Here are just a few benefits StoryBundle provides.
Get quality reads: We've chosen works from excellent authors to bundle together in one convenient package.
Pay what you want (minimum $5): You decide how much these fantastic books are worth. If you can only spare a little, that's fine! You'll still get access to a batch of exceptional titles.
Support authors who support DRM-free books: StoryBundle is a platform for authors to get exposure for their works, both for the titles featured in the bundle and for the rest of their catalog. Supporting authors who let you read their books on any device you want—restriction free—will show everyone there's nothing wrong with ditching DRM.
Give to worthy causes: Bundle buyers have a chance to donate a portion of their proceeds to The Challenger Center for Space Education!
Receive extra books: If you beat the bonus price, you'll get the bonus books!
StoryBundle was created to give a platform for independent authors to showcase their work, and a source of quality titles for thirsty readers. StoryBundle works with authors to create bundles of ebooks that can be purchased by readers at their desired price. Before starting StoryBundle, Founder Jason Chen covered technology and software as an editor for Gizmodo.com and Lifehacker.com.
For more information, visit our website at storybundle.com, tweet us at @storybundle and like us on Facebook. For press inquiries, please email press@storybundle.com.