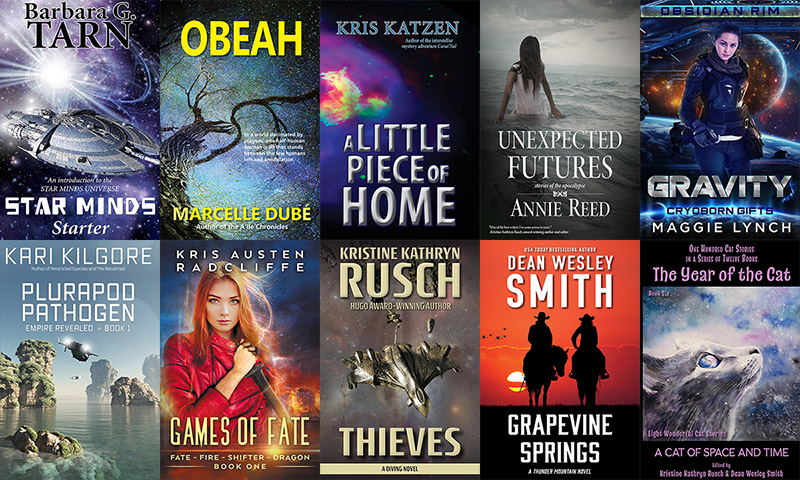 The 2021 Visions of the Future Bundle - Curated by Dean Wesley Smith
Back almost two years ago, in February 2020, just before the pandemic started, I did a StoryBundle with the title Visions of the Future. Thankfully, nothing about the last two years was in that bundle of great novels and stories. I don't think many people, including the best science fiction writers, saw any of this coming in the way it did.
So now I get a chance to find writers to look into the future again, only on the downward side of the pandemic. And there is all kinds of science fiction in these books, from galaxy-spanning space opera to generation ships to near future science fiction. And yes, this time even one that looks at a world after pandemics. In my opinion, we need them all. These visions are science fiction in nature, looking out into the possibilities of the future.
Positive possibilities for the most part. Not all, but for the most part, and even the darker futures have hope. And being the genre that looks ahead in a positive way is why I love science fiction so much. Science fiction does not predict the future. It just shows us all what might be possible.
Starting this bundle off with a great series that actually has eight other authors writing in different parts of the same universe. GRAVITY by Maggie Lynch is the first book in her series inside this much larger universe. So if you like this book, and trust me, you will since it is classic science fiction space opera with a great character, you can stay in the universe with not only more Maggie books, but the other authors as well. Great fun!
Next up, Barbara G. Tarn in STAR MINDS STARTER gives you a great introduction to a young rebel from a galaxy-wide civilization hiding out on Earth. Fascinating universe she has created.
I really wanted a book by Kristine Kathryn Rusch from her fantastic Diving Series. So she gave me THIEVES. An amazing book with amazing characters living in a far distant space-opera future where technology is often salvaged. If you have not read her Diving Series, and love a positive look at a possible distant future, I would suggest you do so.
Kris Katzen takes us onto a generation ship in a long voyage where the crew will start out at five thousand and grow over time to over five million. A LITTLE PEACE OF HOME is a fascinating look at just some of the issues on a generation ship. And wow can there be a lot of issues.
Now that is four great space opera books, so next I wanted to bring the bundle back closer to home, both in time and place.
Kari Kilgore in PURAPOD PATHAGEN gives us the first book in her Empire Revealed series. This is fairly near future science fiction with a lot of twists and turns and great characters as only Kari can write them.
Marcelle Dube gives the bundle OBEAH, a novel of the near future where one woman, a great character, is the only human hope to survive. This might be a little bleaker vision of the near future, but it is a book about survival and sometimes that is all that matters.
Kris Radcliffe gives this bundle yet another form of future, with a little fantasy mixed in as well with GAMES OF FATE. This time the visions of the future are of flames and destruction and how those that see the visions work to change that future. To save the future.
In GRAPEVINE SPRINGS, I take my time-traveling researches back to the Old West to try to find out why a modern town has a history that didn't really exist. Can the future really be faked? A very different kind of vision and science fiction future.
So that is eight novels. When I am doing these bundles, I like to add in short fiction for those who like short stories.
Annie Reed, maybe one of the best working short story writers on the planet, gives us an amazing collection of stories called UNEXPECTED FUTURES. (You know, sort of like what we lived through over the last two years.)
Annie says that to really enjoy this volume, you should be a fan of post-apocalyptic fiction and read the stories with the lights on and a few tissues nearby. If I were you, I would trust Annie on this advice. She is that good.
And then for fun, and I do mean fun, I added in a collection from Kristine Kathryn Rusch and my YEAR OF THE CAT series of books. We did a collection of cat stories every month for a full year. Month six was called A CAT OF SPACE AND TIME. All kinds of future and fun cat stories in this one that I thought I would add into this bundle just for fun.
So I hope you will grab all ten of these books and enjoy the futures they all show. I sure did when putting these together. Some amazing science fiction reading by some of the top writers working in the field.
But wait, it does get better if you decide to support our fantastic charity AbleGamers.com. I hope you do. There is no better feeling than helping a great cause and then reading a great book.
Or ten books, as the case might be.
Enjoy.
— Dean Wesley Smith
Las Vegas, NV
* * *
For StoryBundle, you decide what price you want to pay. For $5 (or more, if you're feeling generous), you'll get the basic bundle of four books in any ebook format—WORLDWIDE.
Obeah by Marcelle Dube
A Little Piece of Home by Kris Katzen
Star Minds Starter by Barbara G.Tarn
The Year of the Cat: A Cat of Space and Time by Kristine Kathryn Rusch and Dean Wesley Smith
If you pay at least the bonus price of just $15, you get all four of the regular books, plus SIX more books, for a total of 10!
Gravity by Maggie Lynch
Games of Fate by Kris Austen Radcliffe
Plurapod Pathogen by Kari Kilgore
Unexpected Futures by Annie Reed
Grapevine Springs by Dean Wesley Smith
Thieves by Kristine Kathryn Rusch
This bundle is available only for a limited time via http://www.storybundle.com. It allows easy reading on computers, smartphones, and tablets as well as Kindle and other ereaders via file transfer, email, and other methods. You get multiple DRM-free formats (.epub, .mobi) for all books!
It's also super easy to give the gift of reading with StoryBundle, thanks to our gift cards – which allow you to send someone a code that they can redeem for any future StoryBundle bundle – and timed delivery, which allows you to control exactly when your recipient will get the gift of StoryBundle.
Why StoryBundle? Here are just a few benefits StoryBundle provides.
Get quality reads: We've chosen works from excellent authors to bundle together in one convenient package.
Pay what you want (minimum $5): You decide how much these fantastic books are worth. If you can only spare a little, that's fine! You'll still get access to a batch of exceptional titles.
Support authors who support DRM-free books: StoryBundle is a platform for authors to get exposure for their works, both for the titles featured in the bundle and for the rest of their catalog. Supporting authors who let you read their books on any device you want—restriction free—will show everyone there's nothing wrong with ditching DRM.
Give to worthy causes: Bundle buyers have a chance to donate a portion of their proceeds to AbleGamers!
Receive extra books: If you beat the bonus price, you'll get the bonus books!
StoryBundle was created to give a platform for independent authors to showcase their work, and a source of quality titles for thirsty readers. StoryBundle works with authors to create bundles of ebooks that can be purchased by readers at their desired price. Before starting StoryBundle, Founder Jason Chen covered technology and software as an editor for Gizmodo.com and Lifehacker.com.
For more information, visit our website at storybundle.com, tweet us at @storybundle and like us on Facebook. For press inquiries, please email press@storybundle.com.