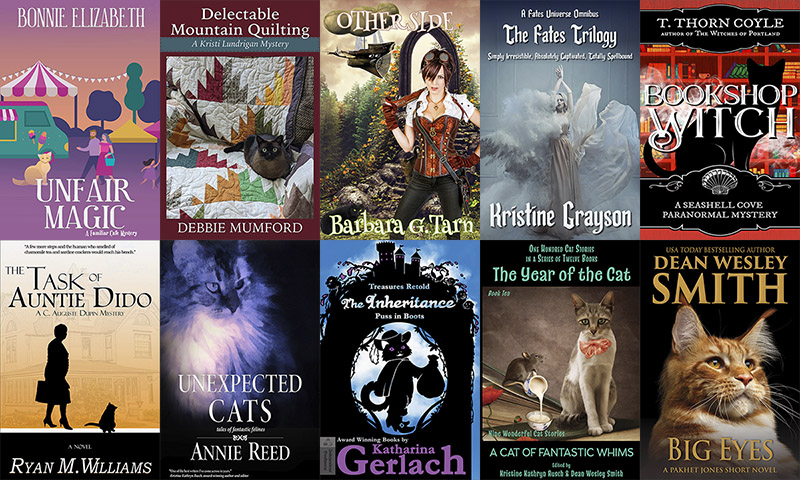 The 2022 Cattitude Bundle - Curated by Dean Wesley Smith
Don't You Just Love Cats?
I have always been owned by cats. Actually all my adult life except for a few years when I was traveling too much. And being a writer, it seems almost like a requirement for the job description.
What do you do for a living? Fiction Writer.
Owned by cats? Yup.
And one of the great elements of cats and writers is that writers tend to write stories with cats in the story. Logical. The cats are always just there, so we add them into all kinds of stories. From mystery to science fiction to high fantasy. Every type of story imaginable, a writer has put a cat in it.
And yes, I am no exception to that rule.
And neither is my wife, writer Kristine Kathryn Rusch. In fact, in this bundle, Kris has added in her Fates Trilogy, three of her fun fantasy novels in one bundle written under the name Kristine Grayson. Yes, all kinds of cats.
For those of you who don't know, Kristine Kathryn Rusch is a USA Today and New York Times bestseller with almost 200 novels and hundreds and hundreds of short stories to her credit.
So when I started to put together this fun bundle, after getting the bundle from Kris, I got a book from German author Katharina Gerlach, who goes by the name Cat. Not kidding. She had a wonderful book titled THE INHERITANCE that is a fantasy retelling of Puss in Boots. A really fun read.
Cat has published almost thirty novels and books, mostly in English, and has had her stories picked up by major magazines and anthologies, including I must say, my magazine, Pulphouse Fiction Magazine.
Staying with fantasy books for the moment, Barbara G. Tarn writes mostly fantasy novels and short stories of all types. She sent in a novella titled OTHERSIDE where a cat turns into a man through a magic steampunk world portal and it gets even crazier from there. Really fun.
I also got from writers two different paranormal mystery novels that have cats. The first novel is from Bonnie Elizabeth titled UNFAIR MAGIC which is in her Familiar Café series. Bonnie not only writes about cats, but she lives with cats as well. She volunteers at animal shelters, works as a veterinary receptionist, writes for cat newsletters, and actually blogs as her cat at times. And trust me, you are going to love her Familiar Café series.
The second paranormal mystery I got was from T. Thorn Coyle titled BOOKSHOP WITCH. This is in her Seashell Cove Paranormal Mystery series. Thorn is a prolific writer of both fiction and nonfiction, and since I am sure you will love BOOKSHOP WITCH, at the moment, keep in mind that she has two other books out in the series you will enjoy just as much.
Moving from paranormal mystery to straight cozy mystery, Debbie Mumford offered up DELECTABLE MOUNTAIN QUILTING which is in her Kristi Lundrigan series. Not only are cats featured in the mystery, but notice the cat on the cover?
Debbie is a very prolific writer who is known for writing mostly fantasy, paranormal romance, and science fiction as well as cozy mystery under her Debbie Mumford name. She also writes science fiction and fantasy for young adults under her Deb Logan name.
Now taking cozy mystery even one step farther into the cat world, Ryan M. Williams gives us THE TASK OF AUNTIE DIDO in his C. Auguste Dupin series. And this book is from the cat's point of view. Great fun and it works completely as a cozy mystery. Ryan works as a full time librarian while also being a very prolific writer in numbers of genres.
I added a novella into the mix called BIG EYES. The novella is in my Pakhet Jones series. Pakhet is a superhero in the world of cats, existing in the Poker Boy universe. And yes, in this novella, Poker Boy makes a couple of guest appearances as Pakhet and other gods and superheroes struggle to find out who is attempting to kill cats with a powerful new weapon.
For those who don't know me, I am a USA Today and New York Times bestselling writer of over 200 novels and many other books. I also edit the popular cross-genre magazine Pulphouse Fiction Magazine.
Now, a bundle called CATTATUDE would not be complete without two books full of cat short stories. So I contacted Annie Reed, a writer of immense skill and a cat lover bar none. She just happened to have a collection of cat stories called UNEXPECTED CATS which are tales of fantastic felines. Annie was nice enough to hold publication on the collection so that it could be exclusive to this bundle.
I have bought a story from Annie for every issue now of Pulphouse Fiction Magazine. That's how good she is.
And to round off the bundle, a year ago Kris and I edited THE YEAR OF THE CAT, twelve volumes of nothing but cat stories. So I thought it would be great fun to put in one of those titled A CAT OF FANTASTIC WHIMS.
Enjoy the stories in the YEAR OF THE CAT and, after the bundle is finished and you have read all the wonderful books and stories in here, if you are still hungry for more cat stories, check out the other eleven volumes.
And remember, when you grab this fantastic bundle that will only last for three short weeks, toss in a little for our charity, AbleGamers. A fantastic cause.
I hope you enjoy all the great cat stories in this bundle. I sure had a wonderful time putting it all together. – Dean Wesley Smith
* * *
For StoryBundle, you decide what price you want to pay. For $5 (or more, if you're feeling generous), you'll get the basic bundle of four books in any ebook format—WORLDWIDE.
The Task of Auntie Dido by Ryan M. Williams
Delectable Mountain Quilting by Debbie Mumford
Unfair Magic by Bonnie Elizabeth
Otherside by Barbara G.Tarn
If you pay at least the bonus price of just $20, you get all four of the regular books, plus SIX more books, for a total of 10!
Bookshop Witch by T. Thorn Coyle
The Inheritance by Katharina Gerlach
Unexpected Cats by Annie Reed (StoryBundle Exclusive)
The Fates Trilogy by Kristine Grayson
The Year of the Cat: A Cat of Fantastic Whims by Kristine Kathryn Rusch and Dean Wesley Smith
Big Eyes by Dean Wesley Smith
This bundle is available only for a limited time via http://www.storybundle.com. It allows easy reading on computers, smartphones, and tablets as well as Kindle and other ereaders via file transfer, email, and other methods. You get multiple DRM-free formats (.epub, .mobi) for all books!
It's also super easy to give the gift of reading with StoryBundle, thanks to our gift cards – which allow you to send someone a code that they can redeem for any future StoryBundle bundle – and timed delivery, which allows you to control exactly when your recipient will get the gift of StoryBundle.
Why StoryBundle? Here are just a few benefits StoryBundle provides.
Get quality reads: We've chosen works from excellent authors to bundle together in one convenient package.
Pay what you want (minimum $5): You decide how much these fantastic books are worth. If you can only spare a little, that's fine! You'll still get access to a batch of exceptional titles.
Support authors who support DRM-free books: StoryBundle is a platform for authors to get exposure for their works, both for the titles featured in the bundle and for the rest of their catalog. Supporting authors who let you read their books on any device you want—restriction free—will show everyone there's nothing wrong with ditching DRM.
Give to worthy causes: Bundle buyers have a chance to donate a portion of their proceeds to AbleGamers!
Receive extra books: If you beat the bonus price, you'll get the bonus books!
StoryBundle was created to give a platform for independent authors to showcase their work, and a source of quality titles for thirsty readers. StoryBundle works with authors to create bundles of ebooks that can be purchased by readers at their desired price. Before starting StoryBundle, Founder Jason Chen covered technology and software as an editor for Gizmodo.com and Lifehacker.com.
For more information, visit our website at storybundle.com, tweet us at @storybundle and like us on Facebook. For press inquiries, please email press@storybundle.com.