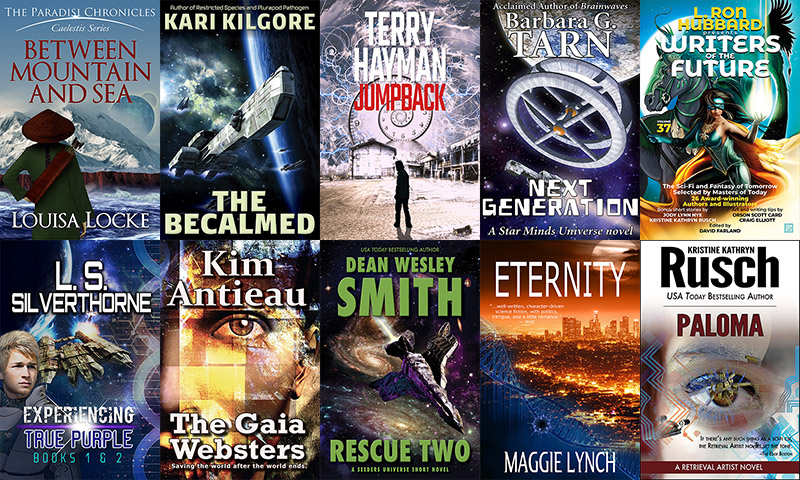 The 2022 Visions of the Future Bundle - Curated by Dean Wesley Smith
I knew, without a doubt, I was going to really enjoy putting Visions of the Future together as a StoryBundle. I just love science fiction of all types, and any form of looking into the future, seeing visions of the future, is science fiction by definition.
For me, the future is a bright, hopeful place. That's my nature. No matter how bad the news is at the moment, I tend to look at the future as a promise. Doesn't mean the future won't be full of problems. I am not that naïve, although sometimes my wife Kris thinks I am.
Maybe that is why I wrote so many Star Trek novels and edited Star Trek for ten years. I love the positive aspects of how Star Trek looks forward.
So I loved the idea of this StoryBundle called Visions of the Future. It is full of visions of a lot of different futures.
I wanted to find a number of professional writers who I knew could really give a clear vision, and a great story, of what they saw in the future. And I opened this up to see if top writers had a book that fit, and many did.
Professional fantasy and science fiction writer Lisa Silverthorne sent me not one, but two books in an omnibus edition titled True Purple. These are the first two books in a military and genetic-engineering world that has heart, as all of Lisa's books do. If you love character-driven science fiction, you will love these two books.
Then USA Today bestselling writer Louisa Locke sent me a book from her multi-author world she founded called Paradisi Chronicles. Between Mountains and Sea is a stunning coming of age novel that different reviews have said reminds them of LeGuin, Butler, and McCaffrey. I can't disagree at all. Amazing world and character not to be missed.
Next came a novel titled The Gaia Websters from professional writer Kim Antieau, who has been a professional writer and friend of mine for almost forty years. This is a novel where the future Kim sets up is after a collapse of society. The story is positive, upbeat, and challenging all at the same time. If you haven't found Kim's wonderful writing before, this would be a great book to start.
Next, professional writer Terry Hayman brings a sort-of modern day look in his book Jumpback. This book combines aspects of thriller fiction with science fiction concepts such as time travel. And ends up giving us a look forward at a somewhat frightening idea of "what if this was possible."
Kari Kilgore gives us a really cool idea for the future. A certain element allows communication across the galaxy, but it can only be found in one place. And what happens because of that. Sort of a great metaphor for so many futures.
Barbara G. Tarn paints a picture of a massive galactic civilization that is very cool. And she does it through a space adventure and stolen manuscripts and old texts. As a person who loves old books, that really hit my tastes, let me tell you. Just a wonderful look at a far, far distant future.
Bestselling writer Maggie Lynch asks the question, "What happens if humans could live 800 years? Would that be a great thing or a bad thing? Only Maggie could paint that future in a way that is impossible to put down as you read.
New York Times bestselling writer Kristine Kathryn Rusch offers up a vision of the future from her major science fiction Retrieval Artist series. Domes on the moon, alien laws and the repercussions of alien laws. An amazing vision of the future where humans have expanded out into a galaxy full of aliens with very different rules.
I added a book from my Seeder's Series. This book gives a glimpse of a far, far advanced civilization from the point of view of those who seed humans throughout many galaxies. They can travel from one galaxy to the next in minutes. And while seeding humans over such vast distances, they often lost in the process and need to be rescued. I love this future. Sort of advanced Star Trek.
And last, but no least, the ultimate in a look at the future. An entire volume of the award-winning yearly anthology Writers of the Future. This has three bonus stories plus 14 winning stories by some of the best new writers working in science fiction. These stories are picked every year by some of the top science fiction writers in the world.
The three bonus stories that show very different futures in the volume are:
"Museum of Modern Warfare" by Kristine Kathryn Rusch: When an ambassador is asked to inspect the controversial Museum of Modern Warfare, she discovers life-changing secrets. .
"The Dangerous Dimension" by L. Ron Hubbard: Meek Dr. Henry Mudge has a dramatic personality change after discovering a mathematical equation that transports him to any place in the universe he can think of.
"The Phoenixes' War" by Jody Lynn Nye: When a lover's gift to her king turns out to be a perilous trap, the Phoenixes and their priestess face a test that will decide the fate of two realms.
So ten novels of different visions of the future, including an anthology with 17 different stories in it. This is an exciting bundle. Don't miss it, since it will only be around for a very short time. – Dean Wesley Smith
* * *
For StoryBundle, you decide what price you want to pay. For $5 (or more, if you're feeling generous), you'll get the basic bundle of four books in any ebook format—WORLDWIDE.
Jumpback by Terry Hayman
Between Mountain and Sea by Louisa Locke
The Becalmed by Kari Kilgore
Next Generation by Barbara G.Tarn
If you pay at least the bonus price of just $20, you get all four of the regular books, plus SIX more books for a total of 10!
Paloma by Kristine Kathryn Rusch
Rescue Two by Dean Wesley Smith
Eternity by Maggie Lynch
Experiencing True Purple - Books 1 & 2 by Lisa Silverthorne
The Gaia Websters by Kim Antieau
Writers of the Future Volume 37 edited by David Farland
This bundle is available only for a limited time via http://www.storybundle.com. It allows easy reading on computers, smartphones, and tablets as well as Kindle and other ereaders via file transfer, email, and other methods. You get multiple DRM-free formats (.epub, .mobi) for all books!
It's also super easy to give the gift of reading with StoryBundle, thanks to our gift cards – which allow you to send someone a code that they can redeem for any future StoryBundle bundle – and timed delivery, which allows you to control exactly when your recipient will get the gift of StoryBundle.
Why StoryBundle? Here are just a few benefits StoryBundle provides.
Get quality reads: We've chosen works from excellent authors to bundle together in one convenient package.
Pay what you want (minimum $5): You decide how much these fantastic books are worth. If you can only spare a little, that's fine! You'll still get access to a batch of exceptional titles.
Support authors who support DRM-free books: StoryBundle is a platform for authors to get exposure for their works, both for the titles featured in the bundle and for the rest of their catalog. Supporting authors who let you read their books on any device you want—restriction free—will show everyone there's nothing wrong with ditching DRM.
Give to worthy causes: Bundle buyers have a chance to donate a portion of their proceeds to AbleGamers!
Receive extra books: If you beat the bonus price, you'll get the bonus books!
StoryBundle was created to give a platform for independent authors to showcase their work, and a source of quality titles for thirsty readers. StoryBundle works with authors to create bundles of ebooks that can be purchased by readers at their desired price. Before starting StoryBundle, Founder Jason Chen covered technology and software as an editor for Gizmodo.com and Lifehacker.com.
For more information, visit our website at storybundle.com, tweet us at @storybundle and like us on Facebook. For press inquiries, please email press@storybundle.com.