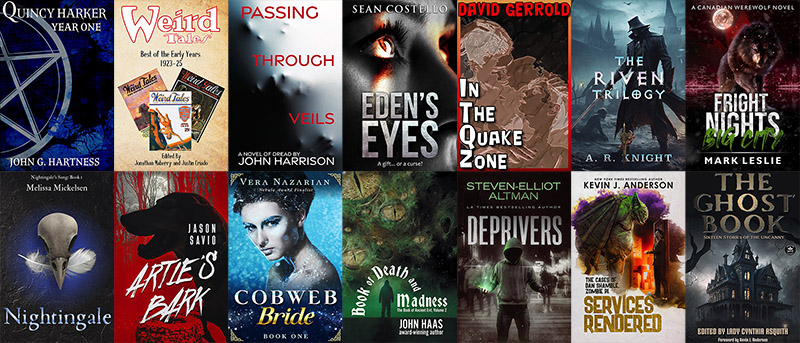 The 2023 Dark Fantasy Bundle - Curated by Kevin J. Anderson
Things go bump in the night all year round, and this StoryBundle—curated by New York Times bestselling author Kevin J. Anderson—contains 16 books that will keep you on the edge of your seat. We've selected a range of ghost stories, monsters, Lovecraftian horror, epic fantasy with a dark twist, and even snarky black humor.
Have a look at this buffet of dark fantasy to fill your e-reader:
Services Rendered: The Cases of Dan Shamble, Zombie P.I. —Kevin J. Anderson. A collection of some of the most hilariously creepy capers and mysteries featuring Dan Shamble, Zombie P.I. with a quirky cast of characters and bizarre cases, by New York Times bestselling and award-winning author.
Passing Through Veils—John Harrison
A young woman recovering from a nervous breakdown discovers a hidden vanity in the home she is renovating and pierces the veil between the real and the supernatural, threatening her career and her own sanity. From screenwriter and director of Creepshow and Tales from the Darkside TV series, Dune and Children of Dune miniseries, and others.
Quincy Harker, Year One—John Hartness
Dracula never died, and now he's in Charlotte hunting demons with his nephew, the immortal magic-wielding son of Jonathan Harker and Mina Murray. He's the foul-mouthed hero you never knew you deserved—Quincy Harker, Demon Hunter.
In the Quake Zone—David Gerrold
If you could unravel time, who would you save? From legendary author of The Martian Child and "The Trouble with Tribbles."
Artie's Bark—Jason Savio
A young boy and his sick dog unravel a small-town secret and must defeat a centuries-old evil when the pets in their neighborhood begin to go missing one by one.
Weird Tales: Best of the Early Years 1923–1925—edited Jonathan Maberry
From the macabre and morbid to unexplainable stories of the occult, this collection features those early authors across thirteen tales of terror from the impactful years of 1923 to 1925 that are best enjoyed at the witching hour.
Deprivers—Stephen Elliot Altman
Steven-Elliot Altman's LA Times bestseller Deprivers is the ultimate biological terror, a medical epidemic thriller that correctly predicted many of the dangers and fears of our current global pandemic.
Fright Nights, Big City—Mark Leslie
Stop spreading the news. There's no leaving today! Not when the Big Apple falls prey to an infectious worm threatening to rot it, and the nation, to the core.
Book of Death and Madness—John Haas
What evil depths will one man sink to in his effort to prevent the end of the world?
Eden's Eyes—Sean Costello
Is her sight a gift, or a curse. Pray you never see the world through Eden's Eyes
The Ghost Book—ed. Lady Cynthia Asquith
Widely considered as the first collection of non-traditional ghost stories, The Ghost Book combines twisted tales from some of the literary greats of the early 1900s: Algernon Blackwood, D.H. Lawrence, Oliver Onions, Enid Bagnold, and Arthur Machen.
Cobweb Bride—Vera Nazarian
Death demands his Bride—until she is found, the world is broken and no one can die, in this epic Renaissance fantasy powered by chivalry, true love, creeping terror, and the myth of Persephone and Hades, from a Nebula Award Finalist author. Perfect for fans of Game of Thrones!
Nightingale—Melissa Mickelson
A feared halfblood assassin known as the Nightingale seeks revenge against her enslaver while evading the pursuit of a relentless general.
The Riven Trilogy set—A.R. Knight
Haunted by a past that wants him dead, Carver must find a way to stop Riven's collapse before he becomes the very monster he's trying to save. Three books in one set!
– Kevin J. Anderson
* * *
For StoryBundle, you decide what price you want to pay. For $5 (or more, if you're feeling generous), you'll get the basic bundle of four books in .epub format—WORLDWIDE.
Quincy Harker: Year One by John G. Hartness
Eden's Eyes by Sean Costello
Passing Through Veils by John Harrison
Weird Tales: Best of the Early Years 1923-1925 edited by Jonathan Maberry and Justin Criado
If you pay at least the bonus price of just $20, you get all four of the regular books, plus ten more books for a total of 14 (including a trilogy, which makes it 16)!
In the Quake Zone by David Gerrold
The Riven Trilogy by A.R. Knight
Fright Nights Big City by Mark Leslie
Nightingale by Melissa Mickelsen
Cobweb Bride by Vera Nazarian
Artie's Bark by Jason Savio
Book of Death and Madness by John Haas
Deprivers by Steven-Elliot Altman
Services Rendered by Kevin J. Anderson
The Ghost Book edited by Lady Cynthia Asquith
This bundle is available only for a limited time via http://www.storybundle.com. It allows easy reading on computers, smartphones, and tablets as well as Kindle and other ereaders via file transfer, email, and other methods. You get a DRM-free .epub for all books!
It's also super easy to give the gift of reading with StoryBundle, thanks to our gift cards – which allow you to send someone a code that they can redeem for any future StoryBundle bundle – and timed delivery, which allows you to control exactly when your recipient will get the gift of StoryBundle.
Why StoryBundle? Here are just a few benefits StoryBundle provides.
Get quality reads: We've chosen works from excellent authors to bundle together in one convenient package.
Pay what you want (minimum $5): You decide how much these fantastic books are worth. If you can only spare a little, that's fine! You'll still get access to a batch of exceptional titles.
Support authors who support DRM-free books: StoryBundle is a platform for authors to get exposure for their works, both for the titles featured in the bundle and for the rest of their catalog. Supporting authors who let you read their books on any device you want—restriction free—will show everyone there's nothing wrong with ditching DRM.
Give to worthy causes: Bundle buyers have a chance to donate a portion of their proceeds to The Challenger Center for Space Education!
Receive extra books: If you beat the bonus price, you'll get the bonus books!
StoryBundle was created to give a platform for independent authors to showcase their work, and a source of quality titles for thirsty readers. StoryBundle works with authors to create bundles of ebooks that can be purchased by readers at their desired price. Before starting StoryBundle, Founder Jason Chen covered technology and software as an editor for Gizmodo.com and Lifehacker.com.
For more information, visit our website at storybundle.com, tweet us at @storybundle and like us on Facebook. For press inquiries, please email press@storybundle.com.