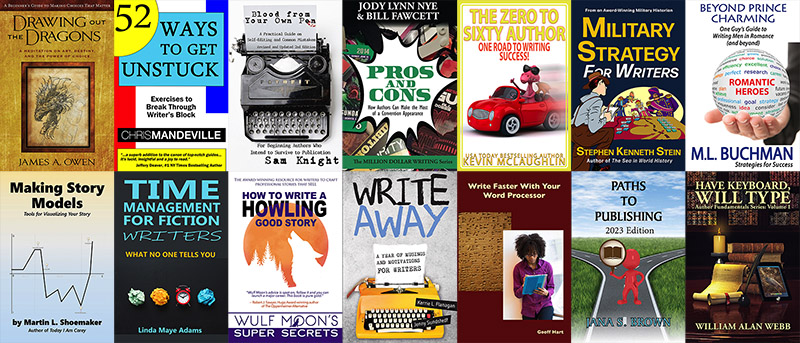 The 2023 Novel Writing Tools - curated by Kevin J. Anderson
This time of year, writers like to challenge themselves to increase their productivity, improve their craft, and learn more about the business. This Writing Tools StoryBundle is packed full of resources for all aspects of your writing career.
Curated by New York Times bestselling author Kevin J. Anderson, these 14 books cover the gamut of great advice, from craft topics, to productivity and inspiration, to building your writing business and career.
Improve your writing craft with How to Write a Howling Good Story, by Wulf Moon. The award-winning resource for writers to craft professional stories that sell.
Beyond Prince Charming—One Guy's Guide to Writing Men in Romance, by M.L. Buchman. Why are men so often clichés on the romantic page? They don't need to be. Not even when real-life men appear to be clichés of themselves.
Military Strategy for Writers, by Stephen Kenneth Stein. Written by an award-winning expert in military strategy, this book uses examples from literature, movies, and games to show how to incorporate strategic thinking into plots, characters, and structure.
A picture can launch a thousand words. In Making Story Models, let Martin L. Shoemaker teach you how to create visual models to plan and analyze your stories and to find new potential hidden within.
And editing: Blood from Your Own Pen, 2nd Edition, by Sam Knight is a practical guide on self-editing and common mistakes for beginning authors who intend to survive to publication.
For productivity and inspiration, 52 Ways to Get Unstuck is a comprehensive guide to overcoming writer's block that helps writers get unstuck—or avoid getting blocked in the first place—with innovative exercises, real-world examples, and practical advice from dozens of authors.
In Drawing Out the Dragons: A Meditation on Art, Destiny, and the Power of Choice, James A. Owen shares personal stories from his decades in the creative arts about overcoming challenges and setbacks to be able to continue pursuing doing the work you love.
In Write Faster Using Your Word Processor, Geoff Hart will teach you how to use your software more efficiently—both the tools you've used previously and new tools you haven't yet tried. The skills apply equally well whether you write fiction or non-fiction.
Write Away: A Year of Musings and Motivations, by Kerrie L. Flanagan and Jenny Sundstedt is your year-round writing companion, offering a rich blend of entertaining stories, practical wisdom, and expert guidance. With monthly inspiration, actionable tips, and publishing insights, it empowers writers to navigate their unique creative journey, setting and achieving their literary goals throughout the changing seasons.
Struggling to write fiction on the side, around your day job? Time Management for Fiction Writers, by Linda Maye Adams offers strategies to manage your time without feeling overworked and overwhelmed.
To build your writing business and career, in Have Keyboard, Will Type, bestselling author William Alan Webb shares many of the mistakes made and lessons learned over the course of a writing career—so you don't have to make them yourself.
The Zero to Sixty Author, by Kevin McLaughlin is a fast-track path to writing success! Here you'll get a step-by-step rundown of every critical component for building your own author business and reaching rapid financial success with your books. Zero to sixty your writing career today!
For the ambitious, outgoing author, try Pros and Cons, by Jody Lynn Nye and Bill Fawcett. One of the best marketing tools for your books is still SF conventions. From choosing the right cons to impressing on panels, Pros and Cons provides insights, guidelines and advice on how to get the most from your professional convention appearances.
And for a good overview of your options as a writer, read Paths to Publishing, by Jana S. Brown. Confused about your publishing options? Plow through the confusion with Paths to Publishing where we'll dive into publishing options, pros, and cons, and set your feet on your path to success.
This StoryBundle has a wealth of information a writer can use all year long, from the specific to the general. You can name your own price for all fourteen of these books, but it's only available through the month of November. – Kevin J. Anderson
* * *
For StoryBundle, you decide what price you want to pay. For $5 (or more, if you're feeling generous), you'll get the basic bundle of four books in .epub format—WORLDWIDE.
Blood From Your Own Pen 2nd Edition by Sam Knight
Pros and Cons by Jody Lynn Nye and Bill Fawcett
Drawing Out the Dragons by James A. Owen
52 Ways to Get Unstuck by Chris Mandeville
If you pay at least the bonus price of just $20, you get all four of the regular books, plus ten more books for a total of 14!
How to Write a Howling Good Story by Wulf Moon
Military Strategy for Writers by Stephen Kenneth Stein
Beyond Prince Charming by M.L. Buchman
Making Story Models by Martin L. Shoemaker
Time Management for Fiction Writers by Linda Maye Adams
The Zero to Sixty Author by Kevin McLaughlin (StoryBundle Exclusive)
Write Away by Kerrie L. Flanagan & Jenny Sundstedt
Paths to Publishing - 2023 Edition by Jana S. Brown
How to Write Faster With Your Word Processor by Geoff Hart
Have Keyboard Will Type by William Alan Webb
This bundle is available only for a limited time via http://www.storybundle.com. It allows easy reading on computers, smartphones, and tablets as well as Kindle and other ereaders via file transfer, email, and other methods. You get a DRM-free .epub for all books!
It's also super easy to give the gift of reading with StoryBundle, thanks to our gift cards – which allow you to send someone a code that they can redeem for any future StoryBundle bundle – and timed delivery, which allows you to control exactly when your recipient will get the gift of StoryBundle.
Why StoryBundle? Here are just a few benefits StoryBundle provides.
Get quality reads: We've chosen works from excellent authors to bundle together in one convenient package.
Pay what you want (minimum $5): You decide how much these fantastic books are worth. If you can only spare a little, that's fine! You'll still get access to a batch of exceptional titles.
Support authors who support DRM-free books: StoryBundle is a platform for authors to get exposure for their works, both for the titles featured in the bundle and for the rest of their catalog. Supporting authors who let you read their books on any device you want—restriction free—will show everyone there's nothing wrong with ditching DRM.
Give to worthy causes: Bundle buyers have a chance to donate a portion of their proceeds to the Challenger Center for Space Education!
Receive extra books: If you beat the bonus price, you'll get the bonus books!
StoryBundle was created to give a platform for independent authors to showcase their work, and a source of quality titles for thirsty readers. StoryBundle works with authors to create bundles of ebooks that can be purchased by readers at their desired price. Before starting StoryBundle, Founder Jason Chen covered technology and software as an editor for Gizmodo.com and Lifehacker.com.
For more information, visit our website at storybundle.com, tweet us at @storybundle and like us on Facebook. For press inquiries, please email press@storybundle.com.