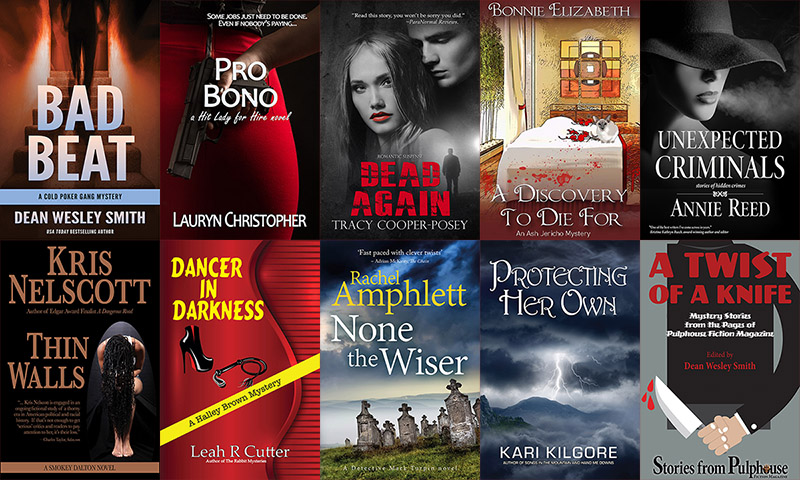 A Twist of the Knife - A Mystery/Crime Bundle - Curated by Dean Wesley Smith
Every Type of Mystery and Crime
I love reading mystery and crime stories. I write mystery and crime stories. I edit mystery and crime stories.
In fact, in every issue of Pulphouse Fiction Magazine that I edit, I try to have at least two or three mystery or crime stories of various types. And since the readers of Pulphouse look for something different, the types of mystery and crime stories range across the entire spectrum of the mystery genre.
I really noticed those differences when I was putting together A Twist of a Knife, the exclusive-to-this-bundle of the best mystery stories from Pulphouse Fiction Magazine.
So, as I put this bundle together, I worked to get writers and books that would span across the different major forms of mystery and crime.
Starting on one side of the mystery genre, I got a wonderful cozy novel from Bonnie Elizabeth called A Discovery to Die For. Even if you haven't read a cozy before, or think you might not like them, trust me on this, you will love this book.
So next I wanted a number of books with detectives, since that is the core of the mystery genre., USA Today bestselling writer Rachel Amphlett just started her brand new Mark Turpin detective series in the novel None the Wiser. In fact, the book just came out and folks you will love this new detective. A real page-turner.
I was also lucky to get the first book in the detective-turned private investigator. The Halley Brown series first book Dancer in Darkness is by bestselling writer Leah R. Cutter. This series is set in the modern-day Seattle area and Leah makes it come alive.
As I said, I also write mystery series, so I added in a novel from my bestselling Cold Poker Gang series, Bad Beat. Two retired Las Vegas detectives investigating a very cold case solve the disappearance of one woman, but while digging up her grave, they uncover a wide-spread plot that leads them into the darker side of Las Vegas.
So those three books filled in the center of the mystery/crime genre with police detectives and amateur private eyes. Next I wanted to move to the side pretty much opposite of cozy and that is dark romantic suspense and then hardboiled mystery.
So bestselling writer Tracy Cooper-Pozy offered a dark and suspenseful novel Dead Again about a woman and her long dead lover seeming to come back to town. This one will hold you on the edge of your seat while you read.
And then from writer Kari Kilgore I got a wonderful, suspenseful novel Protecting Her Own about love and danger and crime mixed with just a touch of supernatural. You won't be able to put this one down.
And then to top it all off, moving all the way to hardboiled, I managed to get a book out of New York Times and USA Today bestselling writer Kristine Kathryn Rusch in her award-winning and bestselling Smokey Dalton series that she writes under the name Kris Nelscott. Thin Walls is set in 1969 Chicago where Smokey investigates a murder and uncovers far, far more than he could imagine. You think 1969 was a rough year, wait until you live in Smokey's Chicago in 1969.
And, of course, no tour of the mystery and crime genre would be complete without a hit man story. Or in this case, a fantastic hit-woman novel from Lauryn Christopher. Pro Bono is one of Lauryn's "Hit Lady for Hire" series. The tag line for this one is "Some jobs just need to be done – even if nobody's paying…" Trust me, this fantastic series is not to be missed.
Since the mystery and crime genre is so large, I knew I missed a lot of areas and types of mystery stories, so the best way to solve that is to first add in the collection of best mystery and crime stories from Pulphouse Fiction Magazine, A Twist of a Knife. It is exclusive to this bundle and has some extremely diverse stories in it.
Then I contacted one of the best crime writers of short fiction I know, bestselling writer Annie Reid, and she just happened to be putting together a collection of her crime stories called Unexpected Criminals. So she allowed me to include it, also as an exclusive to this bundle.
Between these eight novels and two short story collections, I have pretty much covered the mystery and crime genre. Even if you think you only like one type of mystery, grab this bundle and give the rest a try. I think you will be surprised, not only by the top writing and stories, but by an area of mystery you never would have thought of trying before.
And also, when you get this fantastic bundle, don't forget to add a little for AbleGamers.com, a fantastic charity that provides gaming equipment to the disabled to help them survive in this harsh world.
* * *
* * *
For StoryBundle, you decide what price you want to pay. For $5 (or more, if you're feeling generous), you'll get the basic bundle of four books in any ebook format—WORLDWIDE.
A Discovery to Die For by Bonnie Elizabeth
Pro Bono by Lauryn Christopher
Bad Beat by Dean Wesley Smith
Dead Again by Tracy Cooper-Posey
If you pay at least the bonus price of just $15, you get all four of the regular books, plus seven more!
None the Wiser by Rachel Amphlett
Unexpected Criminals by Annie Reed (StoryBundle Exclusive!)
Protecting Her Own by Kari Kilgore
Dancer in Darkness by Leah R. Cutter
Thin Walls by Kris Nelscott
A Twist of a Knife edited by Dean Wesley Smith (StoryBundle Exclusive!)
This bundle is available only for a limited time via http://www.storybundle.com. It allows easy reading on computers, smartphones, and tablets as well as Kindle and other ereaders via file transfer, email, and other methods. You get multiple DRM-free formats (.epub, .mobi) for all books!
It's also super easy to give the gift of reading with StoryBundle, thanks to our gift cards – which allow you to send someone a code that they can redeem for any future StoryBundle bundle – and timed delivery, which allows you to control exactly when your recipient will get the gift of StoryBundle.
Why StoryBundle? Here are just a few benefits StoryBundle provides.
Get quality reads: We've chosen works from excellent authors to bundle together in one convenient package.
Pay what you want (minimum $5): You decide how much these fantastic books are worth. If you can only spare a little, that's fine! You'll still get access to a batch of exceptional titles.
Support authors who support DRM-free books: StoryBundle is a platform for authors to get exposure for their works, both for the titles featured in the bundle and for the rest of their catalog. Supporting authors who let you read their books on any device you want—restriction free—will show everyone there's nothing wrong with ditching DRM.
Give to worthy causes: Bundle buyers have a chance to donate a portion of their proceeds to AbleGamers!
Receive extra books: If you beat the bonus price, you'll get the bonus books!
StoryBundle was created to give a platform for independent authors to showcase their work, and a source of quality titles for thirsty readers. StoryBundle works with authors to create bundles of ebooks that can be purchased by readers at their desired price. Before starting StoryBundle, Founder Jason Chen covered technology and software as an editor for Gizmodo.com and Lifehacker.com.
For more information, visit our website at storybundle.com, tweet us at @storybundle and like us on Facebook. For press inquiries, please email press@storybundle.com.