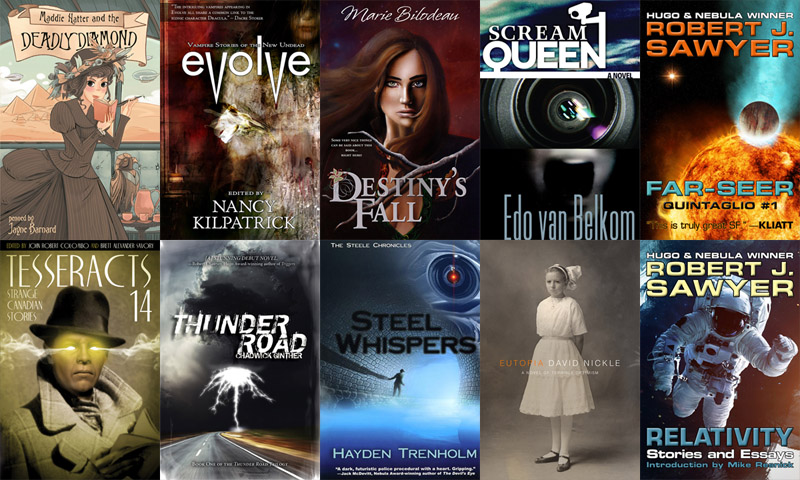 The Aurora Award Bundle 3 - Curated by Douglas Smith, Three-time Aurora Award Winner
How would you like to own, at an incredible bargain, ten books that readers like yourself have already voted to be the best examples of speculative fiction published in Canada? Well, here's your chance. I'm once again curating an ebook bundle for StoryBundle.com of winners and finalists for Canada's premier speculative fiction award, the Aurora Award.
The Auroras are awarded annually by the Canadian Science Fiction & Fantasy Association (CSFFA) for excellence in Science Fiction and Fantasy. Introduced in 1980 as the Casper, it was renamed the Aurora Award in 1990. I'm honored to have won the Aurora three times and to have been on the final ballot another sixteen.
This Aurora bundle again delivers a great mix of speculative fiction genres: SF, fantasy, urban fantasy, horror, steam punk, as well as young adult. The titles reflect the long history of the Auroras, spanning nearly a quarter century of Canadian speculative fiction from 1993 to 2016.
This bundle also provides a great introduction to several wonderful series, including the first title in three separate series and the second book in two more (which can be read as stand-alone titles). And the bundle lets you sample the rich tradition of Canadian short speculative fiction, with two acclaimed anthologies and a collection.
Destiny's Fall, the second book in Marie Bilodeau's Destiny Trilogy, begins five years after Destiny's Blood. In this SF space adventure with a feel of myth and legend, Layela is again in danger, this time from both the ruling empire and a usurper within her own world of Mirial.
To survive, every creature must evolve—even vampires. Edited by Nancy Kilpatrick, Evolve: Vampire Stories of the New Undead delivers 24 tales of bloodsuckers of the future, in one of the most unusual vampire anthologies ever. Stories by Kelley Armstrong, Tanya Huff, and more.
In Maddie Hatter and the Deadly Diamond, the first in a young adult steampunk series, Jayne Barnard delivers rollicking adventure, fantastic machines, colorful characters, and a heroine who uses her curiosity and intelligence to solve a mystery that will keep you guessing to the end.
In Scream Queen, Edo van Belkom gives us a reality TV show with a killer premise. Six actresses vie for a movie role. To win, all they have to do is spend a night in a haunted house—and survive.
Far-Seer is the first in Robert J. Sawyer's Quintaglio Ascension Trilogy about a race of sentient dinosaurs. In it, scientific discovery pits one young astrologer against his society's religious leaders as he fights to convince his people of the danger their entire world faces.
In Thunder Road, the first book in his same titled trilogy, Chadwick Ginther merges Norse mythology into a modern Canadian landscape in this gritty action-packed fantasy that fans of Gaiman's American Gods will love.
Set in the early 1900's in Idaho, David Nickle's Eutopia: A Novel of Terrible Optimism delivers a dark and wonderfully creepy tale of eugenics, the supernatural, and a quest for human perfection gone horribly wrong.
In Steel Whispers, the second book in The Steele Chronicles Trilogy, Hayden Trenholm combines classic noir with near-future science fiction in this police procedural tale of a series of murders in a society increasingly divided by evolving cyborg and genetic technology.
The Tesseracts series of anthologies is Canada's longest running, year after year showcasing the best in Canadian speculative short fiction. Tesseracts14: Strange Canadian Stories is no exception, with 23 amazing tales from some of the brightest lights in Canadian genre fiction.
And finally, the Aurora-winning Relativity: Stories and Essays from Canada's "dean of science fiction," Robert J. Sawyer, gathers eight short stories, four speeches, eleven articles, and all his "On Writing" columns into a thought provoking collection of ideas and fiction.
So I hope you'll check it out. And stayed tuned for more Aurora Award bundles. This series is an excellent way to build your collection of the best in Canadian speculative fiction.
– Douglas Smith
The initial titles in the The Aurora Award Bundle 3 (minimum $5 to purchase) are:
Scream Queen by Edo van Belkom
Maddie Hatter and the Deadly Diamond by Jayne Barnard
Evolve - Vampire Stories of the New Undead by Nancy Kilpatrick
Destiny's Fall by Marie Bilodeau
If you pay at least the bonus price of just $15, you get all four of the regular titles, plus SIX more!
Thunder Road by Chadwick Ginther
Eutopia by David Nickle
Far-Seer by Robert J. Sawyer
Tesseracts Fourteen - Strange Canadian Stories by John Robert Colombo and Brett Alexander Savory
Steel Whispers by Hayden Trenholm
Relativity - Stories and Essays by Robert J. Sawyer
This bundle is available only for a limited time via http://www.storybundle.com. It allows easy reading on computers, smartphones, and tablets as well as Kindle and other ereaders via file transfer, email, and other methods. You get multiple DRM-free formats (.epub and .mobi) for all books!
It's also super easy to give the gift of reading with StoryBundle, thanks to our gift cards – which allow you to send someone a code that they can redeem for any future StoryBundle bundle – and timed delivery, which allows you to control exactly when your recipient will get the gift of StoryBundle.
Why StoryBundle? Here are just a few benefits StoryBundle provides.
Get quality reads: We've chosen works from excellent authors to bundle together in one convenient package.
Pay what you want (minimum $5): You decide how much these fantastic books are worth. If you can only spare a little, that's fine! You'll still get access to a batch of exceptional titles.
Support authors who support DRM-free books: StoryBundle is a platform for authors to get exposure for their works, both for the titles featured in the bundle and for the rest of their catalog. Supporting authors who let you read their books on any device you want—restriction free—will show everyone there's nothing wrong with ditching DRM.
Give to worthy causes: Bundle buyers have a chance to donate a portion of their proceeds to Mighty Writers and Girls Write Now!
Receive extra books: If you beat the bonus price, you'll get the bonus books!
StoryBundle was created to give a platform for independent authors to showcase their work, and a source of quality titles for thirsty readers. StoryBundle works with authors to create bundles of ebooks that can be purchased by readers at their desired price. Before starting StoryBundle, Founder Jason Chen covered technology and software as an editor for Gizmodo.com and Lifehacker.com.
For more information, visit our website at storybundle.com, tweet us at @storybundle and like us on Facebook. For press inquiries, please email press@storybundle.com.