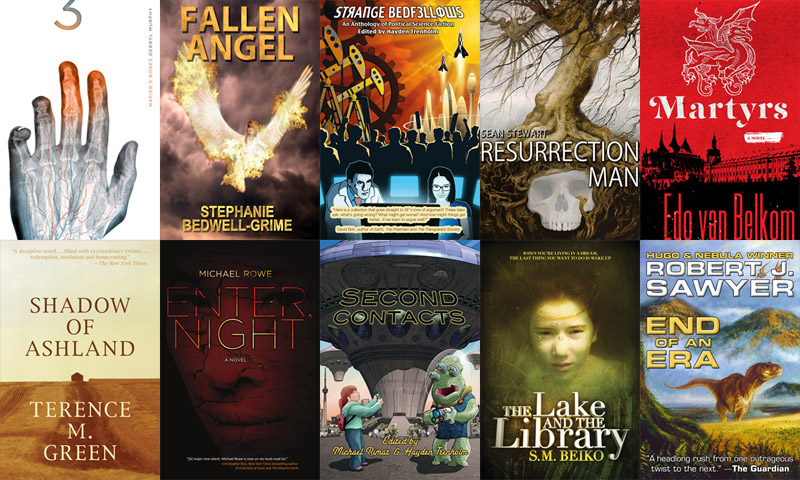 The Aurora Award Bundle 4 - Curated by Douglas Smith, Three-time Aurora Award Winner
Here's another chance to own, at an incredible bargain, ten books that readers like yourself have already voted to be the best examples of speculative fiction published in Canada. I'm once again curating an ebook bundle for StoryBundle of winners and finalists for Canada's premier speculative fiction prize, the Aurora Award.
The Auroras are awarded annually by the Canadian Science Fiction & Fantasy Association (CSFFA) for excellence in Science Fiction and Fantasy. Introduced in 1980 as the Casper, it was renamed the Aurora in 1990. I'm honored to have won the award three times and to have been on the final ballot another sixteen.
This Aurora bundle again delivers a great mix of speculative fiction genres: SF, fantasy, science fantasy, urban fantasy, horror, as well as young adult. The titles once more reflect the long history of the Auroras, spanning over two decades of Canadian speculative fiction from 1995 to 2016.
This bundle also lets you sample the rich tradition of Canadian short speculative fiction with two acclaimed anthologies and provides a great introduction to one wonderful series.
In S. M. Beiko's impressive debut YA novel, The Lake and the Library, sixteen-year-old Ash discovers a magical and mysterious library hidden in an old building on the outskirts of her prairie home town. Equal parts mystery, fairy tale, ghost story, and romance, the book is a wonderful introduction to a brilliant new author and will have you checking out her Realms of Ancient series.
Science fiction is filled with first contact stories—that moment when humans first encounter an alien species. But what happens next? In the Aurora Award-winning anthology, Second Contacts, edited by Hayden Trenholm and Mike Rimar, sixteen stories fast forward fifty years after first contact to explore the aftermath of those first meetings, for us and for the aliens.
In Edo van Belkom's Martyrs, Karl Desbiens, a modern-day Jesuit professor leads his students on an archaelogical dig at a Jesuit mission from the 1700's. But when they unwittingly unleash an ancient evil that threatens our modern world, Karl must battle his own inner demons to vanquish the monster.
Despite being extinct, dinosaurs just refuse to die out. Combine dinosaurs with time travel, aliens, and a love triangle, and what's not to like? In End of an Era, Canada's "dean of science fiction," Robert J. Sawyer, spins an SF adventure yarn that will satisfy fans of both his work and the Jurassic Park / World movies.
Resurrection Man, by award-winning author Sean Stewart, is dark urban fantasy at its best, elevated out of the genre by poetic prose and deeply drawn characters. The book tells the story of Dante Ratkay, an angel raised among mortals, who must finally acknowledge his powers when confronted by an omen of his death: the discovery of his own body.
Speaking of fallen angels, next up we have, well, Fallen Angel by Stephanie Bedwell-Grime. When the Four Horsemen show up on her doorstep, Porche Winter, stripped of her angel powers, knows she's going to need help to avert the apocalypse and save humanity—or at least her home town. A fun mix of adventure, romance, and humour.
Strange Bedfollows (as in "politics makes…") delivers a stunning collection of stories from top SF authors, including the late Nebula Award winner, Eugie Foster. All the stories combine SF and politics—not to use as a soapbox, but rather to pose the classical SF questions of "what if?" and "if this goes on…" from the perspective of both politics and science.
I had the pleasure to read an early draft of Derryl Murphy's science fantasy novel, Napier's Bones, and was delighted to see it published and garner award notice. In it, Dom is a numerate, someone who can manipulate numbers as a form of magic. But Dom's quest for a mathematical item of immense power soon pits him against a more powerful magician in a battle that will change how their magic—and the world—works.
Drawing comparisons to the early work of Stephen King, Michael Rowe's novel Enter Night gives us vampires as they are meant to be—dangerous, frightening, and without sparkles. Rowe, once credited by Clive Barker with "forever changing the shape of horror fiction," delivers a character-driven horror story that makes you both feel and think.
In Terence M. Green's novel, Shadow of Ashland, Leo's efforts to fulfill his mother's dying wish to find her long-lost brother leads him to a mysterious boarding house and a doorway into the past. Called "the book you have to read" by Entertainment Weekly, it is a love story, time travel tale, ghost story, road novel, and more. It's also the first in Terry's Ashland trilogy.
So I hope you'll check this bundle out. And stayed tuned for more Aurora Award bundles. This series is an excellent way to build your collection of the best in Canadian speculative fiction.
– Douglas Smith, www.smithwriter.com
For StoryBundle, you decide what price you want to pay. For $5 (or more, if you feel generous), you'll get the basic bundle of four books in any ebook format worldwide:
Fallen Angel by Stephanie Bedwell-Grime
Resurrection Man by Sean Stewart
Napier's Bones by Derryl Murphy
Strange Bedfellows by Hayden Trenholm
If you pay at least the bonus price of just $15, you get all four of the regular titles, plus SIX more!
Shadow of Ashland by Terence M. Green
The Lake and the Library by S.M. Beiko
Enter Night by Michael Rowe
Martyrs by Edo van Belkom
Second Contacts by Michael Rimar and Hayden Trenholm
End of an Era by Robert J. Sawyer
This bundle is available only for a limited time via http://www.storybundle.com. It allows easy reading on computers, smartphones, and tablets as well as Kindle and other ereaders via file transfer, email, and other methods. You get multiple DRM-free formats (.epub and .mobi) for all books!
It's also super easy to give the gift of reading with StoryBundle, thanks to our gift cards – which allow you to send someone a code that they can redeem for any future StoryBundle bundle – and timed delivery, which allows you to control exactly when your recipient will get the gift of StoryBundle.
Why StoryBundle? Here are just a few benefits StoryBundle provides.
Get quality reads: We've chosen works from excellent authors to bundle together in one convenient package.
Pay what you want (minimum $5): You decide how much these fantastic books are worth. If you can only spare a little, that's fine! You'll still get access to a batch of exceptional titles.
Support authors who support DRM-free books: StoryBundle is a platform for authors to get exposure for their works, both for the titles featured in the bundle and for the rest of their catalog. Supporting authors who let you read their books on any device you want—restriction free—will show everyone there's nothing wrong with ditching DRM.
Give to worthy causes: Bundle buyers have a chance to donate a portion of their proceeds to Mighty Writers and Girls Write Now!
Receive extra books: If you beat the bonus price, you'll get the bonus books!
StoryBundle was created to give a platform for independent authors to showcase their work, and a source of quality titles for thirsty readers. StoryBundle works with authors to create bundles of ebooks that can be purchased by readers at their desired price. Before starting StoryBundle, Founder Jason Chen covered technology and software as an editor for Gizmodo.com and Lifehacker.com.
For more information, visit our website at storybundle.com, tweet us at @storybundle and like us on Facebook. For press inquiries, please email press@storybundle.com.