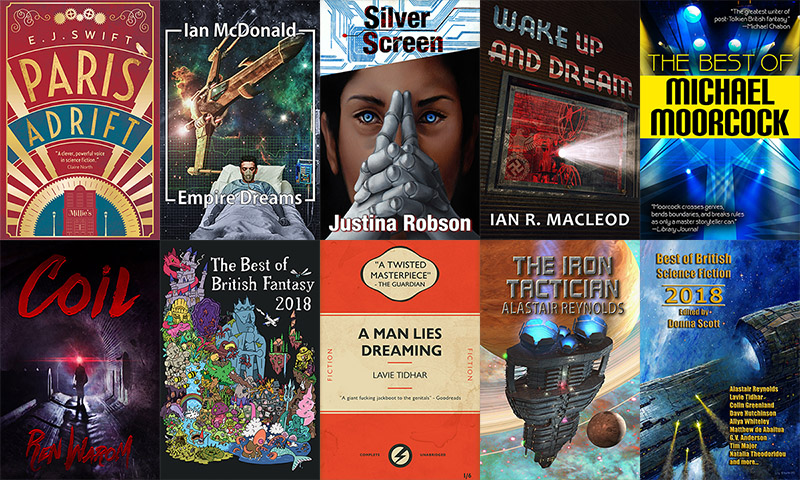 The Best of British SFF Bundle - Curated by Lavie Tidhar
Britain has a long and illustrious history of science fiction and fantasy. The fog-filled streets of Victorian London have given us Jekyll & Hyde and Dracula, while H.G. Wells took his unnamed Time Traveller from nearby Richmond to the ruins of future London (and had England invaded by Martians a few years later).
The 20th century brought with it the seminal fantasy worlds of Narnia and Middle Earth, which in turn brought us Harry Potter. In between, Michael Moorcock's New Worlds magazine helped redefine science fiction in the 1960s with the New Wave, and gave us the immortal Elric of Melniboné into the bargain. It is an honour to have The Best of Michael Moorcock included here.
The late 90s and early 00s saw the space opera reinvented by writers like Alastair Reynolds, whose The Iron Tactician is included here. At the same time, Ian McDonald was creating a rich, complex vision of an international worlds with novels like the Hugo nominated River of Gods, and I'm delighted to include his collection Empire Dreams here, exploring his worlds in shorter form. Ian is currently nominated for the Hugo for Best Series, for his Luna novels.
Justina Robson's first novel, Silver Screen, was nominated for both the Clarke and the BSFA Awards on publication, and she has been quietly and prolifically writing since then, writing the highly regarded Quantum Gravity series and even the history of the Transformers race! (No, really, she has).
Ian MacLeod got his novel-writing start in 2003 with The Light Ages and since then collected a whole hoard of awards, including the Clarke, Sidewise and World Fantasy. His book here, Wake Up And Dream, is a weird noir set in Hollywood, featuring as detective one Clark Gable. It is enormous fun.
Emma (E.J.) Swift's first novel, Osiris, came out in 2012, a literary, ambitious drowned world novel. Her latest, included here, is the magical Paris Adrift, perfectly capturing the experience of being a young ex-pat in Paris, only with the added complication of time travel. She is a writer to watch, in genre or out.
Ren Warom has similarly carved her own niche in British science fiction with some spectacular gonzo cyberpunk (something you "have to see to believe", per NPR), and here we include her latest, Coil.
Editors Jared Shurin (Best British Fantasy) and Donna Scott (Best British SF) have been collecting the best short stories of recent years into their respective series of anthologies, showing the depth and breadth of the genre that owes its birth, some two hundred years ago, to a young English woman, Mary Shelley.
It feels surreal to be writing this as the world is in the grip of a pandemic, and Britain itself, like much of the rest of the world, is on lockdown, in scenes that could only have been dismissed as science fiction a few weeks ago. Or years. How long has it been? I have lost the sense of time by now. As we're all holding on, many, including the writers here and elsewhere, have been affected. Bookshops and newsstands are closed, publishers are laying off staff and delaying books, and all of us are feeling the pinch. Buying this bundle will help the small publishers included here, from Apex and NewCon to Solaris and Tachyon – the very independent publishers who continue to champion exciting new voices and works.
Finally, this bundle will help, in however small a way, my favourite magazine. Locus was established in 1968, and has become the single most important news source for the SF/F field, offering unparalleled cover, in-depth reviews and author interviews, and so much more. They have won the Hugo Award more times than I can mention. The effect of the shutdown has hit Locus hard. As a non-profit, they rely on a mixture of traditional revenue and on donations. Your purchase of this bundle will raise some much needed cash to help Locus weather the current apocalypse – and we all need Locus.
But most of all, I hope you enjoy these books. Perhaps you will reconnect with an old favourite, or perhaps you will find new one. I've done my best to collect some great books here, and it is a joy to share them with you all.
– Lavie Tidhar
(Sitting in an English garden waiting for the sun)
* * *
For StoryBundle, you decide what price you want to pay. For $5 (or more, if you're feeling generous), you'll get the basic bundle of four books in any ebook format—WORLDWIDE.
Empire Dreams by Ian McDonald
Silver Screen by Justina Robson
Wake Up and Dream by Ian R. MacLeod
Paris Adrift by E. J. Swift
If you pay at least the bonus price of just $15, you get all four of the regular books, plus six more books, for a total of ten!
A Man Lies Dreaming by Lavie Tidhar
Coil by Ren Warom
The Best of Michael Moorcock by Michael Moorcock
Best of British Science Fiction 2018 by Donna Scott
Best of British Fantasy 2018 by Jared Shurin
The Iron Tactician by Alastair Reynolds
This bundle is available only for a limited time via http://www.storybundle.com. It allows easy reading on computers, smartphones, and tablets as well as Kindle and other ereaders via file transfer, email, and other methods. You get multiple DRM-free formats (.epub, .mobi) for all books!
It's also super easy to give the gift of reading with StoryBundle, thanks to our gift cards – which allow you to send someone a code that they can redeem for any future StoryBundle bundle – and timed delivery, which allows you to control exactly when your recipient will get the gift of StoryBundle.
Why StoryBundle? Here are just a few benefits StoryBundle provides.
Get quality reads: We've chosen works from excellent authors to bundle together in one convenient package.
Pay what you want (minimum $5): You decide how much these fantastic books are worth. If you can only spare a little, that's fine! You'll still get access to a batch of exceptional titles.
Support authors who support DRM-free books: StoryBundle is a platform for authors to get exposure for their works, both for the titles featured in the bundle and for the rest of their catalog. Supporting authors who let you read their books on any device you want—restriction free—will show everyone there's nothing wrong with ditching DRM.
Give to worthy causes: Bundle buyers have a chance to donate a portion of their proceeds to Locus!
Receive extra books: If you beat the bonus price, you'll get the bonus books!
StoryBundle was created to give a platform for independent authors to showcase their work, and a source of quality titles for thirsty readers. StoryBundle works with authors to create bundles of ebooks that can be purchased by readers at their desired price. Before starting StoryBundle, Founder Jason Chen covered technology and software as an editor for Gizmodo.com and Lifehacker.com.
For more information, visit our website at storybundle.com, tweet us at @storybundle and like us on Facebook. For press inquiries, please email press@storybundle.com.