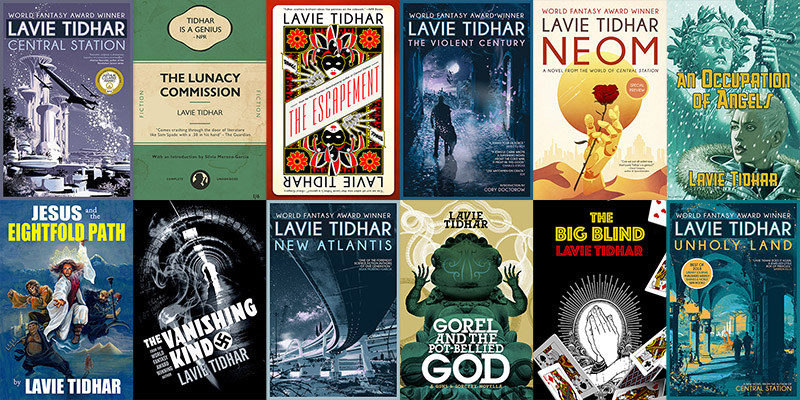 The Best of Lavie Tidhar Bundle
When the opportunity came to put together a bundle exclusively of my books, I just couldn't resist!
If you decide to take a chance on it, you may have read some of the books before, or maybe you never heard of any of these. But for me, each one was an adventure to write.
The real streets of Central Station in Tel Aviv inspired the novel of that name. Living on the Mekong in Vientiane inspired much of the atmosphere of Gorel & The Pot-Bellied God, and a fascination with the game of poker led to the writing of The Big Blind.
The world of Unholy Land was much informed by the years I spent in south and east Africa, just as my adopted home city of London was a fundamental character in The Violent Century and The Vanishing Kind.
But I cannot, in truth, claim ever to have lived in the Doinklands of The Escapement.
These are some of my favourite novels and novellas of the past decade or so. I wrote them variously in Laos, in Israel, in Vanuatu and in London. A key part of Unholy Land was written in Korea, at the Toji Cultural Centre whose founder, the author Pak Kyongni, inspired in turn the writing of New Atlantis.
The bundle includes my earliest novella, An Occupation of Angels, with a brand-new edition and a cover by artist Paul McCaffrey, who worked with me on the graphic novel Adler. It also includes an exclusive sampler of my latest work, the forthcoming SF novel Neom, which was inspired by my visits to Egypt over the years, and my dreams of what lay on the other side of the Red Sea.
I hope you enjoy them!
– Lavie Tidhar
* * *
For StoryBundle, you decide what price you want to pay. For $5 (or more, if you're feeling generous), you'll get the basic bundle of four books in any ebook format—WORLDWIDE.
Central Station by Lavie Tidhar
The Violent Century by Lavie Tidhar
The Lunacy Commission by Lavie Tidhar
An Occupation of Angels by Lavie Tidhar
If you pay at least the bonus price of just $20, you get all four of the regular books, plus eight more books for a total of 12!
The Escapement by Lavie Tidhar
Neom (Teaser) by Lavie Tidhar (StoryBundle Exclusive)
Unholy Land by Lavie Tidhar
The Big Blind by Lavie Tidhar
Gorel and the Pot-Bellied God by Lavie Tidhar
Jesus and the Eightfold Path by Lavie Tidhar
New Atlantis by Lavie Tidhar
The Vanishing Kind by Lavie Tidhar
This bundle is available only for a limited time via http://www.storybundle.com. It allows easy reading on computers, smartphones, and tablets as well as Kindle and other ereaders via file transfer, email, and other methods. You get multiple DRM-free formats (.epub, .mobi) for all books!
It's also super easy to give the gift of reading with StoryBundle, thanks to our gift cards – which allow you to send someone a code that they can redeem for any future StoryBundle bundle – and timed delivery, which allows you to control exactly when your recipient will get the gift of StoryBundle.
Why StoryBundle? Here are just a few benefits StoryBundle provides.
Get quality reads: We've chosen works from excellent authors to bundle together in one convenient package.
Pay what you want (minimum $5): You decide how much these fantastic books are worth. If you can only spare a little, that's fine! You'll still get access to a batch of exceptional titles.
Support authors who support DRM-free books: StoryBundle is a platform for authors to get exposure for their works, both for the titles featured in the bundle and for the rest of their catalog. Supporting authors who let you read their books on any device you want—restriction free—will show everyone there's nothing wrong with ditching DRM.
Give to worthy causes: Bundle buyers have a chance to donate a portion of their proceeds to The United Nations High Commissioner for Refugees!
Receive extra books: If you beat the bonus price, you'll get the bonus books!
StoryBundle was created to give a platform for independent authors to showcase their work, and a source of quality titles for thirsty readers. StoryBundle works with authors to create bundles of ebooks that can be purchased by readers at their desired price. Before starting StoryBundle, Founder Jason Chen covered technology and software as an editor for Gizmodo.com and Lifehacker.com.
For more information, visit our website at storybundle.com, tweet us at @storybundle and like us on Facebook. For press inquiries, please email press@storybundle.com.