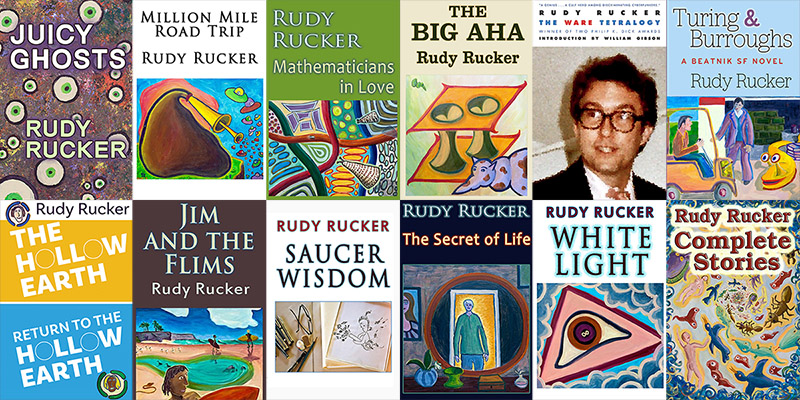 The Best of Rudy Rucker Bundle
Rudy Rucker is his own blend of strange. He wrote his Ph. D. thesis on the mathematics of higher infinities—and turned it into a novel about the transfinite afterworld: White Light. It was also a novel about Rucker's actual life—which is something he does. He calls it transrealism.
Soon after this, on a research grant in Heidelberg with his young family of five, Rucker wrote his well-known cyberbpunk tetralogy Software, Wetware, Freeware, and Realware—an early example of digital immortality. Rucker won the Philip K. Dick Award for Software and for Wetware.
You might say The Secret of Life marks Rucker's coming out as an alien. As his character faces his true nature, he takes on a series of awesome powers. He can change his face, shrink to the size of a thumb, fly around the Eiffel tower—and hand out joints to everyone at his college's annual student assembly. And this is important because government snipers are out to kill him. Why did youth rebel in the 60s? This transreal book will help you understand how it happened.
In Mathematicians in Love, Rucker returns to his roots. Two young mathematicians compete for the love of two women across space, time and logic—spinning out Dr. Seuss-like mathematical mumbo jumbo along the way. Berkeley grad students Paul and Bela have discovered the mathematical underpinnings of ultimate reality. Bela starts a wild rock band. And Paul hacks fundamental reality. But there are side effects.
Another combo volume: The Hollow Earth and Return to the Hollow Earth. One of Rucker's most demented—yet logical—constructs. Earth is hollow, like a tennis ball. And you're weightless in there! The gravity cancels out. The wondrous Hollow Earth holds jungles, seas, native tribes, flying pigs, killer nautiluses, giant ants, live flying saucers, and giant flying sea cucumbers. In The Hollow Earth, our young narrator Mason Reynolds leaves his farm, accompanied by Otha and the dissolute Edgar Allan Poe—and falls through a thousand-mile hole in the ice of Antarctica. And when Return to the Hollow Earth ends, they're in modern day Santa Cruz, California.
Saucer Wisdom. What if some nut was taking trips to the future in a UFO, and bringing back reports for Rudy Rucker to write up? In Saucer Wisdom, the ultimate transreal extravaganza, the author becomes one of the characters. Profusely illustrated with line drawings. And with two prefaces by Bruce Sterling.
Jim and the Flims. A surfing SF novel. Jim and the Flims is set in Santa Cruz, California . . . and in the afterlife. Jim Oster ruptures the membrane between our world and afterworld, creating a two-way tunnel between them. His wife is killed in the process. And now Jim faces an invasion of the aliens—who resemble blue baboons and flying beets. Aided by a posse of Santa Cruz surf-punks, Jim plunges into a mad series of adventures in the underworld—where he just might find his wife. Jim and the Flims is like classic myth retold for the 21st century. Except that it's funny.
Turing & Burroughs. What if Alan Turing, founder of the modern computer age, escaped assassination by the secret service to become the lover of Beat author William Burroughs? What if they mutated into giant shapeshifting slugs, fled the FBI, raised Burroughs's wife from the dead, and tweaked the H-bombs of Los Alamos? Welcome to Turing & Burroughs, A Beatnik SF Novel, compulsively readable, hysterically funny, with insane warps and twists—and a bad attitude throughout.
The Big Aha. Biotech has replaced machines. Qrude artist Zad works with living paint. His career's on the skids, and wife Jane threw him out. Enter qwet—it's quantum wetware! Qwet makes you high and gives you telepathy. A loopy psychedelic revolution begins. Zad and Jane travel through a wormhole and meet the aliens. Stranger than you ever imagined. What is The Big Aha?
Million Mile Road Trip is Rucker's smart, hilarious, and uniquely gnarly science fiction version of the classic road-trip story. When a seemingly-innocent trumpet solo opens a transdimensional connection to a parallel universe containing an endless plain divided into basin-like worlds, three California teens take a million-mile road trip across a landscape of alien civilizations in a beat-up, purple station wagon— with a dark-energy motor, graphene tires and quantum shocks. Their goal? To stop carnivorous flying saucers from invading Earth. And, just maybe, to find love along the way.
Complete Stories. Every one of Rudy Rucker's science-fiction stories, a trove of gnarl and wonder, from 1976 through 2022. Includes collaborations with Bruce Sterling, Marc Laidlaw, Paul Di Filippo, John Shirley, Terry Bisson, and Eileen Gunn. Ninety-six tales in all.
And—Juicy Ghosts. Telepathy, digital immortality, gossip molecules, and artificial ghosts, set amid a pitched battle to oust the evil forces of the nanopercenters, the Citadel Club, the Top Party, and the falsely elected President Ross Treadle. Rudy's wildest world yet.
* * *
For StoryBundle, you decide what price you want to pay. For $5 (or more, if you're feeling generous), you'll get the basic bundle of four books in any ebook format—WORLDWIDE.
Mathematicians in Love by Rudy Rucker
The Ware Tetralogy by Rudy Rucker
Million Mile Road Trip by Rudy Rucker
Juicy Ghosts by Rudy Rucker
If you pay at least the bonus price of just $20, you get all four of the regular books, plus EIGHT more books, for a total of 12!
Complete Stories by Rudy Rucker
White Light by Rudy Rucker
The Secret of Life by Rudy Rucker
Saucer Wisdom by Rudy Rucker
Jim and the Films by Rudy Rucker
Turing & Burroughs by Rudy Rucker
The Big Aha by Rudy Rucker
The Hollow Earth & Return to the Hollow Earth by Rudy Rucker
This bundle is available only for a limited time via http://www.storybundle.com. It allows easy reading on computers, smartphones, and tablets as well as Kindle and other ereaders via file transfer, email, and other methods. You get multiple DRM-free formats (.epub, .mobi) for all books!
It's also super easy to give the gift of reading with StoryBundle, thanks to our gift cards – which allow you to send someone a code that they can redeem for any future StoryBundle bundle – and timed delivery, which allows you to control exactly when your recipient will get the gift of StoryBundle.
Why StoryBundle? Here are just a few benefits StoryBundle provides.
Get quality reads: We've chosen works from excellent authors to bundle together in one convenient package.
Pay what you want (minimum $5): You decide how much these fantastic books are worth. If you can only spare a little, that's fine! You'll still get access to a batch of exceptional titles.
Support authors who support DRM-free books: StoryBundle is a platform for authors to get exposure for their works, both for the titles featured in the bundle and for the rest of their catalog. Supporting authors who let you read their books on any device you want—restriction free—will show everyone there's nothing wrong with ditching DRM.
Give to worthy causes: Bundle buyers have a chance to donate a portion of their proceeds to Girls Write Now and Mighty Writers!
Receive extra books: If you beat the bonus price, you'll get the bonus books!
StoryBundle was created to give a platform for independent authors to showcase their work, and a source of quality titles for thirsty readers. StoryBundle works with authors to create bundles of ebooks that can be purchased by readers at their desired price. Before starting StoryBundle, Founder Jason Chen covered technology and software as an editor for Gizmodo.com and Lifehacker.com.
For more information, visit our website at storybundle.com, tweet us at @storybundle and like us on Facebook. For press inquiries, please email press@storybundle.com.