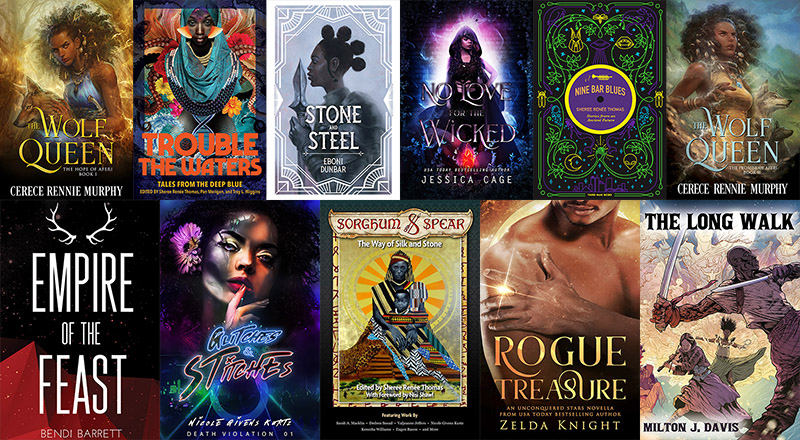 The Black Fantastic Bundle - Curated by Zelda Knight
Every year, during Black History Month, we commemorate the achievements of Black people worldwide. This celebration encompasses all facets of Black life and culture, including the written word. By curating this bundle on storybundle.com, I hope to expose more readers to some of the best writing in the Black Fantastic tradition, including bestselling authors, award-winners, and rising stars.
The Black Fantastic is a catch-all term that transcends strict definition. It weaves together genres as diverse as Afro & African Futurisms, Horror Noire, Steamfunk, Sword & Soul, alternate histories, fables, spirituality, science fiction, fantasy, romance, and so much more.
This amazing bundle contains a short story collection by a two-time World Fantasy Award-Winning author, two Afrocentric anthologies, and seven fantastic novels and novellas under the umbrella of the Black Fantastic. Prolific, award-winning writers that are foundational reads are included, such as Sheree Renée Thomas, Milton J. Davis, and Nicole Givens Kurtz, as well as established favorites and rising stars such as Eboni J. Dunbar, Bendi Barrett, Cerece Rennie Muphy, Jessica Cage, and Zelda Knight.
Name your price to support these fantastic authors, with a portion of the proceeds from this sale going towards a worthy charity fostering new writers. Learn more about the individual contributors and their books in the bundle by reading my curator notes. Welcome to The Black Fantastic, and get ready to explore. – Zelda Knight
* * *
For StoryBundle, you decide what price you want to pay. For $5 (or more, if you're feeling generous), you'll get the basic bundle of four books in any ebook format—WORLDWIDE.
No Love for the Wicked by Jessica Cage
Stone and Steel by Eboni Dunbar
Trouble the Waters edited by Sheree Renée Thomas, Pan Morigan and Troy L. Wiggins
The Wolf Queen Book 1: The Hope of Aferi by Cerece Rennie Murphy
If you pay at least the bonus price of just $20, you get all four of the regular books, plus seven more books for a total of 11!
Glitches & Stitches by Nicole Givens Kurtz
Empire of the Feast by Bendi Barrett
Nine Bar Blues by Sheree Renée Thomas
The Wolf Queen Book 2: The Promise of Aferi by Cerece Rennie Murphy
Rogue Treasure by Zelda Knight
The Long Walk by Milton J. Davis
Sorghum and Spear: The Way of Silk and Stone edited by Sheree Renée Thomas
This bundle is available only for a limited time via http://www.storybundle.com. It allows easy reading on computers, smartphones, and tablets as well as Kindle and other ereaders via file transfer, email, and other methods. You get a DRM-free .epub for all books!
It's also super easy to give the gift of reading with StoryBundle, thanks to our gift cards – which allow you to send someone a code that they can redeem for any future StoryBundle bundle – and timed delivery, which allows you to control exactly when your recipient will get the gift of StoryBundle.
Why StoryBundle? Here are just a few benefits StoryBundle provides.
Get quality reads: We've chosen works from excellent authors to bundle together in one convenient package.
Pay what you want (minimum $5): You decide how much these fantastic books are worth. If you can only spare a little, that's fine! You'll still get access to a batch of exceptional titles.
Support authors who support DRM-free books: StoryBundle is a platform for authors to get exposure for their works, both for the titles featured in the bundle and for the rest of their catalog. Supporting authors who let you read their books on any device you want—restriction free—will show everyone there's nothing wrong with ditching DRM.
Give to worthy causes: Bundle buyers have a chance to donate a portion of their proceeds to Mighty Writers!
Receive extra books: If you beat the bonus price, you'll get the bonus books!
StoryBundle was created to give a platform for independent authors to showcase their work, and a source of quality titles for thirsty readers. StoryBundle works with authors to create bundles of ebooks that can be purchased by readers at their desired price. Before starting StoryBundle, Founder Jason Chen covered technology and software as an editor for Gizmodo.com and Lifehacker.com.
For more information, visit our website at storybundle.com, tweet us at @storybundle and like us on Facebook. For press inquiries, please email press@storybundle.com.