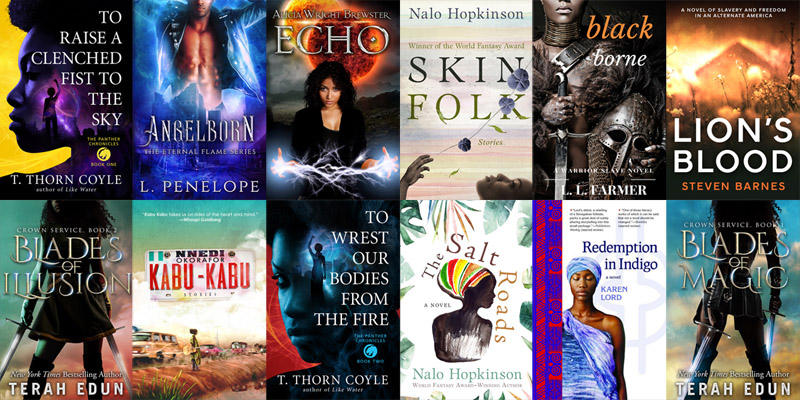 The Black Narratives Bundle - Curated by Terah Edun
During Black History Month, we celebrate bygone and current heroes who symbolize the fight for a greater equality no matter an individual's background. In light of that narrative, I was delighted to bring together a group of authors whose works highlight a diverse storyline and a perspective in speculative fiction that is often overlooked—the black narrative.
Today, in a grouping never before seen, we are launching an unforgettable and unique collection with nine featured authors who bring alive lush fantasies and science fiction stories set in assorted time periods and with thematic backgrounds that draw from American, West African, Caribbean, and black cultural heritages around the globe. The titles in the Black Narratives bundle will be available for just three short weeks, and feature Nebula, Hugo, and Crawford award-winning authors, including Nnedi Okorafor—author of HBO's 'Who Fears Death' series.
As always, at StoryBundle, you name your own price—whatever you feel the books are worth, and a portion of the proceeds goes to charity, but in addition this bundle has a special twist! We are highlighting the release of Ryan Coogler's Black Panther this month. This highly-anticipated Marvel film represents something new—a trailblazing superhero drama set in a lush-and-advanced African country with a blockbuster budget and a storyline that proudly and strongly features a black narrative. This is something we wish to celebrate and accordingly EVERY purchaser of this bundle will automatically be entered to win a ticket to a Black Panther seating of their choice on Saturday, March 3rd.
Now back to the bundle!
This bundle contains so many amazing authors. First off, we're proud to have Nalo Hopkinson include not one but two titles, Salt Road and Skin Folk, both of which were lauded by The New Yorker as works which "stretch the imagination and memory" and the latter of which won a World Fantasy Award.
Next up the bundle brings L. Penelope to the table, an author whose richly evocative fantasies have managed to snare readers, and you'll get to read Angelborn which explores a heated romance between a halfling angel and a human in a paranormal world! In Karen Lord's Redemption In Indigo, her debut novel which won a Crawford Award, reader's fantasy will be tickled while enmeshed in a narrative full of Lord's own Caribbean heritage.
Then take flight back in time to Steven Barnes' Lion's Blood, where the reader will gain the perspective of what it was like to live in a 'New World' colonized not by Europeans, but by African civilizations. After that, go from one delightful narrative to another: T. Thorn Coyle has two titles in this bundle— To Wrest Our Bodies From The Fire and To Raise A Clenched Fist To The Sky which are an urban fantasy series set during the American Civil Rights movement, Alicia Wright's ECHO—a burst of exhilarating energy set in a futuristic society on a distant world, as well as my own Blades Of Magic (free to all newsletter subscribers) and Blades Of Illusion—which follows a young woman as she heads off to battle as a war mage with a dark past.
Last but certainly not least I'm pleased to have L.L. Farmer's Black Borne, which follows a demon hunter in modern-day New York, alongside the esteemed Nnedi Okorafor—who needs no introduction at all. Ms. Okorafor is a pivotal example of the black narratives storyteller in our time and has won the Nebula, Hugo, and Parallax Awards in praise of her work. Today, we've included just for you her title Kabu Kabu, an exciting and fantastic short story collection which will have you on the edge of your seat.
All of these stories, books, and most importantly—narratives—are yours for the taking through this StoryBundle, which allows you to decide what price you want to pay. For FREE as a Storybundle newsletter subscriber this month, you get one book. For $5 (or more, if you feel generous), you'll get the first tier bundle of four titles in any eBook format—WORLDWIDE. If you pay $15 (or more, if you feel generous), you'll get the seven additional titles as well. That's twelve titles in all that you can have access to—today!
This is a great deal, and a great way to pick up a batch of books you won't see together again and just in time for Black History Month! So go forth readers, explore what it means to live in your 'skin' in Nalo Hopkinson's Skin Folk, wage war with my own Blades Of Magic (for free to all Storybundle newsletter subscribers this month!), and explore a fantasy narrative built with Senegalese folktales as its inspiration in Karen Lord's Redemption In Indigo. All of these wonderful stories are waiting for you. – Terah Edun
The initial titles in the Black Narratives Bundle (minimum $5 to purchase) are:
To Raise a Clenched Fist to the Sky: The Panther Chronicles, Book One by T. Thorn Coyle
Skin Folk by Nalo Hopkinson
Angelborn by L. Penelope
Echo by Alicia Wright Brewster
If you pay at least the bonus price of just $15, you get all four of the regular titles, plus SEVEN more!
Lion's Blood: InSha'allah Series Book One by Steven Barnes
Blades Of Illusion: Crown Service #2 by Terah Edun
To Wrest Our Bodies from the Fire: The Panther Chronicles, Book Two by T. Thorn Coyle
Kabu-Kabu by Nnedi Okorafor
The Salt Roads by Nalo Hopkinson
Black Borne by L.L. Farmer
Redemption in Indigo by Karen Lord
Every purchaser who supports the Black Narratives Bundle will be entered to win a Black Panther movie pass to the seating of their choice! Up-to $35 in value which will be available on Saturday, March 3rd! So go on, grab your books and get ready for adventures that will have you exhilarated in time to hit the theatres as well.
Plus, free for all subscribers for the span of the bundle, there's Blades Of Magic: Crown Service #1 by Terah Edun. All you have to be is a StoryBundle newsletter subscriber!
This bundle is available only for a limited time via http://www.storybundle.com. It allows easy reading on computers, smartphones, and tablets as well as Kindle and other ereaders via file transfer, email, and other methods. You get multiple DRM-free formats (.epub, .mobi and .pdf) for all books!
It's also super easy to give the gift of reading with StoryBundle, thanks to our gift cards – which allow you to send someone a code that they can redeem for any future StoryBundle bundle – and timed delivery, which allows you to control exactly when your recipient will get the gift of StoryBundle.
Why StoryBundle? Here are just a few benefits StoryBundle provides.
Get quality reads: We've chosen works from excellent authors to bundle together in one convenient package.
Pay what you want (minimum $5): You decide how much these fantastic books are worth. If you can only spare a little, that's fine! You'll still get access to a batch of exceptional titles.
Support authors who support DRM-free books: StoryBundle is a platform for authors to get exposure for their works, both for the titles featured in the bundle and for the rest of their catalog. Supporting authors who let you read their books on any device you want—restriction free—will show everyone there's nothing wrong with ditching DRM.
Give to worthy causes: Bundle buyers have a chance to donate a portion of their proceeds to Mighty Writers and Girls Write Now!
Receive extra books: If you beat the bonus price, you'll get the bonus books!
StoryBundle was created to give a platform for independent authors to showcase their work, and a source of quality titles for thirsty readers. StoryBundle works with authors to create bundles of ebooks that can be purchased by readers at their desired price. Before starting StoryBundle, Founder Jason Chen covered technology and software as an editor for Gizmodo.com and Lifehacker.com.
For more information, visit our website at storybundle.com, tweet us at @storybundle and like us on Facebook. For press inquiries, please email press@storybundle.com.