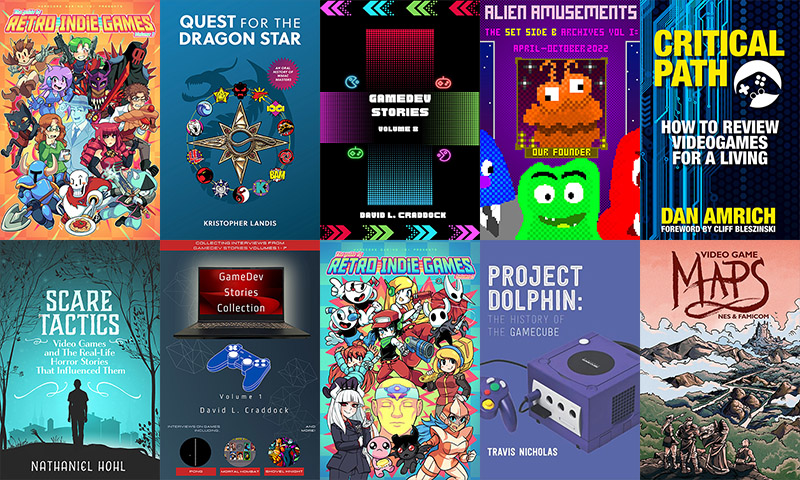 The Chill Game Book Bundle - Curated by David L. Craddock
Temperatures are dropping, turning the great outdoors frigid and inhospitable. Crank the thermostat, heat a mug of cocoa, and curl up with ten epic reads found in the Chill Game Book Bundle.
Author and historian David L. Craddock returns with two entries in his GameDev Stories series featuring interviews with developers, designers, and other industry veterans. StoryBundle newcomer Kristopher Landis presents Quest for the Dragon Star, an oral history of the WMAC Masters show featuring Ho Sung Pak—famous for portraying Liu Kang in Mortal Kombat and MKII—among other martial artists.
All that, plus Brian Riggsbee's collection of NES and Famicom maps, a book that examines the real-life influences behind some of the world's most terrifying horror games, two books from the vast library of Hardcore Gaming 101, and more.
StoryBundle is a pay-what-you-want platform for independent authors to share their works with readers (and gamers) like you. Paying at least $5 will get you three books from the Chill Game Book Bundle, while paying $20 or more unlocks all seven bonus books. – David L. Craddock
* * *
For StoryBundle, you decide what price you want to pay. For $5 (or more, if you're feeling generous), you'll get the basic bundle of three books in any ebook format—WORLDWIDE.
Quest for the Dragon Star by Kristopher Landis
Alien Amusements by John Harris
The Guide to Retro Indie Games Vol. 1 by Kurt Kalata
If you pay at least the bonus price of just $20, you get all three of the regular books, plus seven more books for a total of 10, including two StoryBundle exclusives!
GameDev Stories Collection: Volume 1 by David L. Craddock (StoryBundle Exclusive)
GameDev Stories: Volume 8 by David L. Craddock (StoryBundle Exclusive)
Critical Path by Dan Amrich
The Guide to Retro Indie Games Vol. 2 by Kurt Kalata
Scare Tactics by Nathaniel Hohl
Project Dolphin by Travis Nicholas
Video Game Maps NES and Famicom by Brian Riggsbee
This bundle is available only for a limited time via http://www.storybundle.com. It allows easy reading on computers, smartphones, and tablets as well as Kindle and other ereaders via file transfer, email, and other methods. You get multiple DRM-free formats (.epub, .mobi) for all books!
You can gift the Chill Game Book Bundle using StoryBundle Gift cards, which are delivered as codes that anyone can redeem for any book bundle. StoryBundle also offers timed delivery, so you can control exactly when recipients will receive their gift cards—the perfect digital stocking stuffers.
StoryBundle is pleased to partner with the Video Game History Foundation, a 501(c)3 non-profit organization dedicated to "preserving, celebrating, and teaching the history of video games," per the foundation's website. The Video Game History Foundation is home to the world's "first dedicated video game history research library" full of "rare behind-the-scenes materials" and other historical items such as lost artwork recovered for the game studios that made it. For more information visit https://gamehistory.org/.
Why StoryBundle? Here are just a few benefits StoryBundle provides.
Get quality reads: We've chosen works from excellent authors to bundle together in one convenient package.
Pay what you want (minimum $5): You decide how much these fantastic books are worth. If you can only spare a little, that's fine! You'll still get access to a batch of exceptional titles.
Support authors who support DRM-free books: StoryBundle is a platform for authors to get exposure for their works, both for the titles featured in the bundle and for the rest of their catalog. Supporting authors who let you read their books on any device you want—restriction free—will show everyone there's nothing wrong with ditching DRM.
Give to worthy causes: Bundle buyers have a chance to donate a portion of their proceeds to The Video Game History Foundation!
Receive extra books: If you beat the bonus price, you'll get the bonus books!
StoryBundle was created to give a platform for independent authors to showcase their work, and a source of quality titles for thirsty readers. StoryBundle works with authors to create bundles of ebooks that can be purchased by readers at their desired price. Before starting StoryBundle, Founder Jason Chen covered technology and software as an editor for Gizmodo.com and Lifehacker.com.
For more information, visit our website at storybundle.com, tweet us at @storybundle and like us on Facebook. For press inquiries, please email press@storybundle.com.