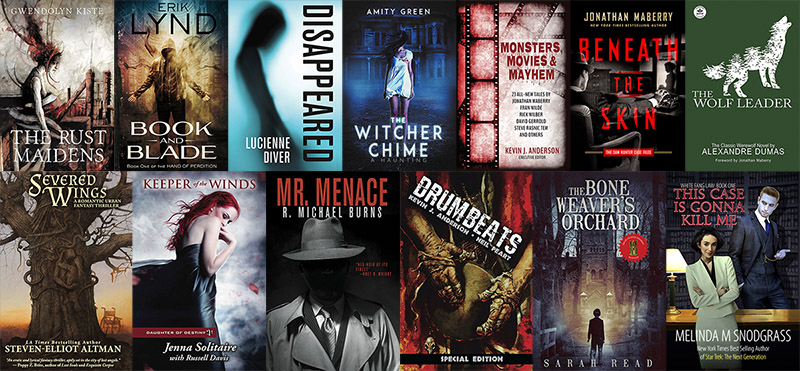 The Chills & Wonder Bundle - Curated by Kevin J. Anderson
We live in creepy times. It's summer, when we sit around the campfire and tell fun and chilling tales. Better yet, sit back with your e-reader and enjoy these thirteen books in the "Chills and Wonder" StoryBundle curated by New York Times bestselling author Kevin J. Anderson. These are some of the best, most entertaining dark fantasy, urban fantasy, and thriller novels—all thirteen books for as little as $15, and a portion goes to support the Challenger Learning Centers.
The StoryBundle includes the just-released anthology Monsters, Movies & Mayhem, with 23 all original stories about monsters and movies by Jonathan Maberry, David Gerrold, Fran Wilde, Rick Wilber, and many others. Lights! Camera! Monsters!
In the gritty thriller Disappeared by Lucienne Diver, a mother is missing, a father left to tell the tale, and their kids are determined to get to the truth or die trying. Steven-Elliot Altman's Severed Wings is a romantic urban fantasy thriller that will make you believe in angels and demons and everything in between. Recommended for readers from American Gods to Twilight. In Keeper of the Winds by Russell Davis, nineteen-year-old Jenna Solitaire discovers an ancient family artifact, a wooden board covered in runes. It is coveted by powerful forces, and they will stop at nothing to take it from her.
In Amity Green's The Witcher Chime, a deadly, possessive entity imprints on members of Savannah Caleman's family, making her the latest object of obsession in this chilling, historical tale of haunted legacy and terror. In Book and Blade by Erik Lynd, Christopher never asked to inherit the office of the Beast or take up the mantle of the Hunter of Lost Souls. He never asked for his safe, comfortable world to be shattered and his family taken from him. And to make matters worse, it was all a mistake.
Melinda M. Snodgrass, one of the writers for Star Trek: The Next Generation, introduces readers to White Fang Law in This Case Is Gonna Kill Me. Fresh out of law school, Linnet Ellery is offered a position at of one the most prestigious firms in New York—one that caters to supernatural clients. Linnet will need all of her vaunted luck to avoid the cutthroat office politics, backroom deals, supernatural killers, and centuries-old schemers…
But there's more—An insect-loving boy discovers that his new boarding school harbors a dark past and grisly secrets in Sarah Read's The Bone Weaver's Orchard. In The Rust Maidens by Gwendolyn Kiste, strange transformations destroyed Phoebe's friends, and now threaten her own existence. And New York Times bestselling author Jonathan Maberry presents a collection of hairy detective tales in Beneath the Skin, It's hard enough being a low-rent private investigator—but when you're also a werewolf, things take a turn for the weird.
The Chills & Wonder StoryBundle includes three exclusive titles, not yet available to the public except for here. Mr. Menace by R. Michael Burns—When a wealthy and gorgeous woman asks P.I. Frank Orpheus to find her missing identity, he just can't say no … even if the case leads him into a criminal underworld more horrific than anything he ever imagined. A new edition of Alexandre Dumas's long-unavailable classic The Wolf Leader, one of the first werewolf novels ever written, by the author of The Three Musketeers and The Man in the Iron Mask. New edition with a Foreword by Jonathan Maberry.
And Drumbeats: Special Edition, by Kevin J. Anderson and Neil Peart. Written with legendary drummer and lyricist from Rush, a creepy story about a drummer who visits an African village where drums are made with human skin…and they have very special properties. This edition includes the original afterword by Peart and a new foreword by Anderson written after Peart's death in January 2020. – Kevin J. Anderson
* * *
For StoryBundle, you decide what price you want to pay. For $5 (or more, if you're feeling generous), you'll get the basic bundle of five books in any ebook format—WORLDWIDE.
The Rust Maidens by Gwendolyn Kiste
Book and Blade by Erik Lynd
Severed Wings by Steven-Elliot Altman
Disappeared by Lucienne Diver
Monsters, Movies & Mayhem by Kevin J. Anderson
If you pay at least the bonus price of just $15, you get all five of the regular books, plus EIGHT more books, for a total of thirteen!
Keeper of the Winds by Jenna Solitaire with Russell Davis
Mr. Menace by R. Michael Burns (StoryBundle Exclusive!)
The Witcher Chime by Amity Green
The Wolf Leader by Alexandre Dumas (StoryBundle Exclusive!)
Drumbeats: Special Edition by Kevin J. Anderson and Neil Peart (StoryBundle Exclusive!)
Beneath the Skin by Jonathan Maberry
The Bone Weaver's Orchard by Sarah Read
This Case Is Gonna Kill Me by Melinda M. Snodgrass
This bundle is available only for a limited time via http://www.storybundle.com. It allows easy reading on computers, smartphones, and tablets as well as Kindle and other ereaders via file transfer, email, and other methods. You get multiple DRM-free formats (.epub, .mobi) for all books!
It's also super easy to give the gift of reading with StoryBundle, thanks to our gift cards – which allow you to send someone a code that they can redeem for any future StoryBundle bundle – and timed delivery, which allows you to control exactly when your recipient will get the gift of StoryBundle.
Why StoryBundle? Here are just a few benefits StoryBundle provides.
Get quality reads: We've chosen works from excellent authors to bundle together in one convenient package.
Pay what you want (minimum $5): You decide how much these fantastic books are worth. If you can only spare a little, that's fine! You'll still get access to a batch of exceptional titles.
Support authors who support DRM-free books: StoryBundle is a platform for authors to get exposure for their works, both for the titles featured in the bundle and for the rest of their catalog. Supporting authors who let you read their books on any device you want—restriction free—will show everyone there's nothing wrong with ditching DRM.
Give to worthy causes: Bundle buyers have a chance to donate a portion of their proceeds to the Challenger Center for Space Education!
Receive extra books: If you beat the bonus price, you'll get the bonus books!
StoryBundle was created to give a platform for independent authors to showcase their work, and a source of quality titles for thirsty readers. StoryBundle works with authors to create bundles of ebooks that can be purchased by readers at their desired price. Before starting StoryBundle, Founder Jason Chen covered technology and software as an editor for Gizmodo.com and Lifehacker.com.
For more information, visit our website at storybundle.com, tweet us at @storybundle and like us on Facebook. For press inquiries, please email press@storybundle.com.