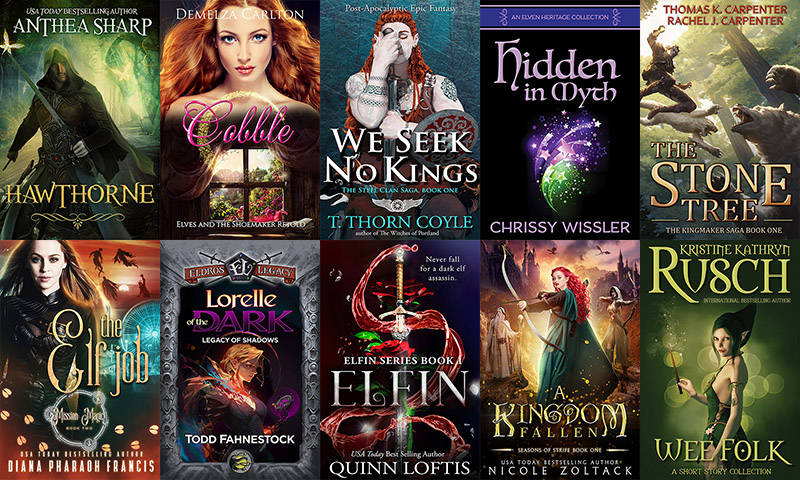 The Epic Elves 2 Bundle - Curated by Anthea Sharp
Step into ten worlds of magic and legend, where the elves you thought you knew are wonderfully reimagined by top authors in the fantasy field.
Elves have been a staple of fantasy since the first fairytales were told, and through the years authors have imagined and re-imagined these magical beings. This collection is no exception. StoryBundle is thrilled to offer these ten stunning and creative takes on elves, serving up the unexpected (Mafia elves! Western elves!) along with classic fairytale retellings and sweeping fantasy worlds, all the while ringing the familiar tropes of pointy ears and perilous magic.
The titles in this bundle range from secondary worlds filled with enchantment and danger to the gritty streets of urban cities. Mighty warrior-mage elf princes stride the hushed halls of their glittering palaces, witchy heroines make unfortunate bargains with treacherous modern elves, and half-elf teens try to hide in plain sight in dusty backwoods towns.
Whether you're looking for classic, morally ambiguous Dark Elves, holiday sprites who create mischievous havoc, or reckless teens wishing they could reject their powers and pointed ears, every tale here will make you nod in recognition. Like a kaleidoscope, as you turn the virtual pages through these books, the shifting stories will reveal different facets of the elves. But one thing is certain - wee or mighty, hero or villain - they are all epic. – Anthea Sharp
* * *
For StoryBundle, you decide what price you want to pay. For $5 (or more, if you're feeling generous), you'll get the basic bundle of four books in .epub format—WORLDWIDE.
The Stone Tree - The Kingmaker Saga Book One by Thomas K. Carpenter
Cobble by Demelza Carlton
Hidden in Myth by Chrissy Wissler
Hawthorne by Anthea Sharp
If you pay at least the bonus price of just $20, you get all four of the regular books, plus six more books for a total of 10, including a StoryBundle exclusive!
Wee Folk by Kristine Kathryn Rusch (StoryBundle Exclusive)
Lorelle of the Dark by Todd Fahnestock
We Seek No Kings by T. Thorn Coyle
Elfin by Quinn Loftis
A Kingdom Fallen by Nicole Zoltack
The Elf Job by Diana Pharaoh Francis
This bundle is available only for a limited time via http://www.storybundle.com. It allows easy reading on computers, smartphones, and tablets as well as Kindle and other ereaders via file transfer, email, and other methods. You get a DRM-free .epub for all books!
It's also super easy to give the gift of reading with StoryBundle, thanks to our gift cards – which allow you to send someone a code that they can redeem for any future StoryBundle bundle – and timed delivery, which allows you to control exactly when your recipient will get the gift of StoryBundle.
Why StoryBundle? Here are just a few benefits StoryBundle provides.
Get quality reads: We've chosen works from excellent authors to bundle together in one convenient package.
Pay what you want (minimum $5): You decide how much these fantastic books are worth. If you can only spare a little, that's fine! You'll still get access to a batch of exceptional titles.
Support authors who support DRM-free books: StoryBundle is a platform for authors to get exposure for their works, both for the titles featured in the bundle and for the rest of their catalog. Supporting authors who let you read their books on any device you want—restriction free—will show everyone there's nothing wrong with ditching DRM.
Give to worthy causes: Bundle buyers have a chance to donate a portion of their proceeds to Girls Write Now!
Receive extra books: If you beat the bonus price, you'll get the bonus books!
StoryBundle was created to give a platform for independent authors to showcase their work, and a source of quality titles for thirsty readers. StoryBundle works with authors to create bundles of ebooks that can be purchased by readers at their desired price. Before starting StoryBundle, Founder Jason Chen covered technology and software as an editor for Gizmodo.com and Lifehacker.com.
For more information, visit our website at storybundle.com, tweet us at @storybundle and like us on Facebook. For press inquiries, please email press@storybundle.com.