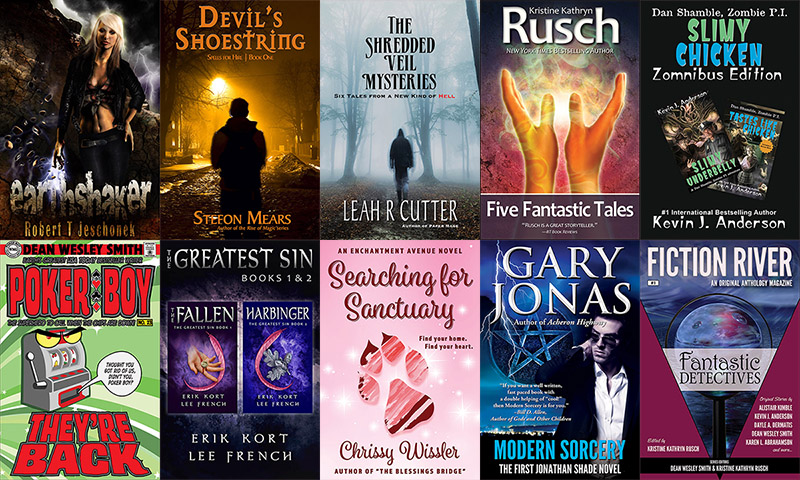 The Fantasy Detectives Bundle - Curated by Dean Wesley Smith
I flat love the concept of fantasy detectives, merging elements of two genres into one. I write a lot of different forms of fantasy detectives, actually. So when the chance to curate this bundle came up, I jumped at the chance.
Fantasy comes in when fantastical elements enter the story, either in full-blown fantasy worlds, or in our world with simple impossible things happening.
And everything in between.
The detective in these wonderful books are characters who solve crimes in their fantasy worlds. Solving crimes, after all, is what detectives do.
By this mashing together of two different genres allows for some amazing and wonderfully creative novels and stories.
In this bundle, we have some of the best fantasy writers in the country bringing their best detective skills to their books to make for fantastic reading experiences.
For example, New York Times bestselling writer Kevin J. Anderson gives us not one, but two full novels in his wonderful and highly acclaimed Dan Shamble: Zombie Detective series. He bundled them together for us. If you haven't been reading the fun Dan Shamble zombie stories and novels, you are missing one of the wildest twists you can imagine on the two genres.
New York Times bestselling writer Kristine Kathryn Rusch gives us five stories with fairies, magic shops, and shape shifters solving problems in Five Fantastic Tales. This includes a wonderful crime/fantasy story called "The Poop Thief." I kid you not.
Then bestselling writer Robert Jeschonek offers a novel staring Gaia Charmer, a private detective with the power to control substances. Only Bob can take a wild idea like that and have Gaia set out to solve a murder and end up saving the world.
Then acclaimed new writer Stefon Mears gives us the first book of an exciting new series set in Portland, Oregon, where conjure man Heath Cyr must save the day in a book that fans of Harry Dresden will flat-out love.
Gary Jonas gives us a full novel in his acclaimed Jonathan Shade private investigator series. Don't worry, each book stands alone, but trust me, you read this one and you will want to find the rest. And there are ten others right now, with Gary working on another. A series worth binging on.
Chrissy Wissler is known for writing powerful, passionate short stories and novels for both adults and young adults and if you haven't been lucky enough to find her work before now, this is your chance. Searching for Sanctuary is a story of hope and redemption, love and magic, with all of them possible. And there is a nifty crime as well.
Oh, man, bestselling writer and editor, Leah Cutter is giving us a real treat with a book of short novels (novellas) in her Shrouded Veil Mystery series. Only as would be expected in this bundle, the detective solving the crimes in each short novel is a ghost in Seattle where ghosts are common and even have their own bus passes.
Next up we get two more novels in a bundle by two great writers, Erik Kort and Lee French. Books #1 and #2 of their hot Harbinger series. You will want Erik and Lee to keep the series going after you read these two books.
Then I talked WMG Publishing in letting the Fiction River: Fantastic Detectives volume be included because, as is clear from the name, it is right on topic and includes eleven stories, including stories from Kevin J. Anderson, Kristine Kathryn Rusch, and me.
And I have included my short Poker Boy novel here, They're Back. Poker Boy is by far my bestselling series of stories and I have written upwards of sixty Poker Boy stories over the decades. He is a superhero in the poker world and has a very strange way of solving crimes.
So all-in-all, nine different novels, two short story collections and a series of short novels. All wonderful fantastic detective stories by top writers in this crazy mashed-up sub-genre.
I hope you enjoy them as much as I did putting this together.
– Dean Wesley Smith
For StoryBundle, you decide what price you want to pay. For $5 (or more, if you're feeling generous), you'll get the basic bundle of four books in any ebook format—WORLDWIDE.
Devil's Shoestring by Stefon Mears
Earthshaker by Robert Jeschonek
The Shredded Veil Mysteries by Leah Cutter
Five Fantastic Tales by Kristine Kathryn Rusch
If you pay at least the bonus price of just $15, you get all four of the regular books, plus SIX more!
Slimy Chicken Zomnibus Edition by Kevin J. Anderson
Modern Sorcery by Gary Jonas
Fantastic Detectives by Fiction River
The Greatest Sin: Books 1-2 by Erik Kort and Lee French
They're Back by Dean Wesley Smith
Searching for Sanctuary by Chrissy Wissler
This bundle is available only for a limited time via http://www.storybundle.com. It allows easy reading on computers, smartphones, and tablets as well as Kindle and other ereaders via file transfer, email, and other methods. You get multiple DRM-free formats (.epub and .mobi) for all books!
It's also super easy to give the gift of reading with StoryBundle, thanks to our gift cards – which allow you to send someone a code that they can redeem for any future StoryBundle bundle – and timed delivery, which allows you to control exactly when your recipient will get the gift of StoryBundle.
Why StoryBundle? Here are just a few benefits StoryBundle provides.
Get quality reads: We've chosen works from excellent authors to bundle together in one convenient package.
Pay what you want (minimum $5): You decide how much these fantastic books are worth. If you can only spare a little, that's fine! You'll still get access to a batch of exceptional titles.
Support authors who support DRM-free books: StoryBundle is a platform for authors to get exposure for their works, both for the titles featured in the bundle and for the rest of their catalog. Supporting authors who let you read their books on any device you want—restriction free—will show everyone there's nothing wrong with ditching DRM.
Give to worthy causes: Bundle buyers have a chance to donate a portion of their proceeds to AbleGamers!
Receive extra books: If you beat the bonus price, you'll get the bonus books!
StoryBundle was created to give a platform for independent authors to showcase their work, and a source of quality titles for thirsty readers. StoryBundle works with authors to create bundles of ebooks that can be purchased by readers at their desired price. Before starting StoryBundle, Founder Jason Chen covered technology and software as an editor for Gizmodo.com and Lifehacker.com.
For more information, visit our website at storybundle.com, tweet us at @storybundle and like us on Facebook. For press inquiries, please email press@storybundle.com.