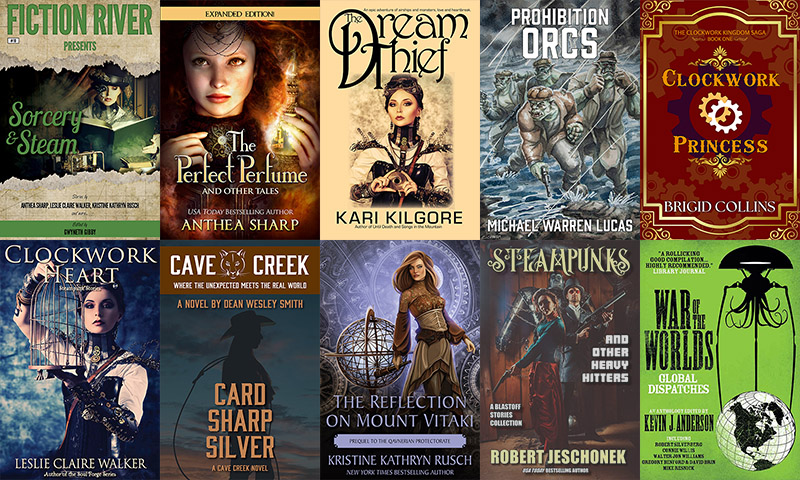 The Fantasy Steampunk Bundle - Curated by Kristine Kathryn Rusch
I had a great time assembling this bundle. The inspiration was my own book for the bundle, The Reflection on Mount Vitaki, a standalone book in my Fey universe.
Regular Fey readers were shocked: they expected traditional fantasy, and they got something with steampunk elements. I'd been planning that little surprise for nearly 20 years and finally got a chance to write it.
Mount Vitaki got me thinking about other fantastic stories that feel like steampunk but might not follow the strict definition.
Here's how I think of it:
The best steampunk gives us fantasy with an attitude and weird mechanical somethings or other. When we expect magic, we get machines. When we expect machines, we get magic. Sometimes we get both at the same time.
We called this Storybundle Fantasy Steampunk because most of the stories here are either steampunk, fantasy with steampunk elements, or fantasy that feels like steampunk.
The bundle includes three books exclusive to the bundle, all of them brand-new. The Victorians make a big appearance here, although we also have a story set in the Old West during the Victorian Era. A touch of H.G. Wells (the original steampunk writer) and some Orcs working in the Motor City, which, even though it's set during Prohibition, feels steampunk to me.
The featured writers are all amazing, award-winning, and bestselling. For as little as $20, you'll get books from Anthea Sharp, Robert Jeschonek, Leslie Claire Walker, Kari Kilgore, Brigid Collins, and Dean Wesley Smith. You'll also get two anthologies filled with steampunky goodness.
Then we add our charity, Able Gamers.
After 2020, when all of us unwillingly spent weeks inside unable to socialize, we got a sense of what many disabled folks contend with each and every day. Able Gamers helps them participate in online games by providing equipment tailored toward their needs. Sometimes the online community is the only community available to people who are housebound. Dreams are important for all of us, as is being social, so please, if you decide to purchase this bundle, add a donation to AbleGamers.
For as little as $20, you can get all kinds of great reading and give a few dollars to a great charity.
What more could you ask for?
Enjoy! – Kristine Kathryn Rusch
* * *
For StoryBundle, you decide what price you want to pay. For $5 (or more, if you're feeling generous), you'll get the basic bundle of four books in any ebook format—WORLDWIDE.
Fiction River Presents: Sorcery & Steam edited by Gwyneth Gibby
The Dream Thief by Kari Kilgore
Prohibition Orcs by Michael Warren Lucas
The Perfect Perfume and Other Tales by Anthea Sharp
If you pay at least the bonus price of just $20, you get all four of the regular books, plus six more books for a total of 10, including THREE StoryBundle exclusives!
The Reflection on Mount Vitaki by Kristine Kathryn Rusch
Card Sharp Silver by Dean Wesley Smith
Steampunks and Other Heavy Hitters by Robert Jeschonek (StoryBundle Exclusive)
Clockwork Heart by Leslie Claire Walker (StoryBundle Exclusive)
War of the Worlds - Global Dispatches edited by Kevin J. Anderson
Clockwork Princess by Brigid Collins (StoryBundle Exclusive)
This bundle is available only for a limited time via http://www.storybundle.com. It allows easy reading on computers, smartphones, and tablets as well as Kindle and other ereaders via file transfer, email, and other methods. You get a DRM-free .epub for all books!
It's also super easy to give the gift of reading with StoryBundle, thanks to our gift cards – which allow you to send someone a code that they can redeem for any future StoryBundle bundle – and timed delivery, which allows you to control exactly when your recipient will get the gift of StoryBundle.
Why StoryBundle? Here are just a few benefits StoryBundle provides.
Get quality reads: We've chosen works from excellent authors to bundle together in one convenient package.
Pay what you want (minimum $5): You decide how much these fantastic books are worth. If you can only spare a little, that's fine! You'll still get access to a batch of exceptional titles.
Support authors who support DRM-free books: StoryBundle is a platform for authors to get exposure for their works, both for the titles featured in the bundle and for the rest of their catalog. Supporting authors who let you read their books on any device you want—restriction free—will show everyone there's nothing wrong with ditching DRM.
Give to worthy causes: Bundle buyers have a chance to donate a portion of their proceeds to AbleGamers!
Receive extra books: If you beat the bonus price, you'll get the bonus books!
StoryBundle was created to give a platform for independent authors to showcase their work, and a source of quality titles for thirsty readers. StoryBundle works with authors to create bundles of ebooks that can be purchased by readers at their desired price. Before starting StoryBundle, Founder Jason Chen covered technology and software as an editor for Gizmodo.com and Lifehacker.com.
For more information, visit our website at storybundle.com, tweet us at @storybundle and like us on Facebook. For press inquiries, please email press@storybundle.com.