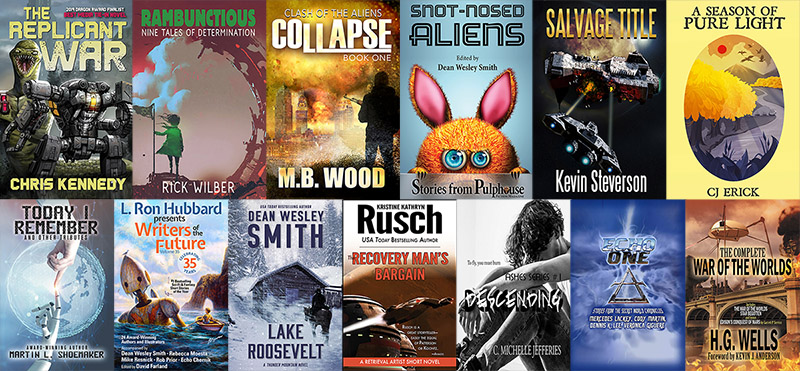 The Far, Far Away Adventure SF Bundle - Curated by Kevin J. Anderson
Yes, you're stuck at home, but your imagination can roam as far as the galaxy's edge! I've curated this baker's dozen titles of far-ranging action-packed science fiction titles. It will keep you company, and keep you epic, as you shelter in place.
This science fiction bundle includes big SF novels THE REPLICANT WAR by Chris Kennedy, COLLAPSE—post apocalypse with an alien invasion—by M.B. Wood, SALVAGE TITLE by Kevin Stevenson, A SEASON OF PURE LIGHT by C.J. Erick, DESCENDING by C. Michelle Jeffries, LAKE ROOSEVELT by Dean Wesley Smith, and RECOVERY MAN'S BARGAIN by Kristine Kathryn Rusch (a short novel in her popular Retrieval Artist series).
If your tastes run to shorter works, we have the new, original collection ECHO ONE by Mercedes Lackey and her coauthors Cody Martin, Dennis K. Lee, and Veronica Giguere, and the humorous SNOT-NOSED ALIENS, as well as collections from multiple award-winning authors, RAMBUNCTIOUS by Rick Wilber and TODAY I REMEMBER by Martin L. Shoemaker and the perennial favorite of the best new short fiction, volume 35 of the WRITERS OF THE FUTURE winners.
As a really exciting bonus, we have THE COMPLETE WAR OF THE WORLDS by HG Wells and Garrett P. Serviss. I am a professor at Western Colorado University, and my grad students getting a Masters degree in publishing are each producing and reissuing a classic novel. This is one of them, collecting for the very first time H.G. Wells's groundbreaking novel of Martian invasion, along with the unauthorized (but extremely popular) contemporary sequel, EDISON'S CONQUEST OF MARS by Garrett P. Serviss, as well as the author's own, much later conceptual sequel STAR BEGOTTEN.
Three of the titles—TODAY I REMEMBER, ECHO ONE, and COMPLETE WAR OF THE WORLDS—are exclusive to this StoryBundle and not yet available anywhere else.
The Far, Far Away Adventure SF bundle runs only through May 13 and then it's gone like a supernova. Load up your warp core with some great books to read. – Kevin J. Anderson
* * *
For StoryBundle, you decide what price you want to pay. For $5 (or more, if you're feeling generous), you'll get the basic bundle of four books in any ebook format—WORLDWIDE.
The Replicant War by Chris Kennedy
Collapse by M.B. Wood
Rambunctious by Rick Wilber
Snot-Nosed Aliens by Dean Wesley Smith
If you pay at least the bonus price of just $15, you get all four of the regular books, plus nine more more books, for a total of thirteen!
Descending - Ashes Series #1 by C. Michelle Jefferies
A Season of Pure Light by CJ Erick
Writers of the Future Volume 35 edited by David Farland
Salvage Title by Kevin Steverson
Today I Remember by Martin L. Shoemaker (StoryBundle Exclusive!)
Echo One by Mercedes Lackey, Cody Martin, Dennis K. Lee and Veronica Giguere (StoryBundle Exclusive!)
The Complete War of the Worlds by H.G. Wells (StoryBundle Exclusive!)
Lake Roosevelt by Dean Wesley Smith
The Recovery Man's Bargain by Kristine Kathryn Rusch
This bundle is available only for a limited time via http://www.storybundle.com. It allows easy reading on computers, smartphones, and tablets as well as Kindle and other ereaders via file transfer, email, and other methods. You get multiple DRM-free formats (.epub, .mobi) for all books!
It's also super easy to give the gift of reading with StoryBundle, thanks to our gift cards – which allow you to send someone a code that they can redeem for any future StoryBundle bundle – and timed delivery, which allows you to control exactly when your recipient will get the gift of StoryBundle.
Why StoryBundle? Here are just a few benefits StoryBundle provides.
Get quality reads: We've chosen works from excellent authors to bundle together in one convenient package.
Pay what you want (minimum $5): You decide how much these fantastic books are worth. If you can only spare a little, that's fine! You'll still get access to a batch of exceptional titles.
Support authors who support DRM-free books: StoryBundle is a platform for authors to get exposure for their works, both for the titles featured in the bundle and for the rest of their catalog. Supporting authors who let you read their books on any device you want—restriction free—will show everyone there's nothing wrong with ditching DRM.
Give to worthy causes: Bundle buyers have a chance to donate a portion of their proceeds to The Challenger Center For Space Exploration!
Receive extra books: If you beat the bonus price, you'll get the bonus books!
StoryBundle was created to give a platform for independent authors to showcase their work, and a source of quality titles for thirsty readers. StoryBundle works with authors to create bundles of ebooks that can be purchased by readers at their desired price. Before starting StoryBundle, Founder Jason Chen covered technology and software as an editor for Gizmodo.com and Lifehacker.com.
For more information, visit our website at storybundle.com, tweet us at @storybundle and like us on Facebook. For press inquiries, please email press@storybundle.com.