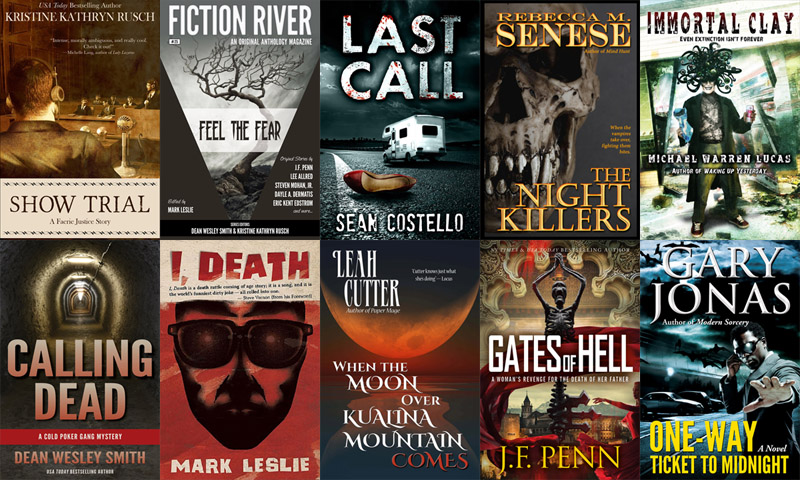 The Fear Bundle - Curated by Kristine Kathryn Rusch
Fear comes in many forms. The hair slowly rising on the back of your neck. That imaginary icy finger that sends shivers up your spine. The jolt of adrenaline when something topples over in your supposedly empty house.
I love a good scare, especially when I can enjoy it in the comfort of my own house. When I can sip a cup of tea and huddle under a blanket and worry about the rabid vampire apocalypse, secure in the knowledge that rabid vampires don't exist. (I'm not so sure about actual vampires, given some of the so-called people I've met.)
I especially love a good scare in the Fall. I don't know if that's conditioning because Halloween dominates October, or if it's because there's something inherently spooky in the rustle of autumn leaves and fog, rising off the ground in the middle of the night.
Not every good scare focuses on horror fiction, though. There's more to fear than monsters chasing us, claws out. Or rather, supernatural monsters chasing us, claws out. Because I find real monsters scary as well. And by real, I mean human beings who seem to have a piece missing. The humans who love torture or harming others; the humans who seem to believe that they can viciously and sadistically destroy their fellow human beings.
I've tried to assemble all the various fears for this Storybundle. We actually do have rabid vampires, thanks to Rebecca M. Senese. Sean Costello and Dean Wesley Smith provide two different kinds of serial killers. Mark Leslie and Leah Cutter examine the ways that magic can taint the user. J.F. Penn and I both show how the world itself can go mad. And Michael Warren Lucas adds a touch of science fiction by examining what happens after an alien destroys the world and everyone in it.
The bundle gets its name from the most recent volume of the acclaimed Fiction River anthology series. Mark Leslie does double-duty here, since he edited the volume, and in it, he details all the short fiction fears you'll find contained therein:
The tales you are about to read explore the fear of death, of heights, of depths, of open spaces, of being trapped, of strangers, of loved ones, of the loss of loved ones, of rejection, of bugs, insects and spiders, of being alone, of corrupt authority, of pain, of loss of control, of unworldly evil, and of the mind itself.
If we missed some great fictional fears, I'll be surprised. Because we have ghosts and wee beasties, thrills and chills, and things that go bump in the night. All of it brought to you by writers with vast pedigrees—award nominees, New York Times and USA Today bestsellers, critical darlings, and worldwide bestsellers.
Most of us read about fear so that we don't have to think about our own terrors. The things that keep us awake at night—like paying the mortgage or taking care of a sick relative. But as I assembled this bundle, I couldn't help but be struck by the fact that millions of people in my country, the United States, are experiencing very real fears—the inescapable kind. Their homes have been destroyed by fires, wind or flood in one of the most devastating hurricane and wildfire years on record.
As I write this, the entire island of Puerto Rico is still mostly without power, weeks after Hurricane Maria. People are still dying there from that natural disaster, because their drinking water is tainted, their hospitals have no power, and most folks have no shelter.
We can't alleviate all of the fears felt by the victims of the natural disasters, but we can help with our dollars. So our charity for this particular StoryBundle is the American Red Cross, with our donations earmarked to Puerto Rico relief. Usually, I don't mention the charity this prominently in our upfront promotion for the bundle, but I am this time, because—for a reason I won't go into—the U.S. government is reluctant to put its full weight behind helping Puerto Rico.
Which means the rest of us have to do what we can.
So as you get this great bundle of great fictional fears for a great price, add a few dollars for folks who are experiencing the kind of terrors the rest of us hope to avoid. You'll have our gratitude if you do. – Kristine Kathryn Rusch
The initial titles in the The Fear Bundle (minimum $5 to purchase) are:
Show Trial by Kristine Kathryn Rusch
Last Call by Sean Costello
The Night Killers by Rebecca M. Senese
Fiction River: Feel the Fear by Mark Leslie
If you pay at least the bonus price of just $15, you get all four of the regular titles, plus SIX more!
Calling Dead by Dean Wesley Smith
Immortal Clay by Michael Warren Lucas
I, Death by Mark Leslie
When the Moon Over Kualina Mountain Comes by Leah Cutter
Gates of Hell by J.F. Penn
One-Way Ticket to Midnight by Gary Jonas
This bundle is available only for a limited time via http://www.storybundle.com. It allows easy reading on computers, smartphones, and tablets as well as Kindle and other ereaders via file transfer, email, and other methods. You get multiple DRM-free formats (.epub and .mobi) for all books!
It's also super easy to give the gift of reading with StoryBundle, thanks to our gift cards – which allow you to send someone a code that they can redeem for any future StoryBundle bundle – and timed delivery, which allows you to control exactly when your recipient will get the gift of StoryBundle.
Why StoryBundle? Here are just a few benefits StoryBundle provides.
Get quality reads: We've chosen works from excellent authors to bundle together in one convenient package.
Pay what you want (minimum $5): You decide how much these fantastic books are worth. If you can only spare a little, that's fine! You'll still get access to a batch of exceptional titles.
Support authors who support DRM-free books: StoryBundle is a platform for authors to get exposure for their works, both for the titles featured in the bundle and for the rest of their catalog. Supporting authors who let you read their books on any device you want—restriction free—will show everyone there's nothing wrong with ditching DRM.
Give to worthy causes: Bundle buyers have a chance to donate a portion of their proceeds to the American Red Cross!
Receive extra books: If you beat the bonus price, you'll get the bonus books!
StoryBundle was created to give a platform for independent authors to showcase their work, and a source of quality titles for thirsty readers. StoryBundle works with authors to create bundles of ebooks that can be purchased by readers at their desired price. Before starting StoryBundle, Founder Jason Chen covered technology and software as an editor for Gizmodo.com and Lifehacker.com.
For more information, visit our website at storybundle.com, tweet us at @storybundle and like us on Facebook. For press inquiries, please email press@storybundle.com.