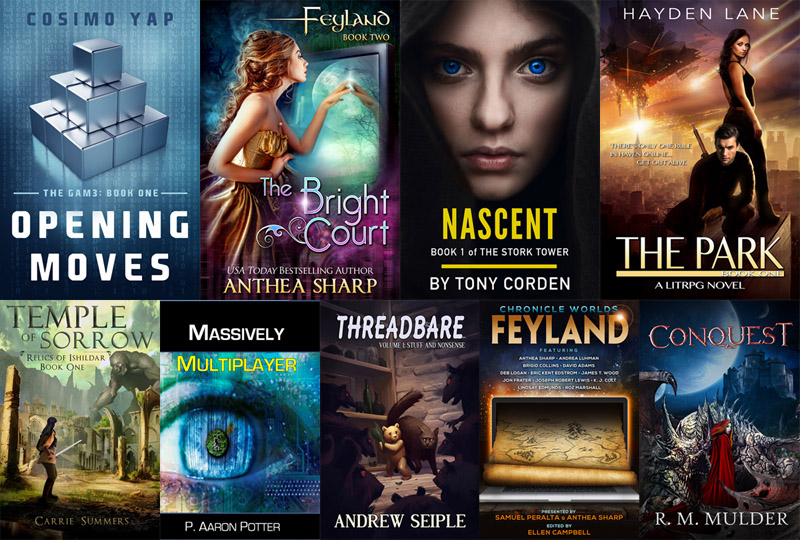 The GameLit Bundle - Curated by Anthea Sharp
Did you love Ready Player One? Laugh out loud at the new Jumanji? This StoryBundle is for you!
Books inspired by gaming have been around for decades, but GameLit as a recognized genre is relatively new. Also called litRPG, many of the books include stats, play-by-play boss fights, and characters gaining levels and skills right there on the page. As one of the early writers adding MMO-type gameplay to my stories (starting with The Dark Realm in 2011) I've been watching the development of this genre with extreme pleasure, and am delighted to bring you nine books from some of the best GameLit writers in the field.
<<Your quest awaits. Scroll to the bottom of this page and choose Get the Bundle to unlock nine books full of epic adventure and gaming goodness.>>
(A flash of golden light surrounds you)
<<Congrats! You have gained the title *Epic Collector of Stories*>>
<<GameLit StoryBundle has been added to your inventory. Click HERE for loot description...>>
The GameLit StoryBundle explores the breadth of the genre - from futuristic worlds reminiscent of Ready Player One (The Park Online, Massively Multiplayer) to MMO-inspired portal fantasy (The Bright Court) to the wonderfully imagined tale of a teddy bear leveling up his sentience (Threadbare Volume 1: Stuff and Nonsense).
You'll get not one, but two StoryBundle exclusives, with The Park Online and Temple of Sorrow. There's a USA Today bestseller, several award-winning authors, and enough stats, levels, boss fights, and epic loot to keep any gamer happy.
Not a hardcore gamer? Don't worry! At the heart of all of these books are engaging stories about characters struggling to find their place in the world, to do good, and to figure things out. I hope their adventures entertain you, give you a laugh, and inspire you to face your own particular battles with courage and strength. Happy reading. – Anthea Sharp
The initial titles in the GameLIT Bundle (minimum $5 to purchase) are:
Temple of Sorrow - Relics of Ishildar Book 1 by Carrie Summers
Massively Multiplayer by P. Aaron Potter
Opening Moves - The Gam3 Book 1 by Cosimo Yap
If you pay at least the bonus price of just $15, you get all three of the regular titles, plus SIX more!
The Bright Court by Anthea Sharp
Threadbare - Volume 1: Stuff and Nonsense by Andrew Seiple
The Park - Book 1 by Hayden Lane
Conquest by R.M. Mulder
Chronicle Worlds: Feyland by Samuel Peralta and Anthea Sharp
Nascent - The Stork Tower Book 1 by Tony Corden
This bundle is available only for a limited time via http://www.storybundle.com. It allows easy reading on computers, smartphones, and tablets as well as Kindle and other ereaders via file transfer, email, and other methods. You get multiple DRM-free formats (.epub and .mobi) for all books!
It's also super easy to give the gift of reading with StoryBundle, thanks to our gift cards – which allow you to send someone a code that they can redeem for any future StoryBundle bundle – and timed delivery, which allows you to control exactly when your recipient will get the gift of StoryBundle.
Why StoryBundle? Here are just a few benefits StoryBundle provides.
Get quality reads: We've chosen works from excellent authors to bundle together in one convenient package.
Pay what you want (minimum $5): You decide how much these fantastic books are worth. If you can only spare a little, that's fine! You'll still get access to a batch of exceptional titles.
Support authors who support DRM-free books: StoryBundle is a platform for authors to get exposure for their works, both for the titles featured in the bundle and for the rest of their catalog. Supporting authors who let you read their books on any device you want—restriction free—will show everyone there's nothing wrong with ditching DRM.
Give to worthy causes: Bundle buyers have a chance to donate a portion of their proceeds to AbleGamers!
Receive extra books: If you beat the bonus price, you'll get the bonus books!
StoryBundle was created to give a platform for independent authors to showcase their work, and a source of quality titles for thirsty readers. StoryBundle works with authors to create bundles of ebooks that can be purchased by readers at their desired price. Before starting StoryBundle, Founder Jason Chen covered technology and software as an editor for Gizmodo.com and Lifehacker.com.
For more information, visit our website at storybundle.com, tweet us at @storybundle and like us on Facebook. For press inquiries, please email press@storybundle.com.