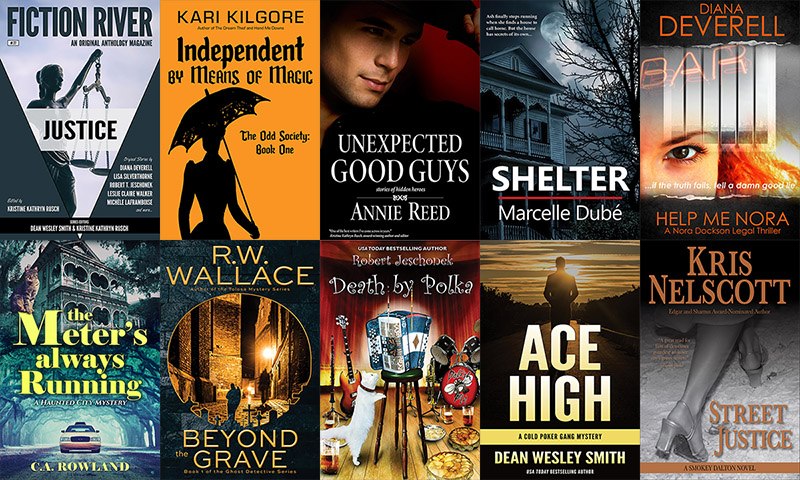 The Getting Justice Bundle - Curated by Dean Wesley Smith
Justice: A Great Word
I learned that if you ask a writer for a story about justice, you get all kinds of books and genres. But mostly when you say the word "Justice" you get mystery and crime fiction.
And that was fine by me. To be honest, that's what I thought of when I started putting together a bundle of books with the theme "Getting Justice."
Turns out the concept of justice isn't so easy to define. I know, I ended up looking it up. The most common term in the many definitions is "fair." For example, the best definition in my mind for the idea of justice is "the quality of being just, impartial, or fair…"
But when you add the word "Getting" in front of the word "Justice" it brings up an entirely different form of story.
For example, in Diana Deverell's powerful novel HELP ME NORA, an ex-con lawyer named Nora works only for convicted felons, trying to get them justice in whatever form that takes. This novel is the first in a six-book series of legal thrillers that will keep you reading for weeks.
Now Diana's novel was what I had thought of when I started with this bundle. But then along came Carolyn Rowland's novel THE METER'S ALWAYS RUNNING, a story of taxi driver Trisha Reede trying to solve the death of a former passenger and get justice. Along the way Trisha gets help from a spirit, and not the help she wants.
Justice and crime and ghosts can mix just fine and Carolyn does it wonderfully. And so does R. W. Wallace when she writes the first novel in a popular short story series I publish every issue in Pulphouse Fiction Magazine.
BEYOND THE GRAVE, a novel about a ghost detective, confined in the borders of a cemetery, getting other ghosts justice by solving what happened to them in life. And why they remain as ghosts. A powerful story and the first book in a coming series.
Next up, Kari Kilgore presented me with an amazing novel of Victorian Fantasy and Crime. INDEPENDENT BY MEANS OF MAGIC is the first book in Kari's "Odd Society" series of novels where sometimes misdeeds just can't be explained by normal methods. A wonderful novel of fantasy and justice.
In Marcelle Dube's haunting and tense novel SHELTER, a woman running from her abusive husband finds shelter in an old home that has secrets of its own. Justice gets very complex for both Ash Gantry and the home itself. A great read. Very tense.
Justice can also be the simple act of solving a crime to get the victim justice. Robert Jeschonek solves a crime by using music in DEATH BY POLKA. Lottie has an unbeatable talent to use music to solve crimes. But digging deep into the small-town world of polka can turn up a lot more than justice. This is maybe one of the most fun and original crime books I have ever read.
On a completely different note, Kris Nelscott's novel STREET JUSTICE gives us a hardcore look at 1969 Chicago. Justice in those streets in that time period had a harsh truth about it, and Nelscott's award-winning style and her character Smokey Dalton let you see the truth like no other. You are there. Hang on.
I added a book of my own in this bundle because my Cold Poker Gang mystery series has a focus on finding justice for those impacted by cold cases. In the stand-alone novel ACE HIGH, retired Las Vegas detectives find real justice, but not in the way you might expect.
Annie Reed explores how sometimes heroes can provide justice. In her amazing collection UNEXPECTED GOOD GUYS. Seven stories of quiet heroes who make a different and bring justice often to strangers they never met. Annie Reed might be one of the best working short fiction writers today, and this collection shows you why she has that reputation.
And lastly I added a volume of short fiction from some of the best crime writers working. FICTION RIVER: JUSTICE really explores a bunch more aspects of the word Justice.
I have to admit, that word Justice is certainly interesting. And very fun to read how authors and their characters deal with it. I sure hope you have as much fun reading this wonderful bundle of stories as I did putting it together.
And also, when you get this fantastic bundle, don't forget to add a little for AbleGamers.com, an amazing charity that provides gaming equipment to the disabled to help them survive in this harsh world. – Dean Wesley Smith
* * *
For StoryBundle, you decide what price you want to pay. For $5 (or more, if you're feeling generous), you'll get the basic bundle of four books in any ebook format—WORLDWIDE.
Unexpected Good Guys by Annie Reed
Independent by Means of Magic by Kari Kilgore
Shelter by Marcelle Dube
Justice by Fiction River
If you pay at least the bonus price of just $15, you get all four of the regular books, plus six more books, for a total of 10!
The Meter's Always Running by C.A. Rowland
Help Me Nora by Diana Deverell
Beyond the Grave by R.W. Wallace
Death by Polka by Robert Jeschonek
Ace High by Dean Wesley Smith
Street Justice by Kris Nelscott
This bundle is available only for a limited time via http://www.storybundle.com. It allows easy reading on computers, smartphones, and tablets as well as Kindle and other ereaders via file transfer, email, and other methods. You get multiple DRM-free formats (.epub, .mobi) for all books!
It's also super easy to give the gift of reading with StoryBundle, thanks to our gift cards – which allow you to send someone a code that they can redeem for any future StoryBundle bundle – and timed delivery, which allows you to control exactly when your recipient will get the gift of StoryBundle.
Why StoryBundle? Here are just a few benefits StoryBundle provides.
Get quality reads: We've chosen works from excellent authors to bundle together in one convenient package.
Pay what you want (minimum $5): You decide how much these fantastic books are worth. If you can only spare a little, that's fine! You'll still get access to a batch of exceptional titles.
Support authors who support DRM-free books: StoryBundle is a platform for authors to get exposure for their works, both for the titles featured in the bundle and for the rest of their catalog. Supporting authors who let you read their books on any device you want—restriction free—will show everyone there's nothing wrong with ditching DRM.
Give to worthy causes: Bundle buyers have a chance to donate a portion of their proceeds to AbleGamers!
Receive extra books: If you beat the bonus price, you'll get the bonus books!
StoryBundle was created to give a platform for independent authors to showcase their work, and a source of quality titles for thirsty readers. StoryBundle works with authors to create bundles of ebooks that can be purchased by readers at their desired price. Before starting StoryBundle, Founder Jason Chen covered technology and software as an editor for Gizmodo.com and Lifehacker.com.
For more information, visit our website at storybundle.com, tweet us at @storybundle and like us on Facebook. For press inquiries, please email press@storybundle.com.