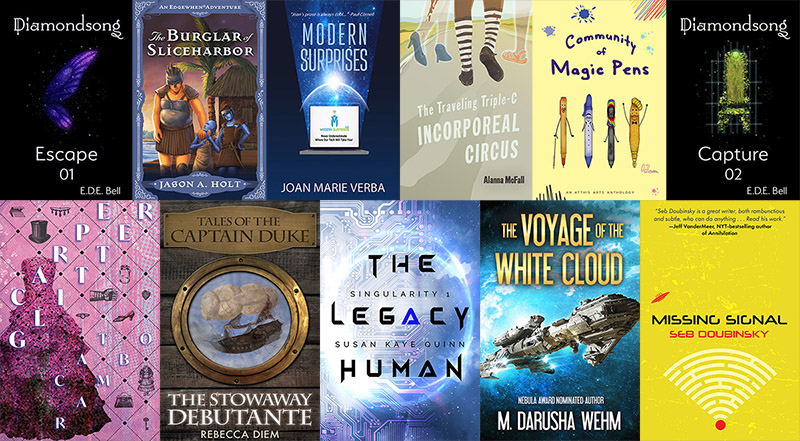 The Glitter and Hope Bundle - Curated by Cat Rambo
I think I speak for all of us when I say that 2020 has not gone exactly how I expected it to, and this StoryBundle has been no exception. I originally conceived of it as a hopepunk centered bundle, but as I sorted through possibilities, I found less punk than plenty of hopeful stories that reminded me that hope comes in all sorts of forms, not all of them as in your face as hopepunk.
Hope can find its origin in friendship, whether on an alien planet or a New York street corner. It can come from writing, in a myriad shades as multi-colored as the ink in which it's inscribed. It glitters at the bottom of Pandora's box, waiting to escape. Waiting to provide comfort and lightand renewed vigor for the fight.
So this is a bundle centered on hope with a touch of glitter, rather than grit, and I hope you enjoy reading these stories as much as I did. It's a range of flavors as well as forms: novels, including some beginnings; connected short stories; sequential novellas; and an anthology of stories connected by theme. – Cat Rambo
* * *
E.D.E. Bell's Diamondsong is the entrance into a ten book series. I love the thoughtful world that Bell has constructed and her world has not just hope, but an innate kindness and gentleness to it that shimmers underneath the surface. It's also a book that deals with gender, exploring it in a way that is careful, considered, and nuanced.
The Magic Pens anthology is from Atthis Arts, and edited by Bell. Writers love pens of all kinds, because we know they help us write the sorts of stories that can change the world. This anthology presents a wide-ranging group of authors.
Susan Kaye Quinn's The Legacy is full of philosophical hope as it looks at a world that distinguishes between the ascenders, who have been enhanced by science, and those who are legacies, whose existence is that they are untouched by that same tech. This is the first of a four voume series; the next volume is The Duality Bridge.
Jason A. Holt's The Burglar of Sliceharbor reminds us that sometimes we need a touch of escapism with our hope, a chance to wander in Edgewhen, a world of giants, waterfolk, and other fantastic reflections of humanity.
Joan Marie Verba's Modern Surprises is science fantasy, glittering with technology and magic in equal parts. It features light hearted fun while providing a cast of strong female characters working in STEM — and doing so as a team, rather than as adversaries or rivals. Cooperation and adventure can go hand in hand, it turns out.
Darusha Wehm - The Voyage of the White Cloud is a colony ship story that focuses on the ordinary people that make it up rather than those in command. It's told in the form of connected short stories that explore ethical and philosophical considerations of life spent in unending journey.
Alanna McFall - The Traveling Triple-C Incorporeal Circus is another favorite of mine, a re-imagining of Peter Beagle's A Fine and Private Place that takes it on the road, while making it a story of female friendship, and the hope that springs up from it.
Rebecca Diem's Tales of the Captain Duke also swims in science fantasy, with a steampunk flavor and a feisty heroine, Clara, who becomes a member of an airship pirate crew. Told in a series of four novellas, Diem's book sails through high adventure, propelled by characters who hope to change their world.
Seb Doubiensky's book is set in a dystopian future, but even there, hope lurks behind the words. When the protagonist Terrence Kovacs has become mired hopelessly in falsity as part of his work for the New Petersburg Counter-Intel Department, how can he know whether or not the hope of liberation being extended to him is true — or just another lie? Sometimes hope involves trust and a willingness to leap without looking.
I'm also including my own book, Carpe Glitter, which recently won a Nebula Award for Novelette, because it talks about the hope for breaking free of toxic family patterns and the problematic legacies of our families. Its protagonist has been told to seize the glitter — but what happens when you never let go of it?
* * *
For StoryBundle, you decide what price you want to pay. For $5 (or more, if you're feeling generous), you'll get the basic bundle of four books in any ebook format—WORLDWIDE.
Diamondsong - Escape 01 by E.D.E. Bell
The Burglar of Sliceharbor by Jason A. Holt
Modern Surprises by Joan Marie Verba
The Traveling Triple-C Incorporeal Circus by Alanna McFall
If you pay at least the bonus price of just $15, you get all four of the regular books, plus seven more more books, for a total of eleven!
Diamondsong - Capture 02 by E.D.E. Bell
Tales of the Captain Duke - Vol. 1-4 by Rebecca Diem
The Voyage of the White Cloud by M. Darusha Wehm
Community of Magic Pens by Atthis Arts Anthology
Carpe Glitter by Cat Rambo
Missing Signal by Seb Doubinsky
The Legacy Human - Singularity 1 by Susan Kaye Quinn
This bundle is available only for a limited time via http://www.storybundle.com. It allows easy reading on computers, smartphones, and tablets as well as Kindle and other ereaders via file transfer, email, and other methods. You get multiple DRM-free formats (.epub, .mobi) for all books!
It's also super easy to give the gift of reading with StoryBundle, thanks to our gift cards – which allow you to send someone a code that they can redeem for any future StoryBundle bundle – and timed delivery, which allows you to control exactly when your recipient will get the gift of StoryBundle.
Why StoryBundle? Here are just a few benefits StoryBundle provides.
Get quality reads: We've chosen works from excellent authors to bundle together in one convenient package.
Pay what you want (minimum $5): You decide how much these fantastic books are worth. If you can only spare a little, that's fine! You'll still get access to a batch of exceptional titles.
Support authors who support DRM-free books: StoryBundle is a platform for authors to get exposure for their works, both for the titles featured in the bundle and for the rest of their catalog. Supporting authors who let you read their books on any device you want—restriction free—will show everyone there's nothing wrong with ditching DRM.
Give to worthy causes: Bundle buyers have a chance to donate a portion of their proceeds to Girls Write Now!
Receive extra books: If you beat the bonus price, you'll get the bonus books!
StoryBundle was created to give a platform for independent authors to showcase their work, and a source of quality titles for thirsty readers. StoryBundle works with authors to create bundles of ebooks that can be purchased by readers at their desired price. Before starting StoryBundle, Founder Jason Chen covered technology and software as an editor for Gizmodo.com and Lifehacker.com.
For more information, visit our website at storybundle.com, tweet us at @storybundle and like us on Facebook. For press inquiries, please email press@storybundle.com.