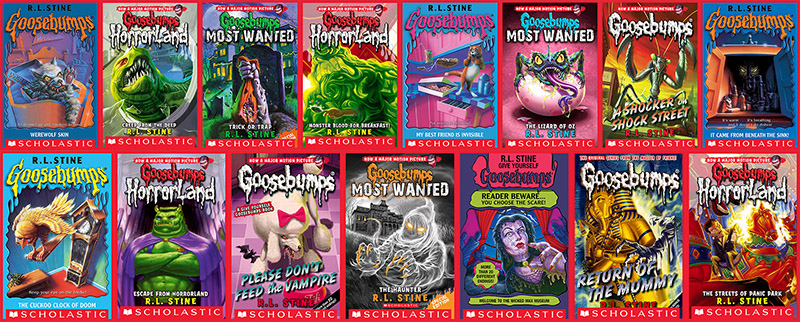 October—affectionately dubbed "Spooky Season" by Halloween fiends—is a time when kids and adults alike indulge their spectral imaginations and live their best creepy lives. This month's Goosebumps bundle is excellent for adults who want to revisit the creepy nostalgia of their childhoods—or introduce these timeless tales to new generations for shared thrills and chills. The Goosebumps series strikes a balance between horror and humor, with timeless (and wildly entertaining) stories that appeal to a wide age range.
R.L. Stine, already renowned in young adult horror, shifted his focus to horror for kids after being inspired by an ad for "goosebumps week" on local TV. Initially planned as a six-book series, it skyrocketed in popularity following the first book's release in July 1992. Over the next five years, Stine authored 62 more Goosebumps books, spawning some spin-off series, a TV show, films, and abundant merchandise.
The latest monstrous mutation of these beloved books is the new series Goosebumps, coming this month to Disney+ and Hulu. The show follows five high schoolers who embark on a shadowy journey in the mystery of Harold Biddle's tragic passing decades earlier. Along the way, they unearth dark secrets from their parents' past. The show will engage brand-new audiences with a modernized sense of danger and excitement, while also satisfying the nostalgia of lifelong Goosebumps fans.
Return of the Mummy
Following his spooky experience last year, Gabe feels uneasy about returning to Egypt, near the ancient pyramids and those eerie mummies. His apprehension deepens when he discovers an Egyptian superstition about a secret chant that can supposedly revive mummies. Gabe's uncle dismisses it as a hoax. But when Gabe hears sounds of movement inside the mummy's tomb…he's not so sure.
Trick or Trap
Scott Harmon and his best friend Amanda Gold are both scared of everything. They are relentlessly tormented by Scott's little sister and the neighborhood kids, who love doing whatever they can to frighten them. However, this Halloween, Scott and Amanda are determined to overcome their fears—even if it entails exploring an old house everyone says is haunted. Their goal: face their fears and perhaps exact some long-awaited revenge on the kids who harass them. Unless, of course, the house truly is haunted…
Welcome to the Wicked Wax Museum
Give yourself Goosebumps in this chilling choose-your-own-adventure tale packed with more than twenty potential spooky endings. Your teacher takes your class on a trip to the new wax museum in town, but you find it boring. When you arrive, you tune out what your teacher's saying—and that's when you and your friend spot the red door.
If you opt to investigate what's behind door #1, you'll uncover the museum owner's unsettling secret for crafting lifelike sculptures. On the other hand, if you avoid the red door and go the opposite way, you'll cross paths with the eerie Sybil Wicked. Can you make your escape from this eerie place before you're transformed into a human candle? The decision lies in your hands…
Escape from HorrorLand
When they find out a group of kids are stuck in Horrorland, siblings Lizzie and Luke rush to the eerie amusement park to lend a hand. However, the skeptical kids they encounter at Horrorland are reluctant to trust them. Soon, everyone embarks on a journey through a Hall of Mirrors, trying to find an escape. But once they enter Panic Park, safety eludes them as exits vanish, and the Tunnel of Hate looms. Have they fallen into a trap?
– Open Road Media
* * *
For StoryBundle, you decide what price you want to pay. For $5 (or more, if you're feeling generous), you'll get the basic bundle of four books in .epub format—WORLDWIDE.
Trick or Trap by R.L. Stine
Creep from the Deep by R.L. Stine
Monster Blood for Breakfast! by R.L. Stine
Werewolf Skin by R.L. Stine
If you pay at least the bonus price of just $20, you get all four of the regular books, plus ELEVEN more books for a total of 15!
A Shocker on Shock Street by R.L. Stine
My Best Friend is Invisible by R.L. Stine
Lizard of Oz by R.L. Stine
It Came from Beneath the Sink! by R.L. Stine
The Cuckoo Clock of Doom by R.L. Stine
Escape from HorrorLand by R.L. Stine
Please Don't Feed the Vampire by R.L. Stine
The Haunter by R.L. Stine
Welcome to the Wicked Wax Museum by R.L. Stine
Return of the Mummy by R.L. Stine
The Streets of Panic Park by R.L. Stine
This bundle is available only for a limited time via http://www.storybundle.com. It allows easy reading on computers, smartphones, and tablets as well as Kindle and other ereaders via file transfer, email, and other methods. You get a DRM-free .epub for all books!
It's also super easy to give the gift of reading with StoryBundle, thanks to our gift cards – which allow you to send someone a code that they can redeem for any future StoryBundle bundle – and timed delivery, which allows you to control exactly when your recipient will get the gift of StoryBundle.
Why StoryBundle? Here are just a few benefits StoryBundle provides.
Get quality reads: We've chosen works from excellent authors to bundle together in one convenient package.
Pay what you want (minimum $5): You decide how much these fantastic books are worth. If you can only spare a little, that's fine! You'll still get access to a batch of exceptional titles.
Support authors who support DRM-free books: StoryBundle is a platform for authors to get exposure for their works, both for the titles featured in the bundle and for the rest of their catalog. Supporting authors who let you read their books on any device you want—restriction free—will show everyone there's nothing wrong with ditching DRM.
Give to worthy causes: Bundle buyers have a chance to donate a portion of their proceeds to Girls Write Now!
Receive extra books: If you beat the bonus price, you'll get the bonus books!
StoryBundle was created to give a platform for independent authors to showcase their work, and a source of quality titles for thirsty readers. StoryBundle works with authors to create bundles of ebooks that can be purchased by readers at their desired price. Before starting StoryBundle, Founder Jason Chen covered technology and software as an editor for Gizmodo.com and Lifehacker.com.
For more information, visit our website at storybundle.com, tweet us at @storybundle and like us on Facebook. For press inquiries, please email press@storybundle.com.