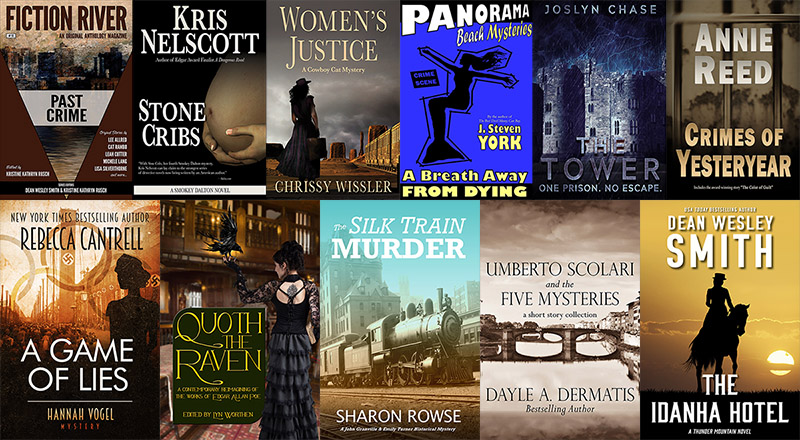 The Historical Mystery Bundle - Curated by Kristine Kathryn Rusch
Most people misunderstand the mystery genre. They expect Agatha Christie type stories—you know, bodies in the library and implausible murders and lots of puzzles. And while that is a form of mystery (cozy), it is not the entire genre.
Really, if we were going to name the genre correctly, we would call it the crime genre. But if we do that, then readers expect true crime, which is a nonfiction genre.
So we're stuck with the inadequate word "mystery" when we mean "crime." At least the word "historical" works for us. Although it covers a broad scope. At least in this bundle.
I have to tell you: I love historical mysteries (crime stories). I really do. When they're well done, they make some part of the past so vivid that it feels like we're living in the middle of it.
All of the authors in this bundle take us somewhere vivid and give us a crime appropriate to the era. Note that I did not say all eleven authors in this bundle, because we have two anthologies, Fiction River: Past Crime (which I edited) and Quoth The Raven (edited by Lyn Worthen).
And, frankly, I cheated when I put Quoth The Raven in this bundle, because the stories aren't historical: they're contemporary. But they're here for two reasons: First, many scholars believe Edgar Allen Poe invented the mystery genre. Or, at least, detective fiction. (Because if you say he invented the genre, you'd be ignoring half of Shakespeare. But detective fiction? Yeah, you might have a point there.)
The second reason is that this anthology is reimagined Poe, so the stories have a distinct 19th century flavor because of their subject matter. (Besides, they might give you a good excuse to revisit Poe's short stories. They're stunning.)
Fiction River: Past Crime really is historical crime fiction. The twelve authors in Past Crime cover everything from Ancient Egypt to 1969 New York, and do so in a fresh and exciting way.
The volume includes one of my Kris Nelscott short stories, set in the 1920s. Kris Nelscott is known for the bestselling Smokey Dalton series set mostly in the 1960s, in Chicago. Stone Cribs explores family relationships, with a few murders thrown in along the way.
J. Steven York's A Breath Away From Dying is also set in the 1960s. This book is part of Steve's Panorama Beach mystery series, set in Florida. Steve's powerful stories in this series have received a lot of attention, including being considered one of the best short stories of the year.
New York Times bestselling author Rebecca Cantrell's Hannah Vogel mysteries have also received incredible acclaim. Set in the 1930s in Berlin, the Hannah Vogel books have received starred reviews and have won a number of awards. We're lucky to have Game of Lies, set at the 1936 Olympics in this bundle.
Joslyn Chase moves us out of World War II, into its aftermath in Bavaria, with her powerful tale, The Tower. Joslyn adds some romance to her suspense for a quick and entertaining read.
We stay in Europe for the Umberto Scolari stories, only we're no longer in the 20th century. We join Leonardo da Vinci and the Duke of Milan in the Italian Renaissance, for yet another acclaimed series. Dayle A. Dermatis's Umberto Scolari and The Five Mysteries is brand new and exclusive to the bundle.
Our other exclusive, Crimes of Yesteryear by award-winner Annie Reed, is also brand new. Unlike Dayle's collection, Annie's covers all kinds of historical periods, from the fall of the Berlin Wall to the Gold Rush.
The American West shows up in more than one of these books. Chrissy Wissler's powerful Women's Justice novel introduces us to Cowboy Cat, a former prostitute in Montana, who manages (despite the time period) to find justice for the women around her.
Strong women seem to be a theme in fiction about the Old West, because they also show up in Dean Wesley Smith's The Idanha Hotel. The novel is part of Dean's Thunder Mountain series, which I think of as historicals because the history is so vivid. Why should I quibble about the genre? Well, because really, Thunder Mountain books are time travel novels. But if you love history, then you'll love everything about this series.
Sharon Rowse also writes about the Old West, but The Silk Train Murder, a finalist for the Arthur Ellis award, is set in the Pacific Northwest in the Klondike (gold!) era. The book is the first in an acclaimed series.
So we run the gamut here, from short stories to novels, from Europe to America, from the past to the present (and future!). There's something to read for everyone.
I think you'll love these books. And, as you pick up copies for yourself, I hope you also give a few dollars to our charity, Able Gamers.
AbleGamers helps disabled people participate in online games by providing equipment tailored toward their needs. Sometimes the online community is the only community available to people who are house- or bedbound. Dreams are important for all of us, as is being social, so please, if you decide to purchase this bundle, add a donation to AbleGamers.
Enjoy! – Kristine Kathryn Rusch
For StoryBundle, you decide what price you want to pay. For $5 (or more, if you're feeling generous), you'll get the basic bundle of four books in any ebook format—WORLDWIDE.
Women's Justice by Chrissy Wissler
Past Crime by Fiction River
Stone Cribs by Kris Nelscott
The Silk Train Murder by Sharon Rowse
If you pay at least the bonus price of just $15, you get all four of the regular books, plus SEVEN more books!
Crimes of Yesteryear by Annie Reed (StoryBundle exclusive!)
Umberto Scolari and the Five Mysteries by Dayle A. Dermatis (StoryBundle exclusive!)
A Breath Away from Dying by J. Steven York
The Tower by Joslyn Chase
The Idanha Hotel by Dean Wesley Smith
Quoth the Raven by Lyn Worthen
A Game of Lies by Rebecca Cantrell
This bundle is available only for a limited time via http://www.storybundle.com. It allows easy reading on computers, smartphones, and tablets as well as Kindle and other ereaders via file transfer, email, and other methods. You get multiple DRM-free formats (.epub and .mobi) for all books!
It's also super easy to give the gift of reading with StoryBundle, thanks to our gift cards – which allow you to send someone a code that they can redeem for any future StoryBundle bundle – and timed delivery, which allows you to control exactly when your recipient will get the gift of StoryBundle.
Why StoryBundle? Here are just a few benefits StoryBundle provides.
Get quality reads: We've chosen works from excellent authors to bundle together in one convenient package.
Pay what you want (minimum $5): You decide how much these fantastic books are worth. If you can only spare a little, that's fine! You'll still get access to a batch of exceptional titles.
Support authors who support DRM-free books: StoryBundle is a platform for authors to get exposure for their works, both for the titles featured in the bundle and for the rest of their catalog. Supporting authors who let you read their books on any device you want—restriction free—will show everyone there's nothing wrong with ditching DRM.
Give to worthy causes: Bundle buyers have a chance to donate a portion of their proceeds to AbleGamers!
Receive extra books: If you beat the bonus price, you'll get the bonus books!
StoryBundle was created to give a platform for independent authors to showcase their work, and a source of quality titles for thirsty readers. StoryBundle works with authors to create bundles of ebooks that can be purchased by readers at their desired price. Before starting StoryBundle, Founder Jason Chen covered technology and software as an editor for Gizmodo.com and Lifehacker.com.
For more information, visit our website at storybundle.com, tweet us at @storybundle and like us on Facebook. For press inquiries, please email press@storybundle.com.