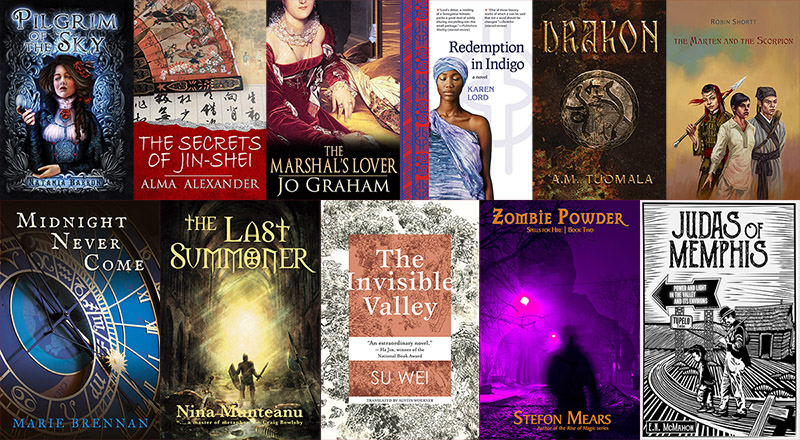 The History with Magic Bundle - Curated by Athena Andreadis
The History with Magic bundle offers eleven riveting works that occupy a vital nexus in the dense, labyrinthine metropolis that is fantasy: the crossroads of alternate history and secondary world fiction. Both are venerable subgenres in speculative fiction. Alternate history has been with us at least since Titus Livius, better known as Livy, contemplated a world in which Alexander the Great survived to turn his energies westward; and humans have invented secondary universes ever since they wove and spun stories around their gatherer-hunter campfires.
As the astrogator and lead editor of acclaimed small indie press Candlemark & Gleam, I've had the honor and pleasure of helping to create and release some of the best new works in this mode. And now I get to share such fusions of history with magic in this spectacular bundle, whose every entry deserves to become a visual spectacle as atmospheric and studded with larger-than-life events and charismatic characters as the serialization of Bernard Cornwell's Last Kingdom or Philip K. Dick's Man in the High Castle.
The stories in this bundle range widely over cultures and eras: from Tang imperial China and medieval Samarkand to post-reform czarist Russia and Belle Époque Boston, to Depression-era Mississippi and contemporary Senegal; from god avatars in shifting configurations across parallel universes and twinned conduits who collapse quantum-entangled history lines to plotting faeries in Elizabeth I's court, ancient souls who act as spies for Napoleon, struggling exiled dissidents in Cultural-Revolution China and dueling magicians in Portland, Oregon. Full of rousing, sweeping derring-do and jeopardies, risky missions and fraught choices, intricate alliances and jarring betrayals, it's all here—with the layers of real history, and its very concrete consequences, glimmering like fata morganas through the gauze of fiction.
* * *
Pilgrim of the Sky by Natania Barron is a heady fusion of steampunk, goddess worship…and porous parallel universes in which god avatars mingle and clash in ever-shifting alliances. Maddie Angler is a failed art history graduate student living in Amherst, Massachusetts whose boyfriend, a brilliant physics doctorate student named Alvin, has disappeared without warning or trace. After spending a year trying to reconcile with Alvin's loss, and discovering hints of his infidelity, she is on the verge of accepting the inevitable—that Alvin killed himself. But then she's confronted by Alvin's old professor with the news that Alvin is very much alive, but just not in this world. Against her will, Maddie is taken across worlds and given the opportunity to speak to Alvin one last time. In the process, she discovers that she and her world are but variations on a theme. If she has any hopes of returning home alive, she must learn to face her true self, in all its many forms, or else lose those she loves the most.
The Secrets of Jin-shei by Alma Alexander takes its inspiration from the now almost-extinct Nüshu women's script and the Hunan kindred customs of laotong (sworn sisters) and laotang (sister circles), in a world based on Tang China and the unique figure of Empress Wu Zetian. A group of women, the jin-shei sisterhood, form a uniquely powerful circle bound together by a declaration of loyalty that transcends all other vows, even those with the gods, and by the secret language passed from mother to daughter. The sisterhood runs from the heir to the throne to an Imperial Guard trainee warrior, from a daring alchemist and an apprentice healer to a poet and a traveller-girl, herself the illegitimate daughter of an emperor. And when one of them becomes Dragon Empress, her determination to hold power against the sages of the temple and marauding forces from other kingdoms drags the sisterhood into deadly political and magical intrigues, and brings them into bone-deep conflicts with each other.
The Marshal's Lover by Jo Graham (Locus-nominated author of Black Ships) is sibling to The General's Mistress and The Emperor's Agent, a series that combines history, magic and spy adventure. The world knows Elza St Elme (based on real-life Elsa Versfelt) as an actress and courtesan, the mistress of Marshal Michel Ney, one of Napoleon's trusted inner circle. Very few know she's a confidential spy who works directly for the Emperor himself. Even fewer know that she is also a Companion, an old soul who has lived many lives and whose flashes of clairvoyance have occasionally given her the edge she needed to unravel unfathomable mysteries. Now Elza faces her greatest challenge yet. Can she overcome the shadow of the past to complete her mission—with no less than the fate of France hanging in the balance?
Redemption in Indigo by Karen Lord (World Fantasy finalist and winner of multiple awards) intercalates trickster/deadly sin fables with originality and flair while remaining firmly embedded to its mythical Senegalese and Caribbean roots. Paama's husband is a fool and a glutton. Bad enough that he followed her to her parents' home in the village of Makendha; now he's disgraced himself by murdering livestock and stealing corn. When Paama leaves him for good, she attracts the attention of the undying ones—the djombi—who present her with a gift: the Chaos Stick, which allows her to manipulate the subtle forces of the world. Unfortunately, a wrathful djombi with indigo skin believes this power should be his and his alone. But a group of women allies stands ready to thwart him and protect Paama.
Drakon by A. M. Tuomala (listed among the year's best fantasy by the American Library Association) is Game of Thrones meets War and Peace—and its dragons, original takes on lóng lore, are uniquely different from those of Le Guin's Earthsea or Novik's Temeraire. The year is 1880. A hundred years ago, the Ottoman Empire bought the allegiance of the dragons—and ever since, the Tarasov family has stood guard on the disputed borderlands. Now the Tarasovs have become a tattered remnant of their former glory. As war looms in the south and foreign troops crowd Russia's fortresses, the three surviving Tarasovs must return to their ancestral home to confront the past that drove them apart. But the bloodthirsty dragons they've fought all their lives aren't what they seem, and neither are the humans around them, friend and foe alike. Splintered by internal strife, hounded by interlopers, and beset by Turkish forces, the Tarasov family must overcome their bad blood—or tear each other apart.
The Marten and the Scorpion by Robin Shortt (whose wildly original debut novel Wellside was a finalist for the Aurealis award), is steeped in Silk Road lore and lethal magic, and cries out to become a wuxia epic helmed by Zhang Yimou or Ang Lee. Darya scrapes a living as a pickpocket on the streets of medieval Samarkand. If she wants tokeepliving, she'll have to pass her gang's initiation: a death-defying climb across the city's rooftops. But she's too exhausted and malnourished, and her time is running out. A forbidding swordswoman hires the gang to search for a mysterious box, at the same time that Darya stumbles on two young caravan guards as formidable in combat as the swordswoman, who are also interested in the box. Darya makes them an offer: If they teach her their skill enough for her to pass her gang's test, she'll help them find the box first. Meanwhile, more factions are drawn into the hunt for the box, including a rival street gang, a sadistic ex-Crusader and the dreaded Nizari Assassins. What's inside this coveted box, who will end up possessing it, and to what use will it be put?
Midnight Never Come by Marie Brennan (Hugo- and World Fantasy Award-nominated author of the Memoirs of Lady Trent) is the opening saga of her Onyx Court mirror-worlds series. The year is 1590. Above, the City of London flourishes, the brilliant jewel in the crown of Elizabeth I, Gloriana, the Virgin Queen. Below, the Onyx Court is London's faerie shadow. Ruled by Invidiana, its heartless queen, it reflects and distorts the glory of the mortal court. Years ago, Elizabeth forged a pact with her faerie counterpart to secure both of their thrones. Now that alliance is in danger. Michael Deven, a rising star in Elizabeth's court, seeks the "hidden player" who has influenced mortal politics for so long; while Lady Lune, a faerie fallen from favor, must infiltrate the mortal world to protect her vicious queen. Together this pair will uncover the secret of Invidiana's power—a secret that has the potential to shatter both realms.
The Last Summoner by Nina Munteanu (winner of awards for her short stories) is a fresh twist on chaos theory and observer-induced collapse of quantum entanglement. It's June 14th, 1410, on the eve of the Battle of Grunwald when history records that a ragtag peasant army will slaughter the arrogant monk knights of the imperialistic Teutonic Order…or will they? Because of an impetuous choice, 14-year old Vivianne Schoen, Baroness von Grunwald, makes the startling discovery that she can alter history—but not before she's branded a witch and must flee through a time-space tear. Now in an alternate present-day France ruled by fascist Black Knights of the ancient Teutonic Order, she must decide how to remake history.
The Invisible Valley by Su Wei (magnificently translated by Austin Woerner) is based on the author's own life during the Cultural Revolution, with strong echoes of Angela-Carter-style fevered dreams. Lu Beiping is one of 20 million young adults the Chinese government has uprooted and sent far from their homes for agricultural re-education. Bored and exhausted, Lu is caught up in a forbidden religious tradition and married off to the foreman's long-dead daughter so that her soul may rest. The foreman then sends him off to cattle duty up on treacherous Mudkettle Mountain, far away from everyone else. There Lu meets an outcast polyamorous family led by a matriarch, Jade. They are woodcutters who practice their own idiosyncratic faith by which they claim to placate the serpent-demon sleeping in the belly of the mountain. Just as the village authorities get wind of Lu's dalliances with the woodcutters, a typhoon rips through the valley. And deep in the jungle, a giant serpent may be stirring.
Judas of Memphis by E. N. McMahon is The Master & Margarita transplanted to Depression-era deep South. For 2000 years full of loneliness and disillusionment, Jesus's twin brother Judas has wandered the earth seeking redemption. And now, at long last, his time may have come: on a cold and gray January night in 1935 unto him a child is given—Jesse Garon Presley, twin brother of Elvis, whom the whole world believes to have died stillborn. Only Judas knows that Jesse's grave in the potter's field is empty. For Judas, Depression-era Mississippi is his own Promised Land: steeped in Scripture and studded with the names of his childhood—Jericho, Cairo, Bethlehem, Memphis. With Jesse, Judas has a new hope to replace the one he lost all those years ago, when he was forced to consign his own brother to the cross. Perhaps, after all his years of exile, Judas Iscariot has finally been given a second chance.
Zombie Powder by Stefon Mears is equal parts Chandler neo-noir, Inanna's search for Tammuz and Harry Dresden urban fantasy, the second in his Spells of Hire series featuring resourceful conjurer Heath Cyr plying his New-Orleans-based arts in Portland, Oregon—a modern melting pot of wizards, witches and stranger things. Heath won't kill, even for a beautiful client's enormous fee when he desperately needs the funding. Not even to save himself from an enemy's demons, especially when he senses that she's lying about the real purpose of the job. But as Heath's enemies close in, he may have to do something worse than kill.
Beyond their roots in real history, these stories showcase the strength that the human spirit can draw from deep wells of memory and from powerful circles of chosen family. Honor versus glory, power and responsibility, forbidden knowledge, the destinies of nations, the changing of history by a butterfly's wings. I hope you enjoy this reality-tinged yet greatly original bundle. And stay tuned for more StoryBundles curated by Candlemark & Gleam.
– Athena Andreadis
* * *
For StoryBundle, you decide what price you want to pay. For $5 (or more, if you're feeling generous), you'll get the basic bundle of four books in any ebook format—WORLDWIDE.
The Marshal's Lover by Jo Graham
The Secrets of Jin-Shei by Alma Alexander
Redemption in Indigo by Karen Lord
Pilgrim of the Sky by Natania Barron
If you pay at least the bonus price of just $15, you get all four of the regular books, plus seven more!
Midnight Never Come by Marie Brennan
Judas of Memphis by E.N. McMahon
The Last Summoner by Nina Munteanu
The Invisible Valley by Su Wei
Zombie Powder by Stefon Mears
Drakon by A.M. Tuomala
The Marten and the Scorpion by Robin Shortt
This bundle is available only for a limited time via http://www.storybundle.com. It allows easy reading on computers, smartphones, and tablets as well as Kindle and other ereaders via file transfer, email, and other methods. You get multiple DRM-free formats (.epub, .mobi) for all books!
It's also super easy to give the gift of reading with StoryBundle, thanks to our gift cards – which allow you to send someone a code that they can redeem for any future StoryBundle bundle – and timed delivery, which allows you to control exactly when your recipient will get the gift of StoryBundle.
Why StoryBundle? Here are just a few benefits StoryBundle provides.
Get quality reads: We've chosen works from excellent authors to bundle together in one convenient package.
Pay what you want (minimum $5): You decide how much these fantastic books are worth. If you can only spare a little, that's fine! You'll still get access to a batch of exceptional titles.
Support authors who support DRM-free books: StoryBundle is a platform for authors to get exposure for their works, both for the titles featured in the bundle and for the rest of their catalog. Supporting authors who let you read their books on any device you want—restriction free—will show everyone there's nothing wrong with ditching DRM.
Give to worthy causes: Bundle buyers have a chance to donate a portion of their proceeds to Mighty Writers and Girls Write Now!
Receive extra books: If you beat the bonus price, you'll get the bonus books!
StoryBundle was created to give a platform for independent authors to showcase their work, and a source of quality titles for thirsty readers. StoryBundle works with authors to create bundles of ebooks that can be purchased by readers at their desired price. Before starting StoryBundle, Founder Jason Chen covered technology and software as an editor for Gizmodo.com and Lifehacker.com.
For more information, visit our website at storybundle.com, tweet us at @storybundle and like us on Facebook. For press inquiries, please email press@storybundle.com.