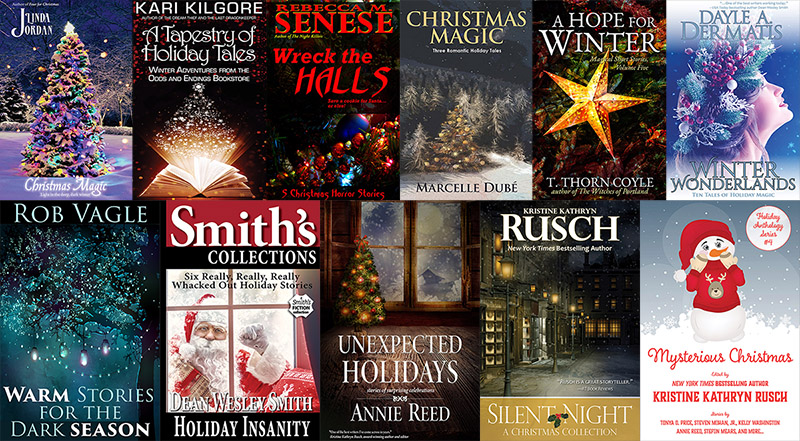 The Holiday Collections Bundle - Curated by Dean Wesley Smith
A Lot More Stories
Wow, is this bundle going to be fun. Fantastic writers and 72 different holiday short stories.
That's right. 72. And you can get all of them for one low price that works out to about 20 cents per story. Wow!
And all are holiday stories. What a great way to help enjoy this wonderful season.
Every book in this bundle is a collection of holiday stories of different types and focus, as would be expected from such different and talented writers. And I tried to get a lot of different kinds, something for everyone.
For example, in this bundle we have a holiday collection from the most acclaimed and award-winning author working in short fiction right now. Kristine Kathryn Rusch has won more awards for her short fiction in science fiction, fantasy, and mystery than any living author. No one is even close.
Her beautiful collection Silent Night includes ten fantastic stories you won't want to miss.
And on top of being the best working short fiction writer, she is also a fantastic editor. In fact, she is the only person to ever win the Hugo Award for her short fiction and for her professional editing. For this bundle she gave us an anthology she edited called Mysterious Christmas with eleven different authors in it.
All of those stories will grip you, make you smile, or bring a tear to your eye. Eleven great mystery holiday stories from eleven different writers and put together by one of the best editors working.
Another award-winning and top short fiction writer is Annie Reed and I got lucky to get from her a collection called Unexpected Holidays. These are five feel-good stories to enjoy on a cold winter's night.
Dayle A. Dermatis adds in a collection called Winter Wonderlands. She subtitles this collection "Ten Tales of Holiday Magic" and I would say that is exactly right.
And when Dayle says magic, she means it. I love the fantasy elements in this wonderful collection of holiday stories.
Kari Kilgore gives us a riviting five story holiday collection called A Tapestry of Holiday Tales. These five stories are held together by a wonderful bookstore called Odds and Endings Bookstore and also have a lot of elements of fantasy in them. You'll love this bookstore when you are finished with these stories.
We get more stories of magic of different types by Linda Jordan in a collection called Holiday Magic. Not only is there magic in these four stories, but romance and a touch of women's fiction. Great stories and perfect for the holiday.
Okay, time to change pace. Rebecca M. Senese is a hardened professional in writing holiday and crime stories. She has an entire series of novels and stories called the Noel Kringle Chronicles where the son of Santa works as a private detective in Toronto. Great fun. Her fiction has been nominated for numbers of awards.
However, her five-story collection titled Wreck the Halls takes a look at the horrific side of the holiday. You know, things like Sinister Reindeer and trying to get out of the mall alive. Fun stuff. These stories are wonderful and a complete change of pace with a different holiday tradition.
Rob Vagle is a regular contributor to my magazine Pulphouse Fiction Magazine and his stories are always twisted and compelling. In his holiday collection of eight stories, Warm Stories for the Dark Season, Rob not only takes you off track some, but lets you enjoy the ride and feel great about the season at the same time. He really is a master of these kind of stories.
Marcelle Dube might be one of the best-working mystery writers in Canada, with many awards and nominations for her writing. In this wonderful collection of three longer stories, Christmas Magic, Marcelle focuses on the romance side as well as the mystery side. And wow are they great stories that touch your heart.
I included a holiday collection of my own called Holiday Insanity. The reason for that title is that all six stories might very well be the most twisted and off-beat stories you will ever read. From my most famous short story, "Jukebox Gifts" to a Poker Boy story about a ghost casino whose very dead and happy customers celebrate a very strange holiday. A holiday that actually exists. Look it up if you don't believe me, which you won't, I promise.
Finally, T. Thorn Coyle gives us A Hope for the Winter, five really magical short stories. And with Thorn, that really means real magic in so many ways. From Christmas witches, wise spirits, and lost elves, only Thorn can weave that kind of magic through the holiday season.
Real fantasy, real magic, and really great reading for the holidays.
I hope you will grab these eleven books full of holiday short fiction. And don't forget to give a little something to our wonderful charity as well in this giving season.
Enjoy all the great short stories. And entire bundle full. I know I sure did.
– Dean Wesley Smith
Las Vegas, NV
* * *
For StoryBundle, you decide what price you want to pay. For $5 (or more, if you're feeling generous), you'll get the basic bundle of four books in any ebook format—WORLDWIDE.
Wreck the Halls: 5 Christmas Horror Stories by Rebecca M. Senese
Christmas Magic - Three Romantic Holiday Tales by Marcelle Dube
Christmas Magic - Light in the Deep, Dark Winter by Linda Jordan
A Tapestry of Holiday Tales by Kari Kilgore
If you pay at least the bonus price of just $15, you get all four of the regular books, plus SEVEN more books, for a total of 11!
Mysterious Christmas edited by Kristine Kathryn Rusch
Silent Night by Kristine Kathryn Rusch
Holiday Insanity by Dean Wesley Smith
A Hope for Winter by T. Thorn Coyle
Warm Stories for the Dark Season by Rob Vagle
Winter Wonderlands by Dayle A. Dermatis
Unexpected Holidays by Annie Reed
This bundle is available only for a limited time via http://www.storybundle.com. It allows easy reading on computers, smartphones, and tablets as well as Kindle and other ereaders via file transfer, email, and other methods. You get multiple DRM-free formats (.epub, .mobi) for all books!
It's also super easy to give the gift of reading with StoryBundle, thanks to our gift cards – which allow you to send someone a code that they can redeem for any future StoryBundle bundle – and timed delivery, which allows you to control exactly when your recipient will get the gift of StoryBundle.
Why StoryBundle? Here are just a few benefits StoryBundle provides.
Get quality reads: We've chosen works from excellent authors to bundle together in one convenient package.
Pay what you want (minimum $5): You decide how much these fantastic books are worth. If you can only spare a little, that's fine! You'll still get access to a batch of exceptional titles.
Support authors who support DRM-free books: StoryBundle is a platform for authors to get exposure for their works, both for the titles featured in the bundle and for the rest of their catalog. Supporting authors who let you read their books on any device you want—restriction free—will show everyone there's nothing wrong with ditching DRM.
Give to worthy causes: Bundle buyers have a chance to donate a portion of their proceeds to AbleGamers!
Receive extra books: If you beat the bonus price, you'll get the bonus books!
StoryBundle was created to give a platform for independent authors to showcase their work, and a source of quality titles for thirsty readers. StoryBundle works with authors to create bundles of ebooks that can be purchased by readers at their desired price. Before starting StoryBundle, Founder Jason Chen covered technology and software as an editor for Gizmodo.com and Lifehacker.com.
For more information, visit our website at storybundle.com, tweet us at @storybundle and like us on Facebook. For press inquiries, please email press@storybundle.com.