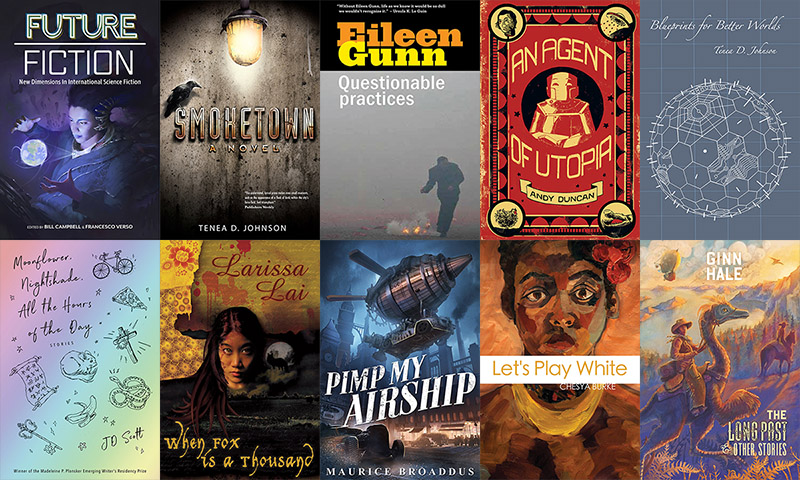 The Innovative Worlds Bundle - Curated by Tenea D. Johnson
Innovation can mean the difference between progress and stagnation, wonder and woe, seeing the return of dim days or a new age of enlightenment. An innovative world is one where you can immerse yourself and learn something new, see a trope turned on its head, meet characters that will frequent the passages of your mind, navigating by the spark of newness they carry through the gloom.
Innovative worlds can shine as an example of what to be or provide respite from what, if only temporarily, is. Or they can make you appreciate what ain't broke.
One could make a strong case that innovation and its possibilities are in short supply at the moment. But not here.
Come get yours.
Get your protagonists that find a way to a better world, your supernatural smooth talkers and soothsayers, your window into the humor of the fabulist, the horror of real life, the fantastical seams holding it all together. And multitudes more.
I like variety in my innovation and that's apparent in this lineup — jumping into a life or a universe is to be done frequently and with abandon I say. The bundle offers a myriad of visions in its short stories, but those who enjoy the charms of longer forms will find them here too.
The authors of these 10 works include World Fantasy, Parallax, Lambda, Sturgeon, Nebula, Sense of Gender, Gaylactic Spectrum, and Duggins Prize for Outstanding Mid-Career Novelist Award winners. All have excelled at characterization, worldbuilding and voice to give us innovative words to immerse ourselves in, rediscover what we think we know anew and renew us.– Tenea D. Johnson
* * *
For StoryBundle, you decide what price you want to pay. For $5 (or more, if you're feeling generous), you'll get the basic bundle of four books in any ebook format—WORLDWIDE.
Blueprints for Better Worlds by Tenea D. Johnson
An Agent of Utopia by Andy Duncan
When Fox Is a Thousand by Larissa Lai
Pimp My Airship by Maurice Broaddus
If you pay at least the bonus price of just $15, you get all four of the regular books, plus six more books, for a total of ten!
Smoketown by Tenea D. Johnson
Questionable Practices by Eileen Gunn
Moonflower, Nightshade, All the Hours of the Day by JD Scott (StoryBundle Exclusive!)
The Long Past & Other Stories by Ginn Hale
Future Fiction edited by Bill Campbell & Francesco Verso
Let's Play White by Chesya Burke
This bundle is available only for a limited time via http://www.storybundle.com. It allows easy reading on computers, smartphones, and tablets as well as Kindle and other ereaders via file transfer, email, and other methods. You get multiple DRM-free formats (.epub, .mobi) for all books!
It's also super easy to give the gift of reading with StoryBundle, thanks to our gift cards – which allow you to send someone a code that they can redeem for any future StoryBundle bundle – and timed delivery, which allows you to control exactly when your recipient will get the gift of StoryBundle.
Why StoryBundle? Here are just a few benefits StoryBundle provides.
Get quality reads: We've chosen works from excellent authors to bundle together in one convenient package.
Pay what you want (minimum $5): You decide how much these fantastic books are worth. If you can only spare a little, that's fine! You'll still get access to a batch of exceptional titles.
Support authors who support DRM-free books: StoryBundle is a platform for authors to get exposure for their works, both for the titles featured in the bundle and for the rest of their catalog. Supporting authors who let you read their books on any device you want—restriction free—will show everyone there's nothing wrong with ditching DRM.
Give to worthy causes: Bundle buyers have a chance to donate a portion of their proceeds to Mighty Writers!
Receive extra books: If you beat the bonus price, you'll get the bonus books!
StoryBundle was created to give a platform for independent authors to showcase their work, and a source of quality titles for thirsty readers. StoryBundle works with authors to create bundles of ebooks that can be purchased by readers at their desired price. Before starting StoryBundle, Founder Jason Chen covered technology and software as an editor for Gizmodo.com and Lifehacker.com.
For more information, visit our website at storybundle.com, tweet us at @storybundle and like us on Facebook. For press inquiries, please email press@storybundle.com.