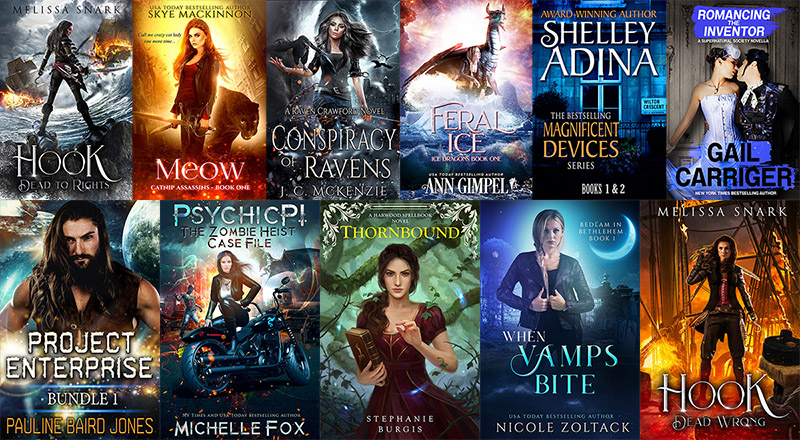 The Kickass Heroines Bundle - Curated by Melissa Snark
What does it take to qualify as a kickass heroine? Tough question. Curating this bundle has taken me on a journey of discovery into nuances—everyone has their own definition. Often while talking to a prospective author, they would say, "I'm not sure my heroine kicks ass, BUT…"
She does in her own way.
Every woman is the heroine of her own heroic journey, and that doesn't always mean what we might assume. Heroism is about helping others; acts of heroism can be great or small. I would like to give a shout-out to the real-life heroine-volunteers of Knitted Knockers who make special handmade breast prostheses for women who have undergone mastectomies or other procedures. A portion of the proceeds of this bundle will go to benefit the Knitted Knockers charity.
So back to the question… What turns a female lead character into a kickass heroine? TV Tropes characterizes Action Girl as "a female badass who is tough and kicks butt." (This definition must have been written by a man.) If you're a feminist (men and women and all others inclusive), right now you're making a sour pucker mouth. Fans want more. Kickass heroines are not just girls. While we can be girls, we are women of all ages and ethnicities and origins who have endured hardships and adversity. We want strong and diverse women protagonists that embody admirable traits.
Kickass heroines are smart.
They achieve their goals through intelligence and education. In Ann Gimpel's Feral Ice, Dr. Erin Ryan is a doctor and biochemist at a floating research station in Antarctica. Stephanie Burgis's heroine in Thornbound is the first female magician and the founder of a school for girls. The steampunk heroines of Shelley Adina's and Gail Carriger's books solve their problems with smarts and savvy. Having praised intellect, my personal favorite heroines tend to be more action oriented.
Kickass heroines are tough.
I love heroines who are literally capable of kicking ass and taking names. That scene in Aliens when Ripley declares, "I say we take off and nuke the entire site from orbit. It's the only way to be sure."
I get chills. Every. Single. Time.
My gender-swapped Captain Hook is a hardened buccaneer and brilliant naval commander. Thankfully, my pirate captain is in good company. Pauline Baird Jones has heroines who are a professional solider and an interstellar spy in turn. Nicole Zoltack delivers a detective champion with a badge and you can bet that Skye MacKinnon's panther-shifter has wicked sharp claws.
Kickass heroines are clever.
Wait. What about the heroine who has street smarts and survives by guile? Never fear. We do love lady rogues as well. J.C. McKenzie's raven-shifter heroine embodies the cunning of a trickster and Michelle Fox's private investigator is a psychic with punch.
So, what does it take to qualify as a kickass heroine? She's smart, tough, and clever—someone readers can care for and cheer for. Most importantly, she's a champion to those in need. We, the authors of the collection, hope you fall head over heels for our Kickass Heroine StoryBundle. – Melissa Snark
For StoryBundle, you decide what price you want to pay. For $5 (or more, if you're feeling generous), you'll get the basic bundle of four books in any ebook format—WORLDWIDE.
Meow - Catnip Assassins - Book One by Skye MacKinnon
Conspiracy of Ravens by J.C. McKenzie
Feral Ice - Ice Dragons Book One by Ann Gimpel
Hook - Dead to Rights by Melissa Snark
If you pay at least the bonus price of just $15, you get all four of the regular books, plus NINE more books!
Thornbound by Stephanie Burgis
Magnificent Devices Series - Books 1-2 by Shelley Adina
Project Enterprise Bundle - Books 1-2 by Pauline Baird Jones
When Vamps Bite - Bedlam in Bethlehem Book 1 by Nicole Zoltack
Psychic P.I. - The Zombie Heist Case File by Michelle Fox
Romancing the Inventor by Gail Carriger
Hook - Dead Wrong by Melissa Snark
This bundle is available only for a limited time via http://www.storybundle.com. It allows easy reading on computers, smartphones, and tablets as well as Kindle and other ereaders via file transfer, email, and other methods. You get multiple DRM-free formats (.epub and .mobi) for all books!
It's also super easy to give the gift of reading with StoryBundle, thanks to our gift cards – which allow you to send someone a code that they can redeem for any future StoryBundle bundle – and timed delivery, which allows you to control exactly when your recipient will get the gift of StoryBundle.
Why StoryBundle? Here are just a few benefits StoryBundle provides.
Get quality reads: We've chosen works from excellent authors to bundle together in one convenient package.
Pay what you want (minimum $5): You decide how much these fantastic books are worth. If you can only spare a little, that's fine! You'll still get access to a batch of exceptional titles.
Support authors who support DRM-free books: StoryBundle is a platform for authors to get exposure for their works, both for the titles featured in the bundle and for the rest of their catalog. Supporting authors who let you read their books on any device you want—restriction free—will show everyone there's nothing wrong with ditching DRM.
Give to worthy causes: Bundle buyers have a chance to donate a portion of their proceeds to Knitted Knockers!
Receive extra books: If you beat the bonus price, you'll get the bonus books!
StoryBundle was created to give a platform for independent authors to showcase their work, and a source of quality titles for thirsty readers. StoryBundle works with authors to create bundles of ebooks that can be purchased by readers at their desired price. Before starting StoryBundle, Founder Jason Chen covered technology and software as an editor for Gizmodo.com and Lifehacker.com.
For more information, visit our website at storybundle.com, tweet us at @storybundle and like us on Facebook. For press inquiries, please email press@storybundle.com.