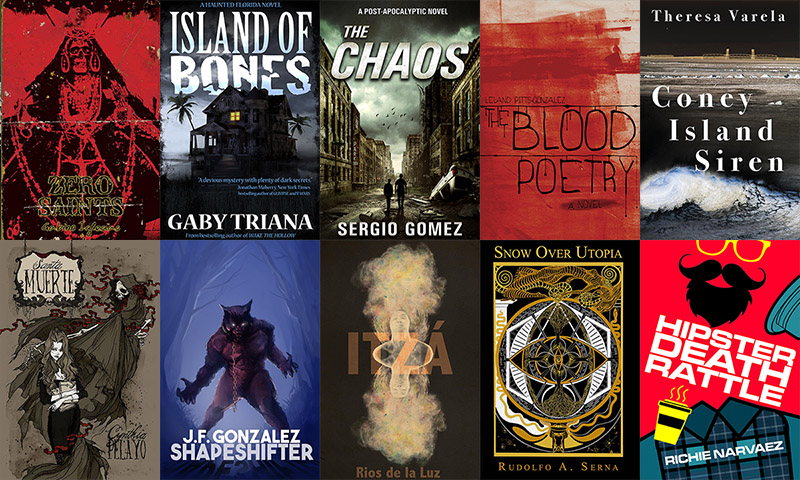 The Latinx Dark Fiction Bundle - Curated by V.Castro
Latinx Book Month with StoryBundle
The very first Latinx horror stories I encountered were not from books, but from my mother. As a Mexican American from south Texas I remember vividly the tale of La Llorona and La Lechuza. One is about a woman who drowned her own children and the other a mythical creature half owl and half witch, but both wanted misbehaving children. It placed enough fear in my imagination to make me behave because if I didn't, they would be waiting. Otherwise, the chancla (flip flop) lay in wait.
Since then I've gravitated towards all types of dark fiction. I suppose this shouldn't surprise me now because most Latinx folks are a blend of different cultures, races and religions. The younger me didn't care who wrote or recounted the tale, as long as I had my fix. I loved heading to the school library to see what new books had arrived since the last time I checked. It took me some time to realize I needed to wait more than a few days. My mother and I regularly visited Blockbuster (raise your hand if you remember the video store). Browsing the horror covers is still a fond memory for me. Most of the time I couldn't take one of them home, so I'd make up my own story, or I'd wait until it was shown on TV and watch without permission. I still have those first horror stories I wrote as a child.
However, one thing that was missing were the stories that reflected my heritage. Where were the brown final girls or tales about the Maya and Aztec gods? Back then you would be hard pressed to find Mexican Americans or other Latinx cultures represented in most genres in literature and film unless you needed a paper-thin stereotype created by someone who never lived this life. This never struck me as odd until I was at an age to understand my gender and the color of my skin held meaning. Who I was and should be was not up to me, but up for debate and judgement by someone else. Our history and stories told not through our lens or words but interpreted by another. Latin America is fraught with political unrest, corruption and crime. Colonization is itself a horror, yet historically we have not seen that expressed widely in horror and noir by the individuals who are products of those things in their culture. When it comes to crime, we have been on the receiving end time and time again. Do you recall the Zoot Suit Riots? Latinx communities have lived darkness. Our blood has been absorbed by fields and splashed on streets. Yet we rise and thrive.
It's Latinx Book Month and I would like share with you a small portion of the wealth of talent and diversity within the Latinx community. If you are a lover of dark fiction, I hope this small introduction will diversify your reading. Perhaps you will feel yourself drawn to a particular book because it represents some part of you. We have female and male authors from different cultures within the Latinx community lending their unique voices and styles to genres that historically have not represented us. The darkness in this bundle ranges from creatures prowling the night to the icy clutches of abuse in a relationship.
By embracing our differences through storytelling, I believe we can learn more about each other. Let our fascination with claws, ghosts, killers, and the macabre bring us together. Enjoy this collection and share! Check out the other titles by these authors. If you have the time, please leave a rating or review even if it is a sentence or two. All of this counts towards creating wider doors for Latinx creators and authors of color.
Thank you for investing in this bundle.
– V.Castro
* * *
For StoryBundle, you decide what price you want to pay. For $5 (or more, if you're feeling generous), you'll get the basic bundle of four books in any ebook format—WORLDWIDE.
The Blood Poetry by Leland Pitts-Gonzalez
Island of Bones by Gaby Triana
Zero Saints by Gabino Iglesias
The Chaos by Sergio Gomez
If you pay at least the bonus price of just $15, you get all four of the regular books, plus six more more books, for a total of ten!
Shapeshifter by J.F. Gonzalez (StoryBundle Exclusive!)
Santa Muerte by Cynthia Pelayo (StoryBundle Exclusive!)
Itzá by Rios de la Luz (StoryBundle Exclusive!)
Hipster Death Rattle by Richie Narvaez
Coney Island Siren by Theresa Varela
Snow Over Utopia by Rudolfo A. Serna
This bundle is available only for a limited time via http://www.storybundle.com. It allows easy reading on computers, smartphones, and tablets as well as Kindle and other ereaders via file transfer, email, and other methods. You get multiple DRM-free formats (.epub, .mobi) for all books!
It's also super easy to give the gift of reading with StoryBundle, thanks to our gift cards – which allow you to send someone a code that they can redeem for any future StoryBundle bundle – and timed delivery, which allows you to control exactly when your recipient will get the gift of StoryBundle.
Why StoryBundle? Here are just a few benefits StoryBundle provides.
Get quality reads: We've chosen works from excellent authors to bundle together in one convenient package.
Pay what you want (minimum $5): You decide how much these fantastic books are worth. If you can only spare a little, that's fine! You'll still get access to a batch of exceptional titles.
Support authors who support DRM-free books: StoryBundle is a platform for authors to get exposure for their works, both for the titles featured in the bundle and for the rest of their catalog. Supporting authors who let you read their books on any device you want—restriction free—will show everyone there's nothing wrong with ditching DRM.
Give to worthy causes: Bundle buyers have a chance to donate a portion of their proceeds to Girls Write Now!
Receive extra books: If you beat the bonus price, you'll get the bonus books!
StoryBundle was created to give a platform for independent authors to showcase their work, and a source of quality titles for thirsty readers. StoryBundle works with authors to create bundles of ebooks that can be purchased by readers at their desired price. Before starting StoryBundle, Founder Jason Chen covered technology and software as an editor for Gizmodo.com and Lifehacker.com.
For more information, visit our website at storybundle.com, tweet us at @storybundle and like us on Facebook. For press inquiries, please email press@storybundle.com.