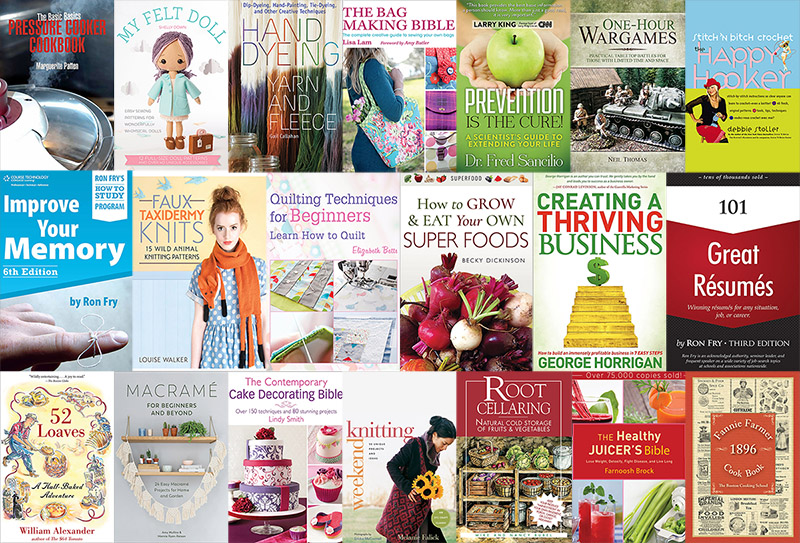 We're all in the middle of a strange and stressful time. Those of us who are only stuck indoors and not dealing with health issues and worrying about paying our bills are the fortunate ones. But everyone housebound—especially folks with kids—knows how quickly you can run out of stuff to do when you can't go outside. We've got just the thing for you.
The Learn Something Bundle is a package of TWENTY books (!) that will give you something, ANYTHING, to do with your hands.
If you're looking to learn a new skill and craft something tangible, we have The Bag Making Bible, Hand Dyeing Yarn and Fleece, Macrame for Beginners and Beyond, Weekend Knitting - 50 Unique Projects and Ideas, Quilting Techniques for Beginners and even the adorable Faux Taxidermy Knits and My Felt Doll.
Want something to do with all the food you've stocked up on? The Basic Basics Pressure Cooker Cookbook, 52 Loaves, How to Grow and Eat Your Own Superfoods, The Contemporary Cake Decorating Bible and The Healthy Juicer's Bible, Root Cellaring and Fannie Farmer 1896 Cookbook should satisfy.
Or, if you're in the mood for self-improvement, we have Improve Your Memory, 101 Great Resumes, Creating a Thriving Business and Prevention is the Cure. But if you just want to pass the time, One-Hour Wargames is fun for the whole isolated family.
So instead of (or in addition to) watching hours and hours of Netflix, it's the perfect time for you and your loved ones to learn something! – StoryBundle
For StoryBundle, you decide what price you want to pay. For $5 (or more, if you're feeling generous), you'll get the basic bundle of five books in any ebook format—WORLDWIDE.
My Felt Doll by Shelly Down
The Basic Basics Pressure Cooker Cookbook by Marguerite Patten
Hand Dyeing Yarn and Fleece by Gail Callahan
The Bag Making Bible by Lisa Lam
Prevention is the Cure! by Dr. Fred Sancilio
If you pay at least the bonus price of just $15, you get all five of the regular books, plus FIFTEEN more books, for a total of twenty books!
One-Hour Wargames by Neil Thomas
Improve Your Memory by Ron Fry
52 Loaves - A Half-Baked Adventure by William Alexander
Stitch 'n Bitch Crochet: The Happy Hooker by Debbie Stoller
Quilting Techniques for Beginners by Elizabeth Betts
101 Great Resumes by Ron Fry
Faux Taxidermy Knits by Louise Walker
Macrame for Beginners and Beyond by Amy Mullins and Marnia Ryan-Raison
How to Grow and Eat Your Own Superfoods by Becky Dickinson
Weekend Knitting - 50 Unique Projects and Ideas by Melanie Falick
The Contemporary Cake Decorating Bible by Lindy Smith
Root Cellaring by Mike and Nancy Bubel
Fannie Farmer 1896 Cook Book by Fannie Merritt Farmer
Creating a Thriving Business by George Horrigan
The Healthy Juicer's Bible by Farnoosh Brock
This bundle is available only for a limited time via http://www.storybundle.com. It allows easy reading on computers, smartphones, and tablets as well as Kindle and other ereaders via file transfer, email, and other methods. You get multiple DRM-free formats (.epub and .mobi) for all books!
It's also super easy to give the gift of reading with StoryBundle, thanks to our gift cards – which allow you to send someone a code that they can redeem for any future StoryBundle bundle – and timed delivery, which allows you to control exactly when your recipient will get the gift of StoryBundle.
Why StoryBundle? Here are just a few benefits StoryBundle provides.
Get quality reads: We've chosen works from excellent authors to bundle together in one convenient package.
Pay what you want (minimum $5): You decide how much these fantastic books are worth. If you can only spare a little, that's fine! You'll still get access to a batch of exceptional titles.
Support authors who support DRM-free books: StoryBundle is a platform for authors to get exposure for their works, both for the titles featured in the bundle and for the rest of their catalog. Supporting authors who let you read their books on any device you want—restriction free—will show everyone there's nothing wrong with ditching DRM.
Give to worthy causes: Bundle buyers have a chance to donate a portion of their proceeds to Mighty Writers and Girls Write Now!
Receive extra books: If you beat the bonus price, you'll get the bonus books!
StoryBundle was created to give a platform for independent authors to showcase their work, and a source of quality titles for thirsty readers. StoryBundle works with authors to create bundles of ebooks that can be purchased by readers at their desired price. Before starting StoryBundle, Founder Jason Chen covered technology and software as an editor for Gizmodo.com and Lifehacker.com.
For more information, visit our website at storybundle.com, tweet us at @storybundle and like us on Facebook. For press inquiries, please email press@storybundle.com.