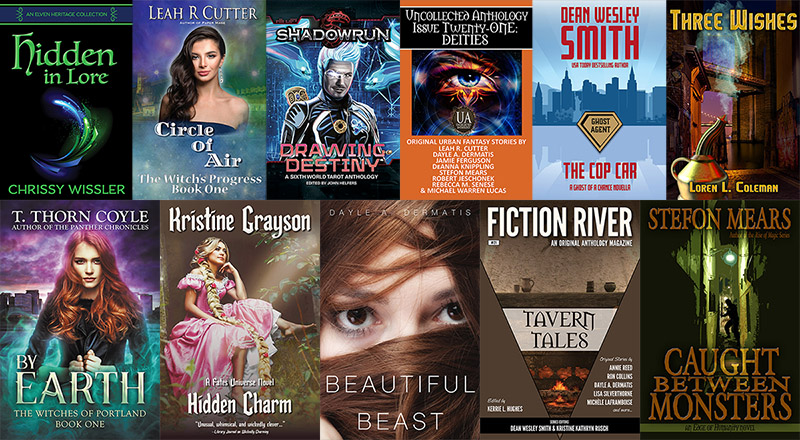 The Magic, Monsters and Myth Bundle - Curated by Kristine Kathryn Rusch
I don't know how you're feeling about 2020, but I'm ready to peek to the end of this chapter, and see how it all resolves. If I think about the year too much, I get uneasy. I need more escapes than usual, at a time when the world has decided to shut down 90% of all our relaxation fun.
We still have books, though. And books are a marvelous, marvelous escape.
I like reading about the world with a bit of sparkle in the down times. And this bundle is all about the sparkle. Sometimes the sparkle is magic. Sometimes it's a made-up world. Sometimes it's love.
We have a little bit of everything here. We have witches residing in the Northwest in both Leah Cutter's Circle of Air, and T. Thorn Coyle's By Earth. We have romantic retellings of fairy tales, in Dayle A. Dermatis's Beautiful Beast and Kristine Grayson's Hidden Charm. There are elves in Chrissy Wissler's Hidden in Love. (There seems to be a lot of hiding in this bundle…hm…)
Both Loren L. Coleman and Dean Wesley Smith take us to a sideways version of our world where magic exists—out of sight until someone takes a good hard look. And Stefon Mears throws the standard tropes upside down by looking at the downsides of magic.
We also have a small wealth of short stories in this bundle, and they cover a wide range of fantasy. From stories centered on deities of all kinds to adventures based on the popular game Shadowrun to tales told in not-so-typical fantasy taverns, you'll find whatever you need to take you out 2020, if only for an afternoon.
Speaking of games and gaming, they provide an important escape from the drudgery of daily life as well. Sometimes gaming is the only social life people have. Which is why we have listed Able Gamers as our charity for this bundle.
As you pick up copies for yourself, I also urge you to give a few dollars to our charity, AbleGamers.
AbleGamers helps disabled folk participate in online games by providing equipment tailored toward their needs. Sometimes the online community is the only community available to people who are housebound. Escape is important for all of us, as is being social, so please, if you decide to purchase this bundle, add a donation to AbleGamers. – Kristine Kathryn Rusch
* * *
For StoryBundle, you decide what price you want to pay. For $5 (or more, if you're feeling generous), you'll get the basic bundle of five books in any ebook format—WORLDWIDE.
Deities by Uncollected Anthology
Shadowrun - Drawing Destiny by John Helfers
Circle of Air by Leah Cutter
The Cop Car by Dean Wesley Smith
Hidden in Lore by Chrissy Wissler
If you pay at least the bonus price of just $15, you get all five of the regular books, plus six more more books, for a total of eleven!
By Earth by T. Thorn Coyle
Caught Between Monsters by Stefon Mears
Three Wishes by Loren L. Coleman
Hidden Charm by Kristine Grayson
Tavern Tales by Fiction River
Beautiful Beast by Dayle A. Dermatis
This bundle is available only for a limited time via http://www.storybundle.com. It allows easy reading on computers, smartphones, and tablets as well as Kindle and other ereaders via file transfer, email, and other methods. You get multiple DRM-free formats (.epub, .mobi) for all books!
It's also super easy to give the gift of reading with StoryBundle, thanks to our gift cards – which allow you to send someone a code that they can redeem for any future StoryBundle bundle – and timed delivery, which allows you to control exactly when your recipient will get the gift of StoryBundle.
Why StoryBundle? Here are just a few benefits StoryBundle provides.
Get quality reads: We've chosen works from excellent authors to bundle together in one convenient package.
Pay what you want (minimum $5): You decide how much these fantastic books are worth. If you can only spare a little, that's fine! You'll still get access to a batch of exceptional titles.
Support authors who support DRM-free books: StoryBundle is a platform for authors to get exposure for their works, both for the titles featured in the bundle and for the rest of their catalog. Supporting authors who let you read their books on any device you want—restriction free—will show everyone there's nothing wrong with ditching DRM.
Give to worthy causes: Bundle buyers have a chance to donate a portion of their proceeds to AbleGamers!
Receive extra books: If you beat the bonus price, you'll get the bonus books!
StoryBundle was created to give a platform for independent authors to showcase their work, and a source of quality titles for thirsty readers. StoryBundle works with authors to create bundles of ebooks that can be purchased by readers at their desired price. Before starting StoryBundle, Founder Jason Chen covered technology and software as an editor for Gizmodo.com and Lifehacker.com.
For more information, visit our website at storybundle.com, tweet us at @storybundle and like us on Facebook. For press inquiries, please email press@storybundle.com.