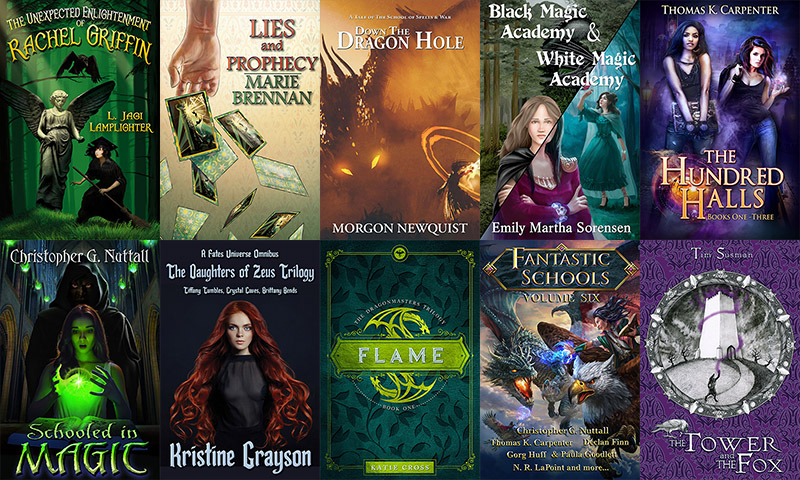 The Magic School Bundle - Curated by Thomas K. Carpenter
It's that time of year when kids across the world are returning to school from their winter breaks. While they'll be forced to suffer through the mundane acquisition of knowledge without threat of mystical annihilation, you don't have to, because you can spend your time reading stories about magical schools that exist in this world—and many others!
I'm curating a Magic School bundle on storybundle.com, a terrific collection of ten novels (actually more than than ten because some of them are their own bundles!) by bestselling authors and rising stars. As always, at StoryBundle, you name your own price—whatever you feel the books are worth, and a portion of the proceeds goes to charity.
The Magic School bundle contains the first three books of my Hundred Halls Universe which has 28 books and counting to enjoy. Trials of Magic, Web of Lies, and Alchemy of Souls are the books included in this StoryBundle—which follow two sisters, Aurie and Pi, as they try to survive the only magical university in the world called The Hundred Halls.
The bundle also includes from prolific and award winning writers like Kristine Grayson, Tim Susman, Marie Brennan, Katie Cross, Christopher Nuttall, Morgon Newquist, L. Jagi Lamplighter, and Emily Martha Sorensen. Learn more about them and how they came to be in this bundle by reading the notes on each individual book. – Thomas K. Carpenter
* * *
For StoryBundle, you decide what price you want to pay. For $5 (or more, if you're feeling generous), you'll get the basic bundle of four books in any ebook format—WORLDWIDE.
Down the Dragon Hole by Morgon Newquist
Lies and Prophecy by Marie Brennan
The Unexpected Enlightenment of Rachel Griffin by L. Jagi Lamplighter
Black Magic Academy & White Magic Academy by Emily Martha Sorensen
If you pay at least the bonus price of just $20, you get all three of the regular books, plus six more books for a total of 10!
The Tower and the Fox by Tim Susman
The Hundred Halls - Books 1-3 by Thomas K. Carpenter
Fantastic Schools Volume Six by Christopher G. Nuttall, N. R. Lapoint and more!
The Daughters of Zeus Trilogy by Kristine Grayson
Flame - The Dragonmasters Trilogy Book 1 by Katie Cross
Schooled in Magic by Christopher G. Nuttall
This bundle is available only for a limited time via http://www.storybundle.com. It allows easy reading on computers, smartphones, and tablets as well as Kindle and other ereaders via file transfer, email, and other methods. You get a DRM-free .epub for all books!
It's also super easy to give the gift of reading with StoryBundle, thanks to our gift cards – which allow you to send someone a code that they can redeem for any future StoryBundle bundle – and timed delivery, which allows you to control exactly when your recipient will get the gift of StoryBundle.
Why StoryBundle? Here are just a few benefits StoryBundle provides.
Get quality reads: We've chosen works from excellent authors to bundle together in one convenient package.
Pay what you want (minimum $5): You decide how much these fantastic books are worth. If you can only spare a little, that's fine! You'll still get access to a batch of exceptional titles.
Support authors who support DRM-free books: StoryBundle is a platform for authors to get exposure for their works, both for the titles featured in the bundle and for the rest of their catalog. Supporting authors who let you read their books on any device you want—restriction free—will show everyone there's nothing wrong with ditching DRM.
Give to worthy causes: Bundle buyers have a chance to donate a portion of their proceeds to Mighty Writers and Girls Write Now!
Receive extra books: If you beat the bonus price, you'll get the bonus books!
StoryBundle was created to give a platform for independent authors to showcase their work, and a source of quality titles for thirsty readers. StoryBundle works with authors to create bundles of ebooks that can be purchased by readers at their desired price. Before starting StoryBundle, Founder Jason Chen covered technology and software as an editor for Gizmodo.com and Lifehacker.com.
For more information, visit our website at storybundle.com, tweet us at @storybundle and like us on Facebook. For press inquiries, please email press@storybundle.com.