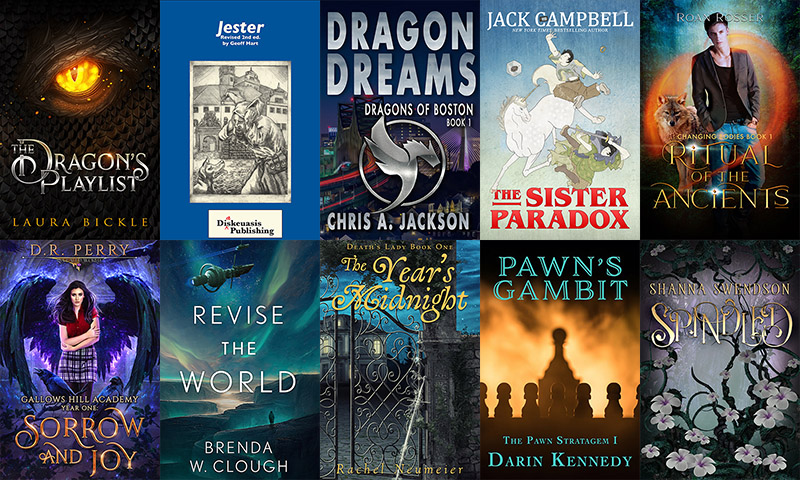 The SFWA Magical Mysteries Bundle - Curated by the Science Fiction and Fantasy Writers Association
What Am I Doing Here?
Have you ever had one of those days where you just stopped and thought: What Am I Doing Here? In this StoryBundle we put a fantasy spin on that with a host of books where the main characters ask themselves exactly that. What am I doing here? And hey…wait…was that magic? And what's that strange beast with the big claws that's trying to murder me? Join us for a series of outstanding stories featuring protagonists that find themselves in new and exciting worlds full of magic.
SFWA is a nonprofit organization dedicated to promoting, advancing, and supporting science fiction and fantasy writing in the United States and elsewhere. For this bundle the SFWA Independent Authors Committee had the pleasure of sorting through over a hundred excellent books as we narrowed our selection down to the ones we thought you'd like the most.
Featured books include The Sister Paradox by the great Jack Campbell where a young man who thought he was an only child learns that he has a sword-wielding sister. Right as she drags him off into a world of magic. We've got the exellent Sorrow and Joy by D.R. Perry featuring a goth lion shifter and a girl named Mavis Merlini who just wants to keep her head down and get through school. Good luck with that. In Darin Kennedy's Pawn's Gambit Yesterday was just another day at the office for Steven Bauer. Today, he is the White Pawn, a combatant in a nightmarish game of chess where people are the pieces and the world is at stake. In The Dragon's Playlist by Laura Bickle, down-on-her-luck Di discovers a dragon living in the coal mines of West Virginia.
These books and six more are sure to thrill and entertain you for countless hours.
– Michael Mammay and the SFWA
* * *
For StoryBundle, you decide what price you want to pay. For $5 (or more, if you're feeling generous), you'll get the basic bundle of four books in any ebook format—WORLDWIDE.
Ritual of the Ancients by Roan Rosser
The Dragon's Playlist by Laura Bickle
Jester by Geoff Hart
Dragon Dreams by Chris A. Jackson
If you pay at least the bonus price of just $20, you get all four of the regular books, plus six more books for a total of 10!
Spindled by Shanna Swendson
The Year's Midnight by Rachel Neumeier
The Sister Paradox by Jack Campbell
Pawn's Gambit by Darin Kennedy
Sorrow and Joy by D.R. Perry
Revise the World by Brenda W. Clough
This bundle is available only for a limited time via http://www.storybundle.com. It allows easy reading on computers, smartphones, and tablets as well as Kindle and other ereaders via file transfer, email, and other methods. You get multiple DRM-free formats (.epub, .mobi) for all books!
It's also super easy to give the gift of reading with StoryBundle, thanks to our gift cards – which allow you to send someone a code that they can redeem for any future StoryBundle bundle – and timed delivery, which allows you to control exactly when your recipient will get the gift of StoryBundle.
Why StoryBundle? Here are just a few benefits StoryBundle provides.
Get quality reads: We've chosen works from excellent authors to bundle together in one convenient package.
Pay what you want (minimum $5): You decide how much these fantastic books are worth. If you can only spare a little, that's fine! You'll still get access to a batch of exceptional titles.
Support authors who support DRM-free books: StoryBundle is a platform for authors to get exposure for their works, both for the titles featured in the bundle and for the rest of their catalog. Supporting authors who let you read their books on any device you want—restriction free—will show everyone there's nothing wrong with ditching DRM.
Give to worthy causes: Bundle buyers have a chance to donate a portion of their proceeds to the SFWA!
Receive extra books: If you beat the bonus price, you'll get the bonus books!
StoryBundle was created to give a platform for independent authors to showcase their work, and a source of quality titles for thirsty readers. StoryBundle works with authors to create bundles of ebooks that can be purchased by readers at their desired price. Before starting StoryBundle, Founder Jason Chen covered technology and software as an editor for Gizmodo.com and Lifehacker.com.
For more information, visit our website at storybundle.com, tweet us at @storybundle and like us on Facebook. For press inquiries, please email press@storybundle.com.