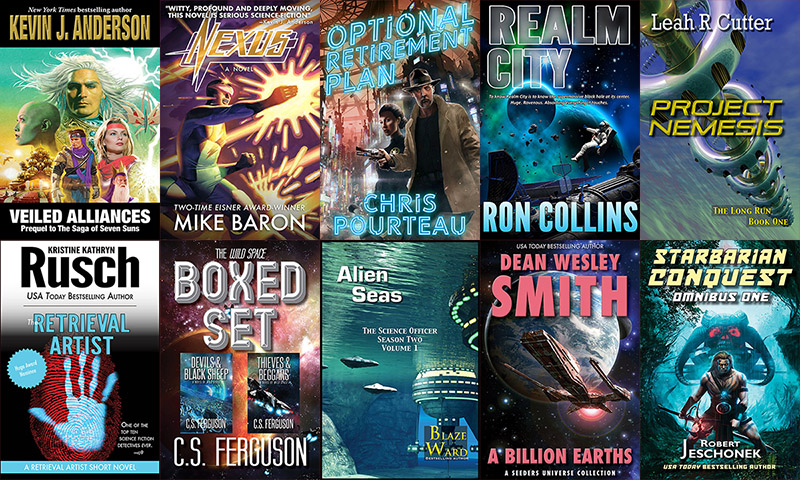 The Space Opera Odyssey Bundle - Curated by Robert Jeschonek
Will there be conflict in outer space? If humans are involved, you better believe it.
Maybe that's one reason why we love space opera so much—because we know we're just one propulsion system breakthrough away from making it a reality. As much cooperation as it will take to get out there, we know it won't take long for our spirit of competition and conflict to put us at odds with one another…and any aliens we cross paths with, as well.
As long as there are humans plying the spaceways, we know there will be pirates and criminals and hit men and mobsters and rebels. Battles will be fought over causes both noble and venal, righteous and corrupt, high-stakes and petty. Heroes and villains will grapple for control of resources, territory, secrets, hearts and minds. We will struggle every day, as we do on our homeworld, for the right to control and expand and create and become.
But oh, how much grander the backdrop will be.
It's something we know will happen, something we can practically taste—and if we're a little too early on the timeline to live it firsthand, we can at least do the next best thing and read ourselves into the glorious cosmic saga. All we need is a doorway to lead us, for a while, from our own earthbound existence to an epically challenging experience on a distant and dangerous frontier.
The Space Opera Odyssey bundle is just such a doorway.
In this incredible set of adventures, you will indeed meet heroes and villains, all larger than life, all roaming myriad worlds and stations and outposts on quests for wealth or freedom or love or redemption. You will indeed meet pirates and criminals and hit men and mobsters and rebels, battling for supremacy or at least one last shot in a cold and uncaring cosmos.
You will find yourself with enough thrilling adventures to banish every doldrum and enliven every daydream—and every one of them comes from the mind of a master writer. When you buy and read this bundle, you will invite the cream of the crop of space opera authors into your imagination. You know you are in for a finely crafted thrill ride when you embark on a reading adventure under the guidance of Kevin J. Anderson, Kristine Kathryn Rusch, Dean Wesley Smith, or Mike Baron. You know you can trust Ron Collins, Blaze Ward, Leah Cutter, Chris Porteau, and C.S. Ferguson to take you very far in every way possible.
Do you need more encouragement to jump aboard this rocket and launch into the heart of this interstellar actionfest? Then jack your engines to Warp 500, set your sensors on thrill, and keep reading for a taste of the out-of-this-world goodies you'll get:
• Veiled Alliances by Kevin J. Anderson – Discover the origin of the green priests on Theroc, the first Roamer skymining operations on a gas-giant planet, the discovery of the Klikiss robots entombed in an abandoned alien city, the initial Ildiran expedition to Earth, the rescue of the generation ship Burton and the tragedy that leads to sinister breeding experiments.
• Nexus: A Novel by Mike Baron - Nexus, the Cosmic Avenger, faces Gourmando, a vast, alien entity that consumes civilizations. Torn between his duties and the survival of his planet, Nexus must reach deep within himself to save Ylum in this definitive tale of cosmic justice.
• Optional Retirement Plan by Chris Porteau - Stacks Fischer is the most feared and respected killer for hire in the solar system—at least until dementia makes him spill his bosses' secrets in public. When the Syndicate Corporation decides to permanently retire him, Stacks refuses to go quietly and comes up with a hardcore retirement plan of his own.

• Realm City (StoryBundle Exclusive) by Ron Collins - An ex-pilot, gone underground for more than a decade. A gene-cutting super-sleuth. A galactic business tycoon. When the Kapari crime clan kidnaps Caleb Zavier's niece, the dealing and double dealing has just begun.
• The Retrieval Artist by Kristine Kathryn Rusch – Hard-boiled gumshoe Miles Flint seeks missing persons and unravels deadly secrets in the dark and dangerous world of tomorrow. This Hugo-nominated tale launched the groundbreaking Retrieval Artist series.
• The Wild Space Boxed Set: Devils & Black Sheep/Beggars & Thieves by CS Ferguson - In the distant Heracles system, the last remaining Crimson Star pirates are desperate to escape. Trapped between civil war and the Inquisition, they are pursued by a legendary lawman who hounds them in a desperate attempt to save both his home and his career.
• Alien Seas: The Science Officer Season Two, Volume 1 (StoryBundle Exclusive) by Blaze Ward - Javier and the crew of the starship Excalibur travel halfway across the galaxy to the ocean world of Ugen, looking for friends and trade to help them face the gathering storm. But when assassins strike, an unlikely hero must step up and help the ship and its crew survive a battle like no other they have ever fought before.
• A Billion Earths: A Seeders Universe Collection (StoryBundle Exclusive) by Dean Wesley Smith - The people of Earth thought they alone represented humankind. But when Earth falls, the truth about the origin of the universe shatters that myth. And sometimes one answer only leads to more questions.
• Starbarian Saga Omnibus Book One: Horde's Challenge and Horde's Power (StoryBundle Exclusive) by Robert Jeschonek - Barbarian lords Tork and Angar battle for control of the fallen and desolate world of tomorrow—until the high-tech Blacksmiths whisk them away to fight a war for survival among the stars. Can Tork and Angar stop trying to kill each other long enough to save the last remnants of humanity from extinction?
• Project Nemesis: The Long Run Book One (StoryBundle Exclusive) by Leah Cutter – Judit's opposition to a soul-crushing cartel that controls all trade seems hopeless…until an experimental spaceship provides the key to possible victory. Project Nemesis contains a multitude of secrets that could change everything for the better—if they don't get Judit killed before she can use them to make a difference.
How's that for a lineup? If you love space opera, science fiction, action-adventure, or great writing regardless of genre, this bundle will light up your universe in all the best ways. Grab your copy during the very limited three-week sales window, load your e-reading device or app, and launch yourself into orbit for some breathtaking, soul-stirring, and thought-provoking reading. – Robert Jeschonek
* * *
For StoryBundle, you decide what price you want to pay. For $5 (or more, if you're feeling generous), you'll get the basic bundle of four books in any ebook format—WORLDWIDE.
Optional Retirement Plan by Chris Pourteau
Veiled Alliances by Kevin J. Anderson
Nexus by Mike Baron
Realm City by Ron Collins (StoryBundle Exclusive)
If you pay at least the bonus price of just $15, you get all four of the regular books, plus six more!
The Retrieval Artist by Kristine Kathryn Rusch
A Billion Earths by Dean Wesley Smith (StoryBundle Exclusive)
Alien Seas - The Science Officer Season 2 by Blaze Ward (StoryBundle Exclusive)
The Wild Space Boxed Set by C. S. Ferguson
Project Nemesis by Leah Cutter (StoryBundle Exclusive)
Starbarian Omnibus by Robert Jeschonek (StoryBundle Exclusive)
This bundle is available only for a limited time via http://www.storybundle.com. It allows easy reading on computers, smartphones, and tablets as well as Kindle and other ereaders via file transfer, email, and other methods. You get multiple DRM-free formats (.epub, .mobi) for all books!
It's also super easy to give the gift of reading with StoryBundle, thanks to our gift cards – which allow you to send someone a code that they can redeem for any future StoryBundle bundle – and timed delivery, which allows you to control exactly when your recipient will get the gift of StoryBundle.
Why StoryBundle? Here are just a few benefits StoryBundle provides.
Get quality reads: We've chosen works from excellent authors to bundle together in one convenient package.
Pay what you want (minimum $5): You decide how much these fantastic books are worth. If you can only spare a little, that's fine! You'll still get access to a batch of exceptional titles.
Support authors who support DRM-free books: StoryBundle is a platform for authors to get exposure for their works, both for the titles featured in the bundle and for the rest of their catalog. Supporting authors who let you read their books on any device you want—restriction free—will show everyone there's nothing wrong with ditching DRM.
Give to worthy causes: Bundle buyers have a chance to donate a portion of their proceeds to AbleGamers!
Receive extra books: If you beat the bonus price, you'll get the bonus books!
StoryBundle was created to give a platform for independent authors to showcase their work, and a source of quality titles for thirsty readers. StoryBundle works with authors to create bundles of ebooks that can be purchased by readers at their desired price. Before starting StoryBundle, Founder Jason Chen covered technology and software as an editor for Gizmodo.com and Lifehacker.com.
For more information, visit our website at storybundle.com, tweet us at @storybundle and like us on Facebook. For press inquiries, please email press@storybundle.com.