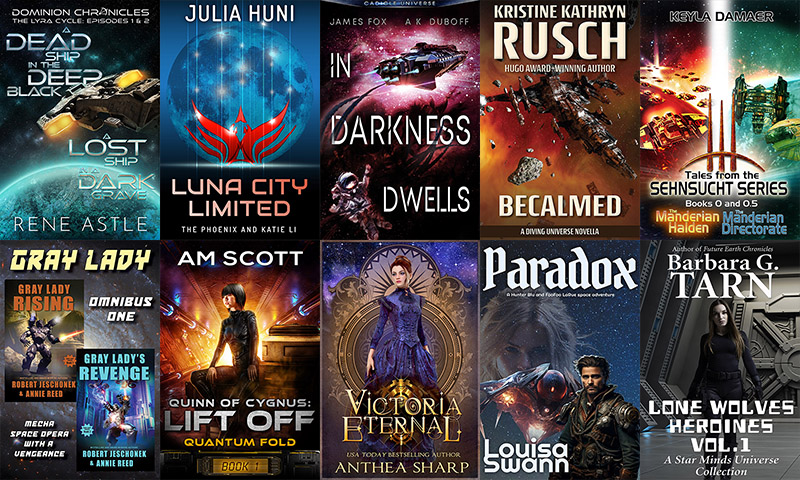 The Space Opera Sisterhood Bundle - curated by Robert Jeschonek
What is it about space opera that makes us love it so much? The action, the exotic settings, the colorful characters, the alien species? The promise of countless adventures in the face of the great unknown?
Or is it mostly just the incredible wow factor of all the ships…the technology…the planets…the ray guns and laser swords? In many ways, it's the ultimate escapist genre, transporting us to places and situations that dwarf our everyday troubles. And yet, at its heart, space opera is all about us—what it means to be human, and how we can triumph over our human limitations.
Whatever your reason for loving the genre, this bundle has what you're looking for in abundance. The eleven books I've selected—each written by a true heroine of the genre—are packed with space opera goodness that will propel you to the furthest reaches of the known and unknown universe.
In this set of books—including six StoryBundle exclusives—you will meet heroes and villains, all larger than life, roaming myriad worlds and stations and outposts on quests for survival or freedom or love or redemption. You will find yourself with enough thrilling adventures to banish every doldrum, and every one of them will take you far in every way possible.
If you love space opera, science fiction, action-adventure, or great writing regardless of genre, this bundle will light up your universe in all the best ways. Grab your copy during the limited three-week sales window, load your e-reading device or app, and launch yourself into orbit for a Big Bang of breathtaking, soul-stirring, and thought-provoking reading. – Robert Jeschonek
* * *
For StoryBundle, you decide what price you want to pay. For $5 (or more, if you're feeling generous), you'll get the basic bundle of four books in .epub format—WORLDWIDE.
Dominion Chronicles - The Lyra Cycle: Episodes 1-2 by Rene Astle
Becalmed by Kristine Kathryn Rusch
Luna City Limited by Julia Huni
In Darkness Dwells by James Fox and A.K. DuBoff
If you pay at least the bonus price of just $20, you get all four of the regular books, plus six more (all StoryBundle exclusives) books for a total of 10!
Gray Lady - Books 1 & 2 Omnibus by Robert Jeschonek and Annie Reed (StoryBundle Exclusive)
Paradox by Louisa Swann (StoryBundle Exclusive)
Tales from the Sehnsucht Series - Books 0 and 0.5 by Keyla Damaer (StoryBundle Exclusive)
Lone Wolves Heroines - Vol. 1 by Barbara G. Tarn (StoryBundle Exclusive)
Victoria Eternal by Anthea Sharp (StoryBundle Exclusive)
Quinn of Cygnus - Lift Off by AM Scott (StoryBundle Exclusive)
This bundle is available only for a limited time via http://www.storybundle.com. It allows easy reading on computers, smartphones, and tablets as well as Kindle and other ereaders via file transfer, email, and other methods. You get a DRM-free .epub for all books!
It's also super easy to give the gift of reading with StoryBundle, thanks to our gift cards – which allow you to send someone a code that they can redeem for any future StoryBundle bundle – and timed delivery, which allows you to control exactly when your recipient will get the gift of StoryBundle.
Why StoryBundle? Here are just a few benefits StoryBundle provides.
Get quality reads: We've chosen works from excellent authors to bundle together in one convenient package.
Pay what you want (minimum $5): You decide how much these fantastic books are worth. If you can only spare a little, that's fine! You'll still get access to a batch of exceptional titles.
Support authors who support DRM-free books: StoryBundle is a platform for authors to get exposure for their works, both for the titles featured in the bundle and for the rest of their catalog. Supporting authors who let you read their books on any device you want—restriction free—will show everyone there's nothing wrong with ditching DRM.
Give to worthy causes: Bundle buyers have a chance to donate a portion of their proceeds to AbleGamers!
Receive extra books: If you beat the bonus price, you'll get the bonus books!
StoryBundle was created to give a platform for independent authors to showcase their work, and a source of quality titles for thirsty readers. StoryBundle works with authors to create bundles of ebooks that can be purchased by readers at their desired price. Before starting StoryBundle, Founder Jason Chen covered technology and software as an editor for Gizmodo.com and Lifehacker.com.
For more information, visit our website at storybundle.com, tweet us at @storybundle and like us on Facebook. For press inquiries, please email press@storybundle.com.