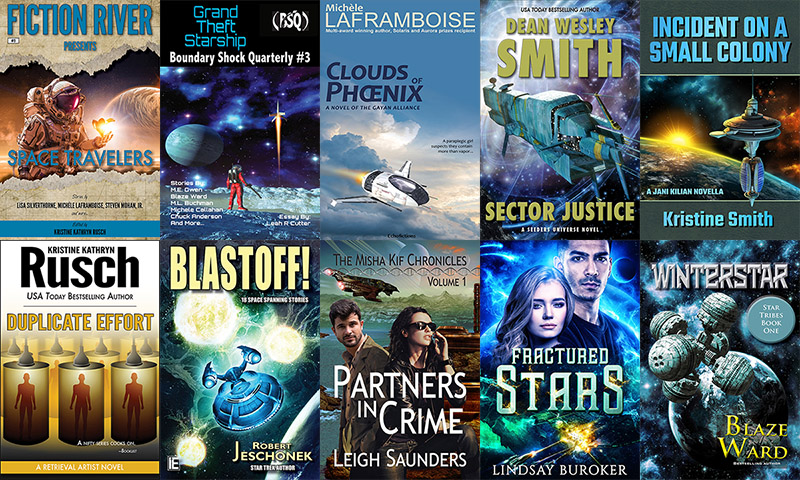 The Space Travelers Bundle - Curated by Kristine Kathryn Rusch
When most people think of science fiction, they think of space, that final frontier. They think of traveling in space or living in space or being in space. Eventually, they come back to Earth and think about things like time travel or futuristic gadgets, but ask the normal person what they imagine when someone says "science fiction," and they respond "space."
I know my love for sf came from my love for space. I discovered both at the same time. I watched the Apollo program throughout my childhood, and the same year I discovered Star Trek, I also watched human beings land on the Moon. That fired my imagination so firmly that I think nothing can shake those two things apart. Space is something, for me, to look forward to.
Space is hope.
Space isn't always hope, not for the people (and creatures) involved in this Space Traveler bundle. Sometimes space is adventure. Sometimes space is scary. And often space is fascinating—like nothing we've seen before.
In compiling this bundle, I tried to get as many different kinds of space travelers as possible. I started with short story anthologies because I love the sf short form more than any other form. Writers can do so much with sf at its shortest lengths. Plus, it's easy to discover new favorite writers in the short form and discovering new favorites is, at least for me, one of the purposes of StoryBundle.
We have two anthologies here. The first, from the writers of Boundary Shock Quarterly, looks at theft onboard starships. Grand Theft Starship sounds like a great movie premise—a group of (serious) crimes on starships—and it's a wonderful anthology premise, showing us that once human beings go to space, their problems and foibles follow.
I edited the second anthology and it provided the premise for the entire bundle. Fiction River's various guest editors have chosen some wonderful science fiction over the years, and I wanted to compile some of my favorites. In this Fiction River Presents, I've pulled stories from made-up planets to Earth herself to show how the phrase "space travelers" can mean different things to different…well, I was going to say people, but I actually mean sentient beings. You'll see.
Speaking of things I've done, I put space travel at the heart of my book-length science fiction. My Retrieval Artist series features a lot of space travelers, not all of them human. And like Grand Theft Spaceship, my Retrieval Artist novels also feature a crime. Duplicate Effort is a standalone novel in that world. All the laws in the Retrieval Artist universe came about because aliens and humans tried to form an alliance that spans a galaxy. And the alliance works only occasionally. In this novel, set on the Moon, the alliance comes perilously close to breaking down.
When I write about space, I narrow it down to something I can imagine—like the Moon in the future. Dean Wesley Smith writes galaxy-spanning science fiction. You read that right: galaxy-spanning. His Seeders cross vast (and I do mean vast) regions of space to maintain order and justice, and his characters often fall in love while doing so. Sector Justice looks at crimes as vast as the universe Dean has created, and follows a love that moves easily through time.
Dean isn't the only one who mixes science fiction and romance. So does Lindsay Buroker. In fact, her fans expect it. Her novels often combine romance and adventure. Fractured Stars features a difficult relationship, and characters to cheer for, including McCall Richter, an autistic woman who owns her spaceship which she uses to find criminals and other deadbeats.
Lindsay Buroker isn't the only writer in this bundle whose novel features a disabled heroine. Michèle Laframboise's award-winning novel, Clouds of Phoenix, features a paraplegic girl who wears a cobbled-up exoskeleton and dreams of the sky.
Mentioning both novels reminds me to pause here to mention our charity for this bundle. AbleGamers helps disabled people participate in online games by providing equipment tailored toward their needs. Sometimes the online community is the only community available to people who are house- or bedbound. Dreams are important for all of us, as is being social, so please, if you decide to purchase this bundle, add a few dollars for AbleGamers.
And to help you decide if you want to pick up this bundle (trust me, you do), let me tell you about the remaining four books. They are all exclusive to the bundle itself. You can't get these books anywhere else.
The first comes from Planet Bob, I mean, Robert Jeschonek. Bob's writer friends call his work Planet Bob because his imagination is so different from everyone else's that no other writer in the universe could come up with the stories he does. The seventeen stories in Blastoff! feature the best of Planet Bob, and show you why no one forgets a Robert Jeschonek story.
Kristine Smith's exclusive contribution comes from her popular Jani Kilian series. Incident on a Small Colony finds Jani trying to rest, and we know what happens to heroes who try to take a day off…
Blaze Ward has included the first book in a new series, WinterStar. A touch of romance, an entire Empire threatening 25 spaceships, and then the arrival of a conqueror. Is it any wonder Blaze specializes in adventure?
Our remaining volume comes from Leigh Saunders. She has chosen to debut a new series with us, a series you can't find anywhere else. Partners in Crime (okay: it's official. This is a crime in space book as well as space travelers) focuses on a space caper, in which two thieves try to pull off a crime that would get them in trouble with the folks in Grand Theft Spaceship.
Lots of new books here, lots of fun books here, lots of writers here. I hope some of them will be new to you, and you'll discover a lifelong desire to read the rest of their books.
So pick up the bundle today and give a little to AbleGamers as you do so. Afterall, we all need a bit of summer adventure, and here's the perfect way to find some for you and give some to others.
Enjoy!
For StoryBundle, you decide what price you want to pay. For $5 (or more, if you're feeling generous), you'll get the basic bundle of four books in any ebook format—WORLDWIDE.
Sector Justice by Dean Wesley Smith
Clouds of Phoenix by Michèle Laframboise
Fiction River Presents: Space Travelers by Kristine Kathryn Rusch
Boundary Shock Quarterly #3 - Grand Theft Starship by Boundary Shock Quarterly
If you pay at least the bonus price of just $15, you get all four of the regular books, plus SIX more, including four StoryBundle exclusives you can't find anywhere else!
Blastoff! by Robert Jeschonek (EXCLUSIVE!)
Partners in Crime - The Misha Kif Chronicles #1 by Leigh Saunders (EXCLUSIVE!)
Fractured Stars by Lindsay Buroker
Incident on a Small Colony by Kristine Smith (EXCLUSIVE!)
Duplicate Effort by Kristine Kathryn Rusch
WinterStar - Star Tribes Book 1 by Blaze Ward (EXCLUSIVE!)
This bundle is available only for a limited time via http://www.storybundle.com. It allows easy reading on computers, smartphones, and tablets as well as Kindle and other ereaders via file transfer, email, and other methods. You get multiple DRM-free formats (.epub and .mobi) for all books!
It's also super easy to give the gift of reading with StoryBundle, thanks to our gift cards – which allow you to send someone a code that they can redeem for any future StoryBundle bundle – and timed delivery, which allows you to control exactly when your recipient will get the gift of StoryBundle.
Why StoryBundle? Here are just a few benefits StoryBundle provides.
Get quality reads: We've chosen works from excellent authors to bundle together in one convenient package.
Pay what you want (minimum $5): You decide how much these fantastic books are worth. If you can only spare a little, that's fine! You'll still get access to a batch of exceptional titles.
Support authors who support DRM-free books: StoryBundle is a platform for authors to get exposure for their works, both for the titles featured in the bundle and for the rest of their catalog. Supporting authors who let you read their books on any device you want—restriction free—will show everyone there's nothing wrong with ditching DRM.
Give to worthy causes: Bundle buyers have a chance to donate a portion of their proceeds to AbleGamers!
Receive extra books: If you beat the bonus price, you'll get the bonus books!
StoryBundle was created to give a platform for independent authors to showcase their work, and a source of quality titles for thirsty readers. StoryBundle works with authors to create bundles of ebooks that can be purchased by readers at their desired price. Before starting StoryBundle, Founder Jason Chen covered technology and software as an editor for Gizmodo.com and Lifehacker.com.
For more information, visit our website at storybundle.com, tweet us at @storybundle and like us on Facebook. For press inquiries, please email press@storybundle.com.