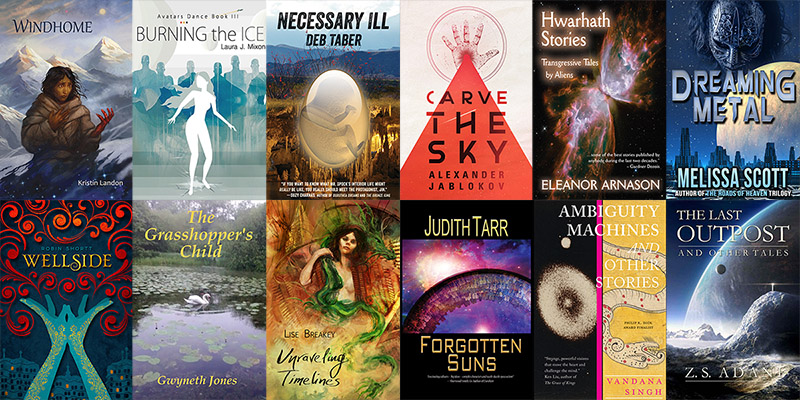 Strangers in Strange Lands - Curated by Athena Andreadis
This StoryBundle is dedicated to Vonda McIntyre, who described strangers in strange lands with mind-bending originality and eloquence. Fair winds, astrogator.
The Strangers in Strange Lands Bundle unveils a panorama of twelve riveting works that reconnoiter a core tenet of science fiction (but also a perennial burning topic in human history and culture) in all its ramifications and flourishes: encountering others.
A saying widely attributed to Dostoyevsky states there are just two stories: "Someone goes on a journey" and "A stranger comes to town". This is even truer of science fiction, which constantly tests the boundaries of these two foundational narratives: what might humans become, elsewhere/elsewhen? And what others might we encounter when we leave the safety of our planetary cradle—or even the safety of our comfort zones?
As the astrogator and lead editor of acclaimed small indie press Candlemark & Gleam, I've had the honor and pleasure of helping to create and release some of the best new works in this mode. And now I get to share such thought-experiments and flights of informed fancy with you in this spectacular bundle, whose every entry deserves to become a film directed by someone with the flair of Denis Villeneuve or Alfonso Cuarón.
Firmly rooted in the key SFnal theme of the quest to explore and understand the universe in all its complexity, the bundle nevertheless ranges widely across speculative fiction subgenres: space opera, near-future dystopia, far futures with magic-like technology, parallel universes, first contacts. From engineered humans to sentient AIs, from indentured teenagers on Earth to duelists on Mars, from neuter loners to clone group kins, it's all here!
You'll get deeply immersed in difficult missions and hair-raising jeopardies, dilemmas and fraught choices, intricate alliances and family configurations, existential-risk technologies and scientific advances familiar to devotees of Cherryh, Le Guin, Herbert, McIntyre, Zelazny—of Star Trek, Farscape, Babylon 5 and Firefly/Serenity; but also deep gazes into hearts and minds reminiscent of Austen, Chekhov, Yourcenar, Liebrecht. These works will pull you into their vividly imagined, fully inhabited worlds and leave you thirsting for more.
* * *
Windhome by Kristin Landon, author of the Hidden Worlds trilogy, is The Left Hand of Darkness meets Black Robe with a soupçon of Alien. Shadowy aliens are destroying the technology of sentients who have attained space travel capabilities. The surviving crew of an exploratory Earth starship find themselves marooned among the inhabitants of the icy world of Windhome, also devastated by the destroyers. The humans' precarious survival makes it almost impossible to fulfill their mission. Thrown into an unwilling alliance with a Windhome outsider faction, exiled into wilderness, two of the human crew must live by this world's bitter laws, accept the ways of its people—and eventually make a terrifying choice.
Burning the Ice by Laura J. Mixon—winner of a Hugo for Fan Writing—is the youngest sibling of Avatars Dance (along with Glass Houses and Proxies), equal parts first contact and evolved cyberpunk. A small human band is struggling to survive on Brimstone, an ice moon of a gas giant. All colonists are vat-born clones in sib groups except Manda CarliPablo: she's a singleton, which makes her an outcast. Manda's discovery of intelligent life in the sea roils the colonists who intend to terraform Brimstone, thereby committing xenocide—and further danger comes from the discovery that the starship that brought them and its long-lived crew, previously thought lost, is actually lurking in orbit influencing the colony's fate.
Necessary Ill by Deb Taber, selected as Library Journal's science fiction debut of the month, uniquely posits humans entirely without sex or gender. In a near-future dystopian Earth in which neuters have been literally forced underground, Jin metes out careful doses of death by engineered diseases to revive the polluted, overcrowded planet. Jin is ruthless yet compassionate; but its already-conflicted choices become even more so when it encounters Sandy, a young woman thrust violently out of her life on a farm into the dispassionate neuter society. As outside and inside worlds roil with danger, all must learn to really look at—and see—each other if they want to have a chance at restoring many delicate balances.
Carve the Sky by Alexander Jablokov is that rare combination: a taut mystery that's also a leisurely walk through an opulent museum. Carve the Sky (as well as its sibling, River of Dust) uses a rich, vivid palette to depict our solar system with all its planets inhabited, each with diverging physiologies and cultures. The two power coalitions—inner versus outer planets—have conflicting interests and goals. In this intricately choreographed adventure in art, religion, espionage and looming interplanetary war, both sides are racing to retrieve an eccentric sculptor's lost masterpiece, sacred to a secretive sect and made of a rare element found only in the asteroid belt, that may hold the key to long-distance star travel.
Hwarhath Stories: Transgressive Tales by Aliens by Eleanor Arnason—winner of the Tiptree, Mythopoeic Society and Spectrum awards—continues her rich, inventive tradition of speculative cultural anthropology. The Hwarhath are an alien bisexual species who engage in heterosexual sex strictly for procreation, reserving romantic passion for their own gender. Like all absolutes, this leads to all kinds of tensions and transgressions, and the mirror-imaging of standard human mores makes for fascinating comparisons and contrasts. Each of the sixteen Hwarhath tales recounted in the collection comes with the visiting Human scientist-cum-translator's commentary, wry and dry in bona-fide academic fashion.
Dreaming Metal by Melissa Scott—forerunner of several major science fiction tropes and winner of the Campbell, Gaylactic and Lambda awards—takes place on Persephone, a harsh world riven by class warfare (also the setting for Dreamships). Scott continues her sophisticated examinations of sentient AIs and the struggles of marginalized groups by showing the actions of three intertwined protagonists: high-tech stage puppeteer Celinde Fortune and her popular musician cousin Fanning Jones, both at the nexus of the violent protests swirling around granting AIs full rights while denying them to human laborers; and starpilot Reverdy Jian, whose "smart" construct may have achieved true consciousness.
Wellside, an Aurealis award finalist by Robin Shortt, is a tour de force of subgenre fusion that just cries out for the attention of someone like Guillermo del Toro. High-school senior Ben has been caught breaking into a fairly big corporation's servers and they're going to try him as an adult. Essa has been trapped on Earth by a jealous lover, with no way back home to the Well, the vast bottomless pit lined with doors to countless realities. Ben and Essa eventually find a way into the Well, with its cities hung from cats'-cradles and Library made of sand, where an ancient threat is awakening. On the run, their only allies a clockwork spider and a girl made of iron, they'll have to work together to save all the worlds.
The Grasshopper's Child by Gwyneth Jones—winner of the P. K. Dick, Tiptree, Clarke and World Fantasy awards—unfolds in her Bold as Love universe, a near-future Earth suffering from mild but potentially dangerous imbalances and strictures. Heidi, the offspring of parents who became social outcasts, is an Indentured Teen parceled out to eccentric owners in the beleaguered English countryside. She's doing her utmost to navigate through the shoals of her precarious life, receive the education she so desperately needs, and clear her parents' unfairly blackened names. The Grasshopper's Child is a remarkable fusion of near-future dystopia with a crime mystery imbued with Jones' fierce intelligence.
Unraveling Timelines by Lise Breakey is a fresh take on "X-Men Meet Underworld"—a mythic tale of warring castes with psychic powers. Peter Chang is an unassuming young man who feels unmoored in his life. One night, his boss' daughter emerges from the wall in his office, pursued by killers. Nikki Varian is a bohemian rebel whose overbearing father creates alternate timelines and exploits them for profit. But when he's murdered, Nikki discovers that timelines can be destroyed as well as created. Peter must discover his own mysterious power, and Nikki and Peter must try to make peace with her father's implacable enemies—or the timeline they both call home will be the first of many to unravel.
Ambiguity Machines and Other Stories by P. K. Dick award finalist Vandana Singh is a collection of fourteen deeply humanistic, elegiac stories that look into the hearts and minds of philosopher scientists attempting to come to grips with not just the agonies and ecstasies of their invariably demanding vocations and with often fraught life circumstances but also with disconnection and irrevocable loss. The stories range from barely-future Earth to far futures, from steampunk to space opera overture, from guests in dilapidated hotels to pilots of alt-matter starships—but the shimmering thread that runs through them all is how limited our perceptions can be, and how crucial it is to keep all frequencies open.
Forgotten Suns by Judith Tarr—winner of the Crawford award—takes place among the long-abandoned ruins of planet Nevermore. An expedition from Earth has been vainly trying to unlock the mysteries of the ruins, until Aisha, the daughter of the expedition's leaders, literally stumbles on a sealed tomb that contains a powerful being long in stasis. But this god-like once-king is haunted by demons, as is Captain Khalida Nasir, Aisha's aunt, who bears deep mental scars from the ongoing interplanetary wars. All three have psychic powers and must trust each other and combine their strengths to solve increasingly fraught jeopardies without succumbing to the manifold pressures of the unscrupulous Psycorps.
The Last Outpost and Other Tales by S. Z. Adani offers a baker's dozen stories, several of which unfurl in her Dhyani universe—a far future of accelerated evolution via genetic engineering in which augmentations and AIs have become advanced enough to attain Clarkean magical status. Yet at the same time the works remain hard science fiction: an unsettling, demanding mix of Peter Watts and unexpurgated myths with their ferocity still intact; of sentient planetary ring fragments, photosynthetic hair and fungal-human symbionts; of space stations that sell oxygen in Expanse/Total-Recall fashion, aliens with the habits and mores of terrestrial wasps, and danger-suffused ruins on desolate planets.
The burning question of what happens when we become or encounter others is at the forefront of science fiction—but also at the forefront of humanity's future, on earth and beyond. The works in this bundle approach the question from multiple directions and come up with the best solution: not facile answers, but fascinating possibilities and alternatives, while also dispensing vast amounts of awe and wonder. Strangers in Strange Lands gives its readers a chance not only to delve into perhaps the richest vein of modern speculative fiction, but also to gain entry into several spectacular universes of linked stories.
Cue the swelling brass fanfare, get the ship's AI to start a game of 3-D chess, and prepare to dream the unknown. The Strangers in Strange Lands Bundle has a long, steady burn—I hope you enjoy it! And stay tuned for more story bundles curated by Candlemark & Gleam.
– Athena Andreadis
For StoryBundle, you decide what price you want to pay. For $5 (or more, if you're feeling generous), you'll get the basic bundle of four books in any ebook format—WORLDWIDE.
Necessary Ill by Deb Taber
Windhome by Kristin Landon
Carve the Sky by Alexander Jablokov
Burning the Ice by Laura J. Mixon
If you pay at least the bonus price of just $15, you get all four of the regular books, plus EIGHT more!
Forgotten Suns by Judith Tarr
The Grasshopper's Child by Gwyneth Jones
Hwarhath Stories: Transgressive Tales by Aliens by Eleanor Arnason
Wellside by Robin Shortt
Unraveling Timelines by Lise Breakey
Dreaming Metal by Melissa Scott
Ambiguity Machines and Other Stories by Vandana Singh
The Last Outpost and Other Tales by Z.S. Adani
This bundle is available only for a limited time via http://www.storybundle.com. It allows easy reading on computers, smartphones, and tablets as well as Kindle and other ereaders via file transfer, email, and other methods. You get multiple DRM-free formats (.epub and .mobi) for all books!
It's also super easy to give the gift of reading with StoryBundle, thanks to our gift cards – which allow you to send someone a code that they can redeem for any future StoryBundle bundle – and timed delivery, which allows you to control exactly when your recipient will get the gift of StoryBundle.
Why StoryBundle? Here are just a few benefits StoryBundle provides.
Get quality reads: We've chosen works from excellent authors to bundle together in one convenient package.
Pay what you want (minimum $5): You decide how much these fantastic books are worth. If you can only spare a little, that's fine! You'll still get access to a batch of exceptional titles.
Support authors who support DRM-free books: StoryBundle is a platform for authors to get exposure for their works, both for the titles featured in the bundle and for the rest of their catalog. Supporting authors who let you read their books on any device you want—restriction free—will show everyone there's nothing wrong with ditching DRM.
Give to worthy causes: Bundle buyers have a chance to donate a portion of their proceeds to Mighty Writers and Girls Write Now!
Receive extra books: If you beat the bonus price, you'll get the bonus books!
StoryBundle was created to give a platform for independent authors to showcase their work, and a source of quality titles for thirsty readers. StoryBundle works with authors to create bundles of ebooks that can be purchased by readers at their desired price. Before starting StoryBundle, Founder Jason Chen covered technology and software as an editor for Gizmodo.com and Lifehacker.com.
For more information, visit our website at storybundle.com, tweet us at @storybundle and like us on Facebook. For press inquiries, please email press@storybundle.com.