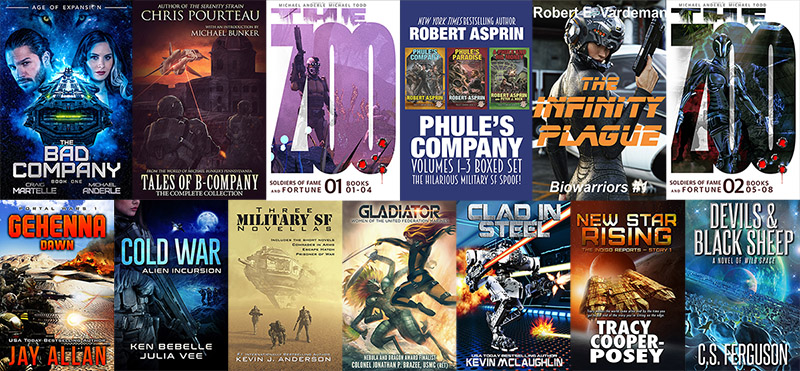 Targets Locked - The Military SF Bundle - Curated by Kevin J. Anderson
Aliens are invading. The human race is in danger. The galaxy is facing countless threats. It's time to call out the troops, send in the space marines, muster the galactic fleet. And you get to read it all.
Bestselling author Kevin J. Anderson has curated a gigantic new Military SF StoryBundle, TARGETS LOCKED, with a dozen action-packed titles, all for immediate download into your e-reader, and you name your own price. This bundle includes THREE boxed sets and one omnibus, for a total of 25 big tales to enjoy.
Anderson's contribution, Three Military SF Novellas, contains three complete short novels, "Comrades in Arms," "Escape Hatch," and "Prisoner of War" (the authorized sequel to Harlan Ellison's classic Outer Limits episode "Soldier"…inspiration for James Cameron's The Terminator).
There's also a boxed set of the first three novels in bestselling author Robert Lynn Asprin's hilarious Phule's Company series, the fast-paced spoof where a disgraced company tries to hold a planet (or two) together.
Gladiator by Jonathan Brazee is the first book in the Women of the United Federation Marines series, genetically modified human champions who save entire planets by fighting against alien opponents.
Devils and Black Sheep by C.S. Ferguson: After unknowingly stealing a priceless cargo, the last of a once-infamous pirate crew must escape privateers, mercenaries, a legendary lawman, an enigmatic spymaster, and the ruthless government agents of the Inquisition.
The Bad Company by Craig Martelle: Humanity's greatest export—justice. The Bad Company, a private conflict solution enterprise gets dropped into the middle of a major war on a distant planet. Not quite the peacekeeping operation they were expecting.
The ZOO: Soldiers of Fame and Fortune by Michael Todd and Michael Anderle: Two complete boxed sets—eight novels! They weren't wonderful people, but they fought and died in that alien area of the Sahara known as the ZOO.
Biowarriors: Infinity Plague by Bob Vardeman: Its release means the destruction of all humankind—but does anyone want to stop the Infinity Plague?
Clad in Steel by Kevin McLaughlin: His parents were killed before his eyes during an alien attack, but the hate Owen has harbored ever since might turn out to be his greatest enemy.
Cold War by Julia Vee: Against impossible odds, the Union Wolves must make unthinkable sacrifices to give humanity one last shot at survival.
Gehenna Dawn by Jay Allan: Jake Taylor was sent to hell to fight and die...but he refused to die.
Tales of B-Company by Chris Pourteau: A group of wisecracking commandos fights for independence from the despotic Transport Authority in Michael Bunker's bestselling Amish Sci-Fi world of PENNSYLVANIA.
New Star Rising by Tracy Cooper-Posey: A generations-old war will engulf all known worlds and free states, unless a hero is found who can hold the line against the two colossal forces.
That should keep your pulse racing and your imagination stoked. TARGETS LOCKED! And a portion of the money from this StoryBundle goes to support the Challenger Learning Center for Space Science Education. – Kevin J. Anderson
For StoryBundle, you decide what price you want to pay. For $5 (or more, if you're feeling generous), you'll get the basic bundle of four books in any ebook format—WORLDWIDE.
The Bad Company Book One: Age of Expansion by Craig Martelle and Michael Anderle
Portal Wars 1: Gehenna Dawn by Jay Allan
Cold War: Alien Incursion by Julia Vee and Ken Bebelle
Three Military SF Novellas by Kevin J. Anderson
If you pay at least the bonus price of just $15, you get all four of the regular books, plus NINE more, which include three boxed sets and an omnibus as well!
Tales of B-Company - The Complete Collection by Chris Pourteau
Gladiator by Jonathan P. Brazee
Devils & Black Sheep by C. S. Ferguson
Clad In Steel by Kevin McLaughlin
Soldiers of Fame and Fortune: Vol 1-4 by Michael Todd and Michael Anderle
Soldiers of Fame and Fortune: Vol 5-8 by Michael Todd and Michael Anderle
Biowarriors #1: The Infinity Plague by Robert E. Vardeman
The Indigo Reports - Story 1: New Star Rising by Tracy Cooper-Posey
Phule's Company Volumes 1-3 Boxed Set by Robert Lynn Asprin
This bundle is available only for a limited time via http://www.storybundle.com. It allows easy reading on computers, smartphones, and tablets as well as Kindle and other ereaders via file transfer, email, and other methods. You get multiple DRM-free formats (.epub and .mobi) for all books!
It's also super easy to give the gift of reading with StoryBundle, thanks to our gift cards – which allow you to send someone a code that they can redeem for any future StoryBundle bundle – and timed delivery, which allows you to control exactly when your recipient will get the gift of StoryBundle.
Why StoryBundle? Here are just a few benefits StoryBundle provides.
Get quality reads: We've chosen works from excellent authors to bundle together in one convenient package.
Pay what you want (minimum $5): You decide how much these fantastic books are worth. If you can only spare a little, that's fine! You'll still get access to a batch of exceptional titles.
Support authors who support DRM-free books: StoryBundle is a platform for authors to get exposure for their works, both for the titles featured in the bundle and for the rest of their catalog. Supporting authors who let you read their books on any device you want—restriction free—will show everyone there's nothing wrong with ditching DRM.
Give to worthy causes: Bundle buyers have a chance to donate a portion of their proceeds to The Challenger Center for Space Education!
Receive extra books: If you beat the bonus price, you'll get the bonus books!
StoryBundle was created to give a platform for independent authors to showcase their work, and a source of quality titles for thirsty readers. StoryBundle works with authors to create bundles of ebooks that can be purchased by readers at their desired price. Before starting StoryBundle, Founder Jason Chen covered technology and software as an editor for Gizmodo.com and Lifehacker.com.
For more information, visit our website at storybundle.com, tweet us at @storybundle and like us on Facebook. For press inquiries, please email press@storybundle.com.