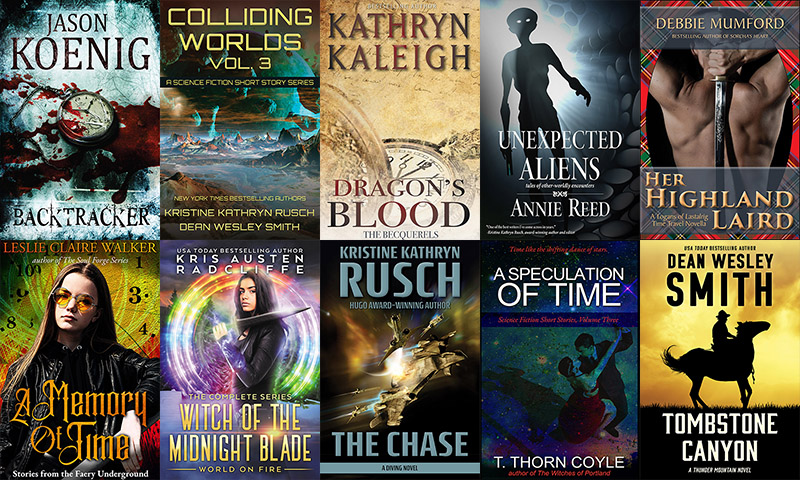 The Time Travel Fun Bundle - Curated by Dean Wesley Smith
Time travel fits in any genre and almost every type of story. Everyone seems to have their favorite kind of time travel. I know I sure do, and all the writers in this great bundle do as well.
As a genre distinction, time travel is considered science fiction, but actually it fits in fantasy much better. Diana Gabaldon characters rub a rock and magically travel into the past. Stephen King has his characters go into a closet. All fantasy.
Also, romance writers use time travel as a romantic element in their story, often to bring two characters together. So even though time travel, as a plot device, is considered science fiction, I thought it would be great fun in this Time Travel StoryBundle to show how really diverse time travel stories can actually be.
I also wanted to showcase another aspect of the diversity of time travel stories as well. Since H. G. Wells wrote The Time Machine, time travel stories have flourished in both novel and short fiction forms. In fact, the body of time travel short stories is so vast over the last hundred-plus years, it might be impossible to even begin to catalog.
So this bundle contains both novel length stories, but also an abundance of short stories and novella length works. There may be ten books in this StoryBundle, but there is over forty different stories. Amazing amounts of great time travel reading.
And one collection, A Speculation of Time, by bestselling writer T. Thorn Coyle that is only available in this bundle. Thorn is a master of the short form and I think you will love the stories included here. I sure do, and I am pretty picky about my time travel stories. To find out more about Thorn's diverse work, head to www.thorncoyle.com
One of the current masters of the short form, bestselling writer Annie Reed chips in with another collection called Unexpected Aliens. Not every story is time travel, but they are all fantastic. Check out her bio for all of her awards and you can find more information about her amazing stories at https://anniereed.wordpress.com/
Bestseller Kris Austen Radcliffe included the complete Witch of the Midnight Blade series in one book for the bundle. Wow, some fantastic reading. Only someone of Kris's skill could pull off timeline-jumping super soldiers combined with fantasy elements like the Fates. If you want a lot more about this incredible author, go to http://www.sixtalonsign.com/
Acclaimed writer Leslie Claire Walker offered and I jumped at the chance for a new collection called A Memory of Time. Very different and fascinating looks at time travel as only Leslie can do. For a lot more information about Leslie's work, go to http://www.leslieclairewalker.com
One more addition to the large amount of stories before I get to the novels. New York Times bestselling writer Kristine Kathryn Rusch and I did a large and very fun collection of 100 of our science fiction stories. Each book had ten of her stories and ten of mine. In Colliding Worlds Volume #3, we focused the twenty on stories that included time. And I thought that would be great fun to include here as well. You can find the other volumes of the Colliding Worlds collection at www.wmgpublishinginc.com
Turning to time travel novels, Jason Koenig offered up something very powerful and different in Backtracker. You might not recognize Jason's name because it is an open pen name of the USA Today bestselling writer Robert Jeschonek. Robert can take any topic and make you why you hadn't thought of that. For a lot more of his work go to www.bobscribe.com
Then one of the best writers of time travel romance working today, Kathryn Kaleigh, offered this bundle a fantastic time travel novel from her Becquerel Series, Dragon's Blood. Once you get started on Kathryn's novels, you won't be able to stop. Find out more about her work at www.kathrynkaleigh.com
And then in the same vein of romance and time travel, acclaimed writer Debbie Mumford offered up a short novel with a Scottish twist in Her Highland Laird. This general area of time travel is massive in scope and popularity, as Diana Gabaldon has proven. I think you will love Debbie's short novel and can find more of her work at https://debbiemumford.com/
As both Kathryn's and Debbie's books do, my novel Tombstone Canyon blends romantic elements into historical places, but my book drifts away from the romance to focus more on the historical aspects of the Old West and the use of time travel. To find all the books and stories in the Thunder Mountain series, plus more of my novels and stories go to www.wmgpublishinginc.com
Finally, for yet another completely different take on time travel, New York Times bestselling writer Kristine Kathryn Rusch included her most recent Diving novel, The Chase. This tense can't-put-down novel deals with societies in space leaving things behind in time, and the results of those decisions over sectors of space. For more information about Kris and her amazing body of work, go to www.wmgpublishinginc.com.
* * *
For StoryBundle, you decide what price you want to pay. For $5 (or more, if you're feeling generous), you'll get the basic bundle of four books in any ebook format—WORLDWIDE.
Colliding Worlds Vol. 3 edited by Kristine Kathryn Rusch and Dean Wesley Smith
Backtracker by Jason Koenig
Dragon's Blood by Kathryn Kaleigh
Her Highland Laird by Debbie Mumford
If you pay at least the bonus price of just $20, you get all four of the regular books, plus six more books for a total of 10, including two StoryBundle exclusives!
Tombstone Canyon by Dean Wesley Smith
The Chase by Kristine Kathryn Rusch
A Speculation of Time by T. Thorn Coyle (StoryBundle Exclusive)
A Memory of Time by Leslie Claire Walker (StoryBundle Exclusive)
Witch of the Midnight Blade - The Complete Series by Kris Austen Radcliffe
Unexpected Aliens by Annie Reed
This bundle is available only for a limited time via http://www.storybundle.com. It allows easy reading on computers, smartphones, and tablets as well as Kindle and other ereaders via file transfer, email, and other methods. You get multiple DRM-free formats (.epub, .mobi) for all books!
It's also super easy to give the gift of reading with StoryBundle, thanks to our gift cards – which allow you to send someone a code that they can redeem for any future StoryBundle bundle – and timed delivery, which allows you to control exactly when your recipient will get the gift of StoryBundle.
Why StoryBundle? Here are just a few benefits StoryBundle provides.
Get quality reads: We've chosen works from excellent authors to bundle together in one convenient package.
Pay what you want (minimum $5): You decide how much these fantastic books are worth. If you can only spare a little, that's fine! You'll still get access to a batch of exceptional titles.
Support authors who support DRM-free books: StoryBundle is a platform for authors to get exposure for their works, both for the titles featured in the bundle and for the rest of their catalog. Supporting authors who let you read their books on any device you want—restriction free—will show everyone there's nothing wrong with ditching DRM.
Give to worthy causes: Bundle buyers have a chance to donate a portion of their proceeds to AbleGamers!
Receive extra books: If you beat the bonus price, you'll get the bonus books!
StoryBundle was created to give a platform for independent authors to showcase their work, and a source of quality titles for thirsty readers. StoryBundle works with authors to create bundles of ebooks that can be purchased by readers at their desired price. Before starting StoryBundle, Founder Jason Chen covered technology and software as an editor for Gizmodo.com and Lifehacker.com.
For more information, visit our website at storybundle.com, tweet us at @storybundle and like us on Facebook. For press inquiries, please email press@storybundle.com.