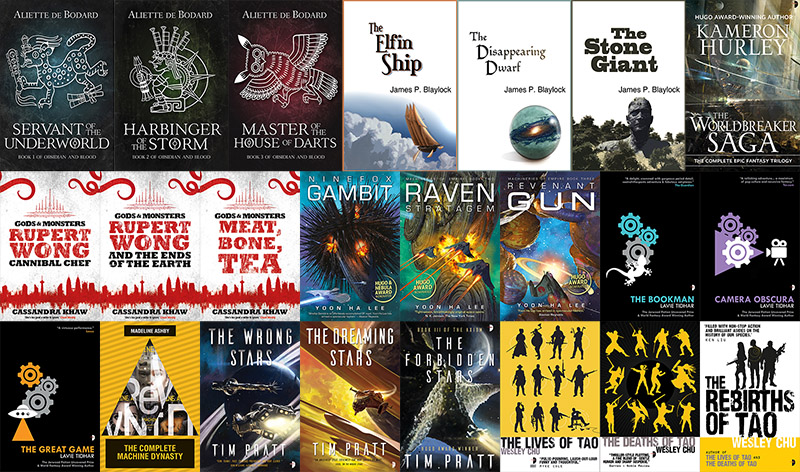 The Triloiges Bundle - curated by Lavie Tidhar
Ah, trilogies! Who doesn't love them? Who doesn't love reading them? Ever since Tolkien's publishers split his epic novel into three handy volumes, the trilogy has taken enduring form as the default mode of science fiction and fantasy. Who doesn't want a thousand pages of pure story to dig into at their leisure? To be swept along on spacefaring adventures, explore the mysteries of ancient empires or go questing across strange and fantastical lands?
No one, that's who! Here, in this huge, new trilogies bundle, I got a chance to collect some of my favourite recent books of fantasy and science fiction. Between them, these writers have Hugos and Nebulas and World Fantasy Awards. They come from the US and France, Canada and Malaysia. They travel through time to an alternate Aztec empire and to far-out space. To whimsical fantasylands and ones that are grim and dark. They have action, adventure and romance, not to mention some mind-bending science fictional ideas. I think they're terrific, and I hope you'll agree - that you enjoy them, and find your own endless hours of enjoyment in their many, many pages! – Lavie Tidhar
* * *
For StoryBundle, you decide what price you want to pay. For $5 (or more, if you're feeling generous), you'll get the basic bundle of five books in .epub format—WORLDWIDE.
Rupert Wong 1 - Rupert Wong, Cannibal Chef by Cassandra Khaw
The Elfin Ship by James P. Blaylock
Obsidian and Blood 1: Servant of the Underworld by Aliette de Bodard
Machineries of Empire 1 - Ninefox Gambit by Yoon Ha Lee
The Bookman Histories 1 - The Bookman by Lavie Tidhar
If you pay at least the bonus price of just $33, you get all five of the regular books, plus 22 more books for a total of 27! Nine complete trilogies to enjoy!
Rupert Wong 3 - Meat, Bone, Tea by Cassandra Khaw
Rupert Wong 2 - Rupert Wong and the Ends of the Earth by Cassandra Khaw
The Stone Giant by James P. Blaylock
The Disappearing Dwarf by James P. Blaylock
Obsidian and Blood 3: Master of the House of Darts by Aliette de Bodard
Obsidian and Blood 2: Harbinger of the Storm by Aliette de Bodard
Machineries of Empire 2 - Raven Stratagem by Yoon Ha Lee
Machineries of Empire 3 - Revenant Gun by Yoon Ha Lee
The Worldbreaker Saga - Complete Trilogy by Kameron Hurley
The Bookman Histories 2 - Camera Obscura by Lavie Tidhar
The Bookman Histories 3 - The Great Game by Lavie Tidhar
The Complete Machine Dynasty by Madeline Ashby
The Axiom Book 1 - The Wrong Stars by Tim Pratt
The Axiom Book 2 - The Dreaming Stars by Tim Pratt
The Axiom Book 3 - The Forbidden Stars by Tim Pratt
The Tao Trilogy 1 - The Lives of Tao by Wesley Chu
The Tao Trilogy 2 - The Deaths of Tao by Wesley Chu
The Tao Trilogy 3 - The Rebirths of Tao by Wesley Chu
This bundle is available only for a limited time via http://www.storybundle.com. It allows easy reading on computers, smartphones, and tablets as well as Kindle and other ereaders via file transfer, email, and other methods. You get a DRM-free .epub for all books!
It's also super easy to give the gift of reading with StoryBundle, thanks to our gift cards – which allow you to send someone a code that they can redeem for any future StoryBundle bundle – and timed delivery, which allows you to control exactly when your recipient will get the gift of StoryBundle.
Why StoryBundle? Here are just a few benefits StoryBundle provides.
Get quality reads: We've chosen works from excellent authors to bundle together in one convenient package.
Pay what you want (minimum $5): You decide how much these fantastic books are worth. If you can only spare a little, that's fine! You'll still get access to a batch of exceptional titles.
Support authors who support DRM-free books: StoryBundle is a platform for authors to get exposure for their works, both for the titles featured in the bundle and for the rest of their catalog. Supporting authors who let you read their books on any device you want—restriction free—will show everyone there's nothing wrong with ditching DRM.
Give to worthy causes: Bundle buyers have a chance to donate a portion of their proceeds to Locus!
Receive extra books: If you beat the bonus price, you'll get the bonus books!
StoryBundle was created to give a platform for independent authors to showcase their work, and a source of quality titles for thirsty readers. StoryBundle works with authors to create bundles of ebooks that can be purchased by readers at their desired price. Before starting StoryBundle, Founder Jason Chen covered technology and software as an editor for Gizmodo.com and Lifehacker.com.
For more information, visit our website at storybundle.com, tweet us at @storybundle and like us on Facebook. For press inquiries, please email press@storybundle.com.