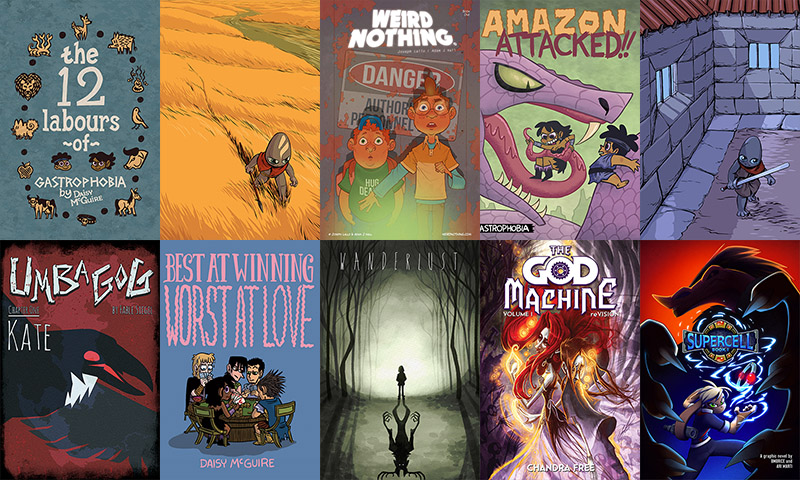 The Underground Comic Bundle - Curated by Joseph R. Lallo
It has been said that, when it comes to delivering a story, there is no purer distillation than a comic. A movie is a collaboration between writers, directors, actors, set designers, and dozens more, each with influence over the result. Likewise for television and theater. Even literature leaves the reader's imagination to construct the visuals. But a comic book brings you plot and visuals precisely as the creator envisioned, sometimes with as little as a single mind and hand responsible for the entire piece. And in a medium defined by precise, intentional delivery of imagined worlds, indie comics and web comics take the artform to a whole new level. Unbounded. Unrestrained. A world crafted by an artist and delivered to us, the readers, like a glimpse into their very minds.
When the time came to curate a bundle of underground comics, the task was daunting. Rare is the medium with greater variety. It was important to select comics that honored the sprawling width and breadth of the comic world. Umbagog is a tale of a version of our own world, besieged by a ravaging plague that in light of recent years feels uncomfortably prescient. Wanderlust tells the story of people simultaneously a part of their world and apart from it, and how relationships can bridge any gap—even the gulf between human and the unknown. The God Machine provides haunting gothic visuals in a tale worthy of its own pantheon. Vattu is a genuine epic, staggering in scope, conjuring a rich world and its history. Super Cell combines adventure and intrigue reminiscent of a superhero comic with a world of vivid anthropomorphic designs. Gastrophobia is equal parts mythology, humor, and off-kilter wholesomeness. And Weird Nothing drops the reader into a quiet mountain town with a sci-fi secret.
In all cases, these are vast tales that reach far beyond what can be offered by a single bundle. You'll have the pleasure of reading an exciting, enticing chapter or two of each tale wrapped up in ebook form. You'll be supporting the creators of some of the most imaginative and inventive stories ever told. And if you like what you find, you'll have more of each story waiting to be uncovered just a click away. – Joseph R. Lallo
* * *
For StoryBundle, you decide what price you want to pay. For $5 (or more, if you're feeling generous), you'll get the basic bundle of three books in .epub and .pdf format—WORLDWIDE.
Vattu: the Name & the Mark by Evan Dahm
Gastrophobia 1 - The 12 Labours of Gastrophobia by Daisy Finch McGuire
Weird Nothing by Joseph R. Lallo
If you pay at least the bonus price of just $20, you get all three of the regular books, plus eight more books for a total of 11!
Vattu: the Sword & the Sacrament by Evan Dahm
Gastrophobia 3 - Best at Winning Worst at Love by Daisy Finch McGuire
Gastrophobia 2 - Amazon Attacked by Daisy Finch McGuire
The God Machine - Volume 1 by Chandra Free
Supercell - Book 1 by BMBrice
Umbagog by Fable Siegel
Wanderlust by Jay Miller and Peri Pendrake
Weird Nothing - A Novella by Joseph R. Lallo
This bundle is available only for a limited time via http://www.storybundle.com. It allows easy reading on computers, smartphones, and tablets as well as Kindle and other ereaders via file transfer, email, and other methods. You get a DRM-free .epub and .pdf for all books!
It's also super easy to give the gift of reading with StoryBundle, thanks to our gift cards – which allow you to send someone a code that they can redeem for any future StoryBundle bundle – and timed delivery, which allows you to control exactly when your recipient will get the gift of StoryBundle.
Why StoryBundle? Here are just a few benefits StoryBundle provides.
Get quality reads: We've chosen works from excellent authors to bundle together in one convenient package.
Pay what you want (minimum $5): You decide how much these fantastic books are worth. If you can only spare a little, that's fine! You'll still get access to a batch of exceptional titles.
Support authors who support DRM-free books: StoryBundle is a platform for authors to get exposure for their works, both for the titles featured in the bundle and for the rest of their catalog. Supporting authors who let you read their books on any device you want—restriction free—will show everyone there's nothing wrong with ditching DRM.
Give to worthy causes: Bundle buyers have a chance to donate a portion of their proceeds to Girls Write Now!
Receive extra books: If you beat the bonus price, you'll get the bonus books!
StoryBundle was created to give a platform for independent authors to showcase their work, and a source of quality titles for thirsty readers. StoryBundle works with authors to create bundles of ebooks that can be purchased by readers at their desired price. Before starting StoryBundle, Founder Jason Chen covered technology and software as an editor for Gizmodo.com and Lifehacker.com.
For more information, visit our website at storybundle.com, tweet us at @storybundle and like us on Facebook. For press inquiries, please email press@storybundle.com.