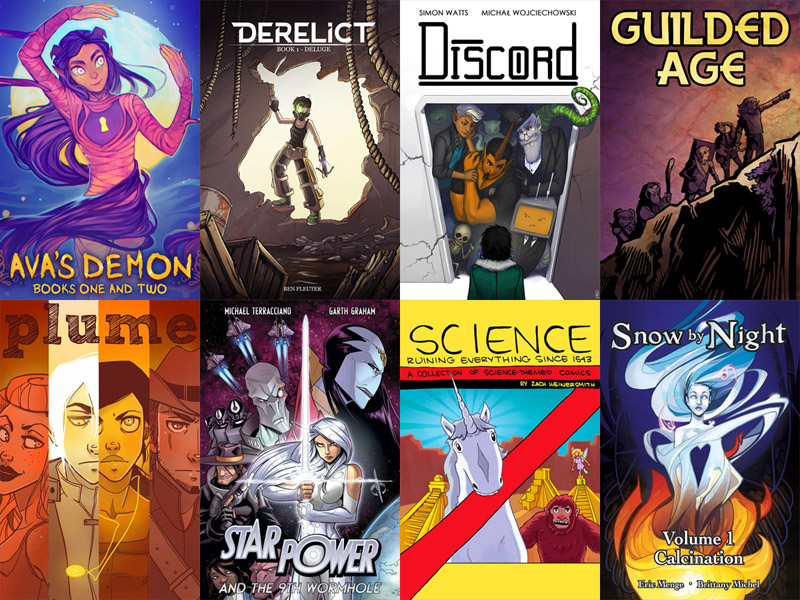 The Webcomic Community Bundle - Curated by Simon Watts
Hello Friends!
My name is Simon Watts and it's my honor to curate the first ever Webcomic Community Storybundle. Since I was a child, I've always been fascinated by comics. I loved the art, the adventure, but most of all, I loved the spaces between the panels that my imagination filled in. At first I was interested in mainstream comics. Industry titans like Alan Moore and Neil Gaiman were the ones who first showed me what the medium was capable of. As time went on, I discovered Image Comics and was thrilled by their wealth of creator owned ideas. I wasn't exposed to webcomics until my early adulthood, when a friend suggested that I read Homestuck. What I discovered was that a new frontier of unique creators had emerged online.
It took over a year, but I'm thrilled to announce that the Webcomic Community Bundle has finally launched. The Bundle features eight of the finest creators in the industry. Our first title is Snow by Night, which tells the tale of a winter spirit's quest to find her heart in a colonial fantasy world, wonderfully brought to life by Writer Eric Menge and Artist Brittany Michel. Eric's knowledge and love of American history and myth is etched into every page of this meticulously researched comic. Bleak, atmospheric, haunting, magical, unforgiving and mysterious are all words that describe Ben Fleuter's Derelict, in which a resourceful heroine desperately fights for survival in an apocalyptic drowned world. Between the 13 Dimensions exists Discord, the interdimensional library in which all cultures mingle. A whirlwind of colorful characters carry Discord's epic first volume. Worlds collide, or rather battle, in Writer Simon Watts (that's me) and Artist Michal Wojciechowski's fantasy/sci-fi adventure. Written by duo Phil Khan and T. Campbell, and drawn by John Waltrip, Guilded Age is a humorous take on the High Fantasy genre. In this exciting dramady a political conflict lurks in the shadows and threatens to tear Arkerra apart.
A young girl is forced to face her demons, literally and figuratively, in Ava's Demon. Every panel of both volumes feels like a lovingly crafted snapshot from gorgeous animation. Artist/Writer Michelle Czajkowski flawlessly blends humor and danger into a story filled with intriguing and mysterious characters. Danica Maris is chosen to wield the incredible Star Power, forcing her to become a space faring superheroine who stands against the dangers of the 9th Wormhole. Michael Terracciano and Garth Graham's Star Power is a beautifully illustrated and exciting comic that feels incredibly fresh in a medium dominated by superheroes. Explore the weird west in K Lynn Smith's Plume. Vesper Grey and her handsome guardian Corrick seek vengeance and magical artifacts, only to find way more than they bargained for. Witty, action packed, and even a little bit sexy, Plume is a one of a kind and impossibly stylish revenge tale. Finally we have Science: Ruining Everything Since 1543, a hilarious and thoughtful collection of comics from Zach Weinersmith of Saturday Morning Breakfast Cereal fame. A must read for any science fan.
And speaking of science, a portion of the profits will go to the Karen Beasley Sea Turtle Hospital in Surf City North Carolina. As our climate changes, more and more sea turtles are washing up on beaches from something called cold shock. Cold shocked sea turtles suffer from a variety of health problems which is where our charity comes in. The hospital plays a crucial role in rehabilitating these beautiful animals. You can donate up to ten percent of your purchase to the Sea Turtle hospital. All of our creators are from different backgrounds, but they're all simultaneously united by a relentless drive to create, and a refusal to let anyone or anything hinder the pursuit of their dreams. These eight titles are a must have for any indie comic fans.
Happy Reading
– Simon Watts
The initial titles in the Webcomic Community Bundle (minimum $5 to purchase) are:
Derelict - Book 1 by Ben Fleuter
Discord by Simon Watts and Michal Wojciechowski
Science: Ruining Everything Since 1543 by Zach Weinersmith
If you pay at least the bonus price of just $15, you get all three of the regular titles, plus five more!
Ava's Demon - Books 1 and 2 by Michelle Czajkowski
Guilded Age by T Campbell, Erica Henderson and Phil Kahn
Plume - Volume 1 by K Lynn Smith
Star Power by Michael Terracciano and Garth Graham
Snow by Night by Eric Menge and Brittany Michel
This bundle is available only for a limited time via http://www.storybundle.com. It allows easy reading on computers, smartphones, and tablets as well as Kindle and other ereaders via file transfer, email, and other methods. You get multiple DRM-free formats (.epub, .mobi and .pdf) for all books!
It's also super easy to give the gift of reading with StoryBundle, thanks to our gift cards – which allow you to send someone a code that they can redeem for any future StoryBundle bundle – and timed delivery, which allows you to control exactly when your recipient will get the gift of StoryBundle.
Why StoryBundle? Here are just a few benefits StoryBundle provides.
Get quality reads: We've chosen works from excellent authors to bundle together in one convenient package.
Pay what you want (minimum $5): You decide how much these fantastic books are worth. If you can only spare a little, that's fine! You'll still get access to a batch of exceptional titles.
Support authors who support DRM-free books: StoryBundle is a platform for authors to get exposure for their works, both for the titles featured in the bundle and for the rest of their catalog. Supporting authors who let you read their books on any device you want—restriction free—will show everyone there's nothing wrong with ditching DRM.
Give to worthy causes: Bundle buyers have a chance to donate a portion of their proceeds to the Karen Beasley Sea Turtle Hospital!
Receive extra books: If you beat the bonus price, you'll get the bonus books!
StoryBundle was created to give a platform for independent authors to showcase their work, and a source of quality titles for thirsty readers. StoryBundle works with authors to create bundles of ebooks that can be purchased by readers at their desired price. Before starting StoryBundle, Founder Jason Chen covered technology and software as an editor for Gizmodo.com and Lifehacker.com.
For more information, visit our website at storybundle.com, tweet us at @storybundle and like us on Facebook. For press inquiries, please email press@storybundle.com.