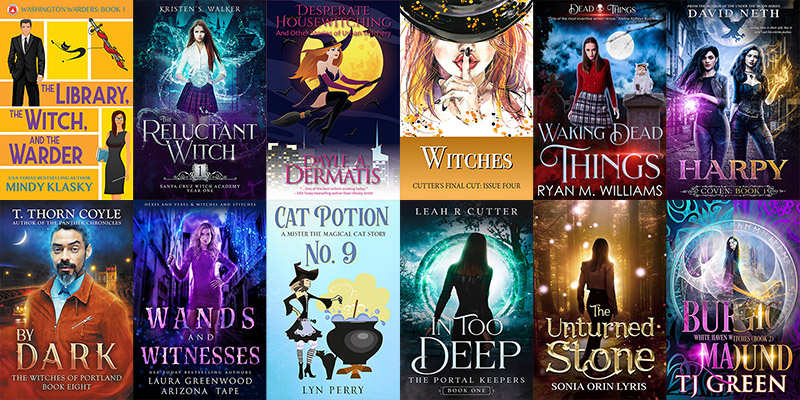 The Witches, Wands and Wanderers Bundle - Curated by Leah R Cutter
I've always loved tales about witches. Good witches, evil witches, modern or ancient. Any sort of story you can imagine, you can probably place a witch in it, and improve it. (At least in my opinion!)
However, for this bundle, I've limited the genre to primarily contemporary fantasy. I wanted the reader to be able to binge on a whole bunch of different takes on witches in the modern day.
Let's start off with one of my favorites in this bundle, The Unturned Stone by Sonia Orin Lyris. She has such a lovely, delicate touch to her storytelling, even though her take on things is unflinching. This novel is exclusive to the StoryBundle, and you really won't want to miss it!
Then we have a wonderful, fun collection from another of my favorite writers, Desperate Housewitches by Dayle A. Dermatis. Another exclusive, this collection will have you smiling, while at the same time, thoughtful.
When I saw the cover and read the sample of Lyn Perry's Cat Potion No. 9, I knew that I had to have it. This title includes TWO of the stories from his popular series, Mister the Magical Cat, so you are in for a double treat!
And speaking of two for the price of one, you're going to get double stories as well with Wands and Witnesses by Laura Greenwood and Arizona Tape. This title contains the two pieces Hexes and Vexes along with Witches and Stitches. Such a fun, fun series, and such a deal for you!
I loved the idea behind Ryan M. Williams' Walking Dead Things. It's more of an alternative modern world, but it's still close enough. Just that magic is more real, as are the consequences. This will be another one sure to leave you thinking!
T. Thorn Coyle also writes books that address issues, and I adore the entire Witches of Portland series. Y'all are in for a treat with this entry: By Dark. Fast-paced plot with real-world topics.
For a younger take on things, there's Kristen S. Walker's The Reluctant Witch, which is YA, and delves into some of the things that young people, even magical young people, are facing in the world.
I've known Mindy Klasky for a long while, and so when I mentioned this project, and she offered The Library, the Witch, and the Warder I knew that it would be perfect for this project. Same with David Neth's Harpy. There's also the gorgeous series by TJ Green, Buried Magic.
I'm also including two projects that are more personal. One, In Too Deep, is the novel that I wrote that kind of kicked off this entire StoryBundle. It has a witch. No wands necessarily, but portals and the potential for other places. This novel is exclusive to the bundle, and won't be generally available until sometime in 2023.
Then I have one last exclusive for the StoryBundle—an anthology called Witches, which is issue #4 of my anthology series, Cutter's Final Cut. The stories within are also all contemporary fantasy, as well as uplifting. There's hope to be found in them all.
The stories within this bundle should satisfy your hankering for witches—at least for a little bit. A lot of these books are the first in continuing series, so you should be able to continue your reading for quite some time! – Leah R Cutter
* * *
For StoryBundle, you decide what price you want to pay. For $5 (or more, if you're feeling generous), you'll get the basic bundle of four books in any ebook format—WORLDWIDE.
Waking Dead Things by Ryan M. Williams
The Library, the Witch and the Warder by Mindy Klasky
The Reluctant Witch by Kristen S. Walker
By Dark by T. Thorn Coyle
If you pay at least the bonus price of just $20, you get all four of the regular books, plus eight more books for a total of 12, including three StoryBundle exclusives!
Desperate Housewitching by Dayle A. Dermatis (StoryBundle Exclusive)
The Unturned Stone by Sonia Orin Lyris (StoryBundle Exclusive)
Cat Potion No. 9 & A Cauldron of Cats by Lyn Perry
In Too Deep by Leah R Cutter (StoryBundle Exclusive)
Wands and Witnesses by Laura Greenwood and Arizona Tape
Harpy - Coven Book 1 by David Neth
Witches: Cutter's Final Cut - Issue 4 by Leah R Cutter
White Haven Witches Books 1 & 2 - Buried Magic & Magic Unbound by TJ Green
This bundle is available only for a limited time via http://www.storybundle.com. It allows easy reading on computers, smartphones, and tablets as well as Kindle and other ereaders via file transfer, email, and other methods. You get multiple DRM-free formats (.epub, .mobi) for all books!
It's also super easy to give the gift of reading with StoryBundle, thanks to our gift cards – which allow you to send someone a code that they can redeem for any future StoryBundle bundle – and timed delivery, which allows you to control exactly when your recipient will get the gift of StoryBundle.
Why StoryBundle? Here are just a few benefits StoryBundle provides.
Get quality reads: We've chosen works from excellent authors to bundle together in one convenient package.
Pay what you want (minimum $5): You decide how much these fantastic books are worth. If you can only spare a little, that's fine! You'll still get access to a batch of exceptional titles.
Support authors who support DRM-free books: StoryBundle is a platform for authors to get exposure for their works, both for the titles featured in the bundle and for the rest of their catalog. Supporting authors who let you read their books on any device you want—restriction free—will show everyone there's nothing wrong with ditching DRM.
Give to worthy causes: Bundle buyers have a chance to donate a portion of their proceeds to Doctors Without Borders!
Receive extra books: If you beat the bonus price, you'll get the bonus books!
StoryBundle was created to give a platform for independent authors to showcase their work, and a source of quality titles for thirsty readers. StoryBundle works with authors to create bundles of ebooks that can be purchased by readers at their desired price. Before starting StoryBundle, Founder Jason Chen covered technology and software as an editor for Gizmodo.com and Lifehacker.com.
For more information, visit our website at storybundle.com, tweet us at @storybundle and like us on Facebook. For press inquiries, please email press@storybundle.com.