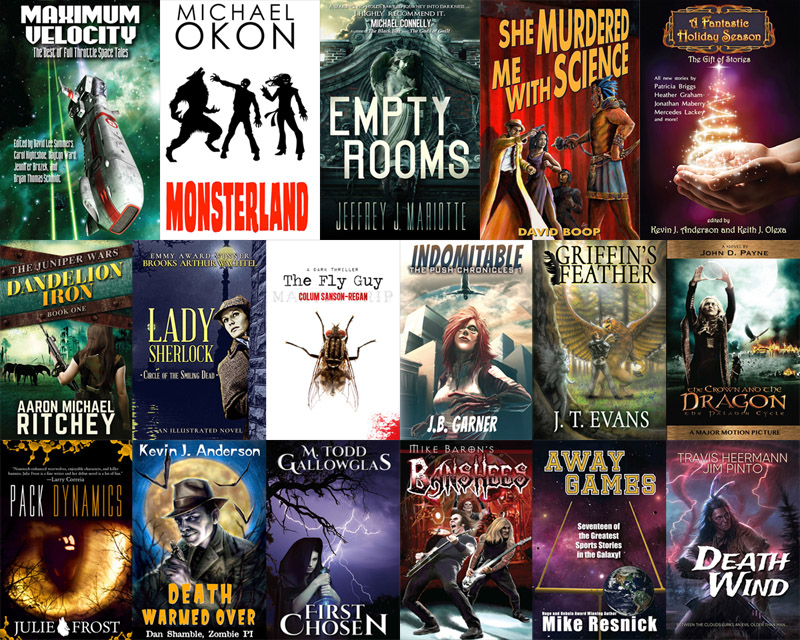 The WordFire Press Super Showcase Bundle - Curated by Kevin J. Anderson
In 2010, Rebecca and I launched WordFire Press as just a small company primarily to reissue some of my old out-of-print novels as eBooks, which were just starting to become popular. When that went well, some of my author friends asked if we would do the same with their backlist books, and our catalog really started to grow. We got some of Frank Herbert's classic novels, the political masterpieces by Allen Drury, then books by Tracy Hickman, Mike Resnick, Jody Lynn Nye, Mike Stackpole, Todd McCaffrey, and others. Alan Dean Foster gave us a new novel, and we started doing works by newer authors as well.
We are the eBook publisher of both Clockwork Angels and Clockwork Lives, my steampunk fantasy adventures written with Neil Peart from Rush. And when Kensington decided they didn't want to publish a collection of my Dan Shamble, Zombie P.I. short stories, we decided to do it through WordFire, and we are reissuing ALL of the Dan Shamble books under our imprint.
Storybundle offered us a way to spotlight some of our books with this Super Spotlight, 17 different titles that highlight our range of titles and authors. You can get all 17 books for a minimum price of $15—but feel free to pay what you feel they're worth. The bundle only runs Dec 6-28.
A part of the proceeds will go directly to the worthy Be a Santa nonprofit run by our dear friend Patricia Tallman (from Babylon 5 and Night of the Living Dead). Thanks for helping to support our small publishing company. Our authors sure appreciate it!
I put in my own DEATH WARMED OVER, the first novel in my Dan Shamble, Zombie P.I. series. I hope you find it hilarious! There's also the fun and exciting MONSTERLAND, by Michael Okon, the Goonies meets Jurassic Park with monsters. And JB Garner has INDOMITABLE, the first in his entertaining superhero trilogy.
If you like unusual detectives who *aren't* zombies, there's Brooks Wachtel's beautifully illustrated and innovative LADY SHERLOCK and David Boop's noir SHE MURDERED ME WITH SCIENCE. Or maybe you prefer werewolves with PTSD? Then try Julie Frost's PACK DYNAMICS. In other Fantasy and Urban Fantasy, there's GRIFFIN'S FEATHER by J.T. Evans and FIRST CHOSEN by Todd Gallowglas. DEATH WIND by Travis Heerman and Jim Pinto is a weird western horror novel, while Mike Baron's BANSHEES proves that death doesn't have to put an end to sex, drugs, and rock & roll.
If you want a lot of short stories, we have two anthologies, A FANTASTIC HOLIDAY SEASONS, with everything from zombies for Thanksgiving to aliens at Christmas: perfect reading for this time of year. Award-winning Mike Resnick has AWAY GAMES, a collection of his stories about sports and science fiction. And MAXIMUM VELOCITY, science fiction adventure stories, the Best of Full Throttle Space Tales.
In the edgier, dark thriller category, Jeff Mariotte's EMPTY ROOMS and Colum Sanson-Regan's THE FLY GUY will keep you awake at night better than espresso at midnight. Aaron Michael Ritchey's post-apocalyptic adventure DANDELION IRON is about a strong young woman trying to lead a cattle drive in the West after the fall of civilization. And THE CROWN AND THE DRAGON is a colorful epic fantasy with (as the title suggests) crowns and dragons, as well as a few swords and magic.
This is just the tip of the iceberg. We hope you'll enjoy these books and check out some of our other titles at wordfirepress.com. Thanks for your support of our small publishing house, our authors, and the wonderful Be a Santa organization. Remember, the WordFire Press Super Showcase RUNS ONLY THROUGH DEC 28.
The initial titles in the The WordFire Press Super Showcase Bundle (minimum $5 to purchase) are:
Monsterland by Michael Okon
A Fantastic Holiday Season by Kevin J. Anderson and Keith J. Olexa
Empty Rooms by Jeffrey J. Mariotte
Maximum Velocity by David Lee Summers
She Murdered Me with Science by David Boop
If you pay at least the bonus price of just $15, you get all five of the regular titles, plus TWELVE more!
Death Wind by Travis Heerman and Jim Pinto
Away Games by Mike Resnick
Banshees by Mike Baron
First Chosen by M. Todd Gallowglas
Death Warmed Over by Kevin J. Anderson
Pack Dynamics by Julie Frost
The Crown and the Dragon by John D. Payne
Griffin's Feather by J.T. Evans
Indomitable by J.B. Garner
The Fly Guy by Colum Sanson-Regan
Lady Sherlock by Brooks Arthur Wachtel
Dandelion Iron: The Juniper Wars Book 1 by Aaron Michael Ritchie
This bundle is available only for a limited time via http://www.storybundle.com. It allows easy reading on computers, smartphones, and tablets as well as Kindle and other ereaders via file transfer, email, and other methods. You get multiple DRM-free formats (.epub and .mobi) for all books!
It's also super easy to give the gift of reading with StoryBundle, thanks to our gift cards – which allow you to send someone a code that they can redeem for any future StoryBundle bundle – and timed delivery, which allows you to control exactly when your recipient will get the gift of StoryBundle.
Why StoryBundle? Here are just a few benefits StoryBundle provides.
Get quality reads: We've chosen works from excellent authors to bundle together in one convenient package.
Pay what you want (minimum $5): You decide how much these fantastic books are worth. If you can only spare a little, that's fine! You'll still get access to a batch of exceptional titles.
Support authors who support DRM-free books: StoryBundle is a platform for authors to get exposure for their works, both for the titles featured in the bundle and for the rest of their catalog. Supporting authors who let you read their books on any device you want—restriction free—will show everyone there's nothing wrong with ditching DRM.
Give to worthy causes: Bundle buyers have a chance to donate a portion of their proceeds to Be a Santa!
Receive extra books: If you beat the bonus price, you'll get the bonus books!
StoryBundle was created to give a platform for independent authors to showcase their work, and a source of quality titles for thirsty readers. StoryBundle works with authors to create bundles of ebooks that can be purchased by readers at their desired price. Before starting StoryBundle, Founder Jason Chen covered technology and software as an editor for Gizmodo.com and Lifehacker.com.
For more information, visit our website at storybundle.com, tweet us at @storybundle and like us on Facebook. For press inquiries, please email press@storybundle.com.