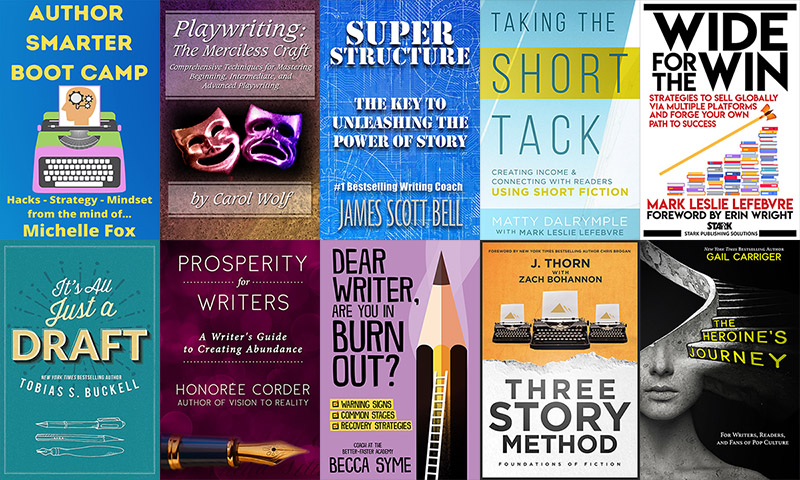 The Write for the Win Bundle - Curated by Melissa Snark and Mark Leslie Lefebvre
Author's tools for building your story brand and profitable bookselling.
Would you love to author engaging books readers will love?
Are you interested in honing your storytelling skills?
Would you like to learn tips and tricks for managing your time and maximizing productivity?
Do you want to master the intricacies of social media platforms, author websites, and newsletter marketing?
New authors, midlist authors, and bestselling authors... Write for the Win StoryBundle is a handpicked, selectively curated collection of writing craft and career books on the strategies and secrets of successful authors. – Melissa Snark
❖Wide for the Win: Strategies to sell globally via multiple platforms and forge your own path to success. Written by Mark Leslie Lefebvre. Foreword by Erin Wright.
Wide for the Win is a must-read for aspiring authors seeking to prosper in the chaotic and ever-changing global marketplace. Mark Leslie Lefebvre brings a wealth of practical insight and real-world expertise to the table. His accomplished twenty-five-year career in the book industry includes his tenure as a former President of the Canadian Booksellers Association and the former Director of Self-Publishing and Author Relations for Rakuten Kobo. The information is relevant, well-organized, and presented in plain yet articulate language. More than anything else, Mark embodies the epitome of that storied Canadian virtue–he is an epically nice guy.
❖Author Smarter Boot Camp: Hacks * Strategy * Mindset from the mind of… Michelle Fox.
Michelle Fox is a USA Today and NY Times bestselling author who has achieved success as an indie author through hard work and excellent storytelling. Michelle and I have been friends for many years. During that time, I have developed a profound respect for her marketing savvy. Michelle understands what readers want and excels at cultivating the loyalty of a devoted readership.
❖Super Structure: The Key to Unleashing the Power of Story. Written by James Scott Bell.
I am a long-time fan of James Scott Bell's books on storytelling, especially of Write Your Novel From the Middle. Prior to reading Bell's book, I believed I was doing everything wrong. Afterward, I came to understand how much I had been doing right all along. Whether you are a Plotter or a Pantser at heart, Super Structure has fundamental and useful advice to offer, a solid foundation for every fiction writer. It is my honor and privilege to be able to include Mr. Bell's book as a part of Write for the Win.
❖Dear Writer, Are You in Burn Out? Written by Becca Syme.
Dear Writer, Are You in Burn Out? is a comprehensive guide to writer's burnout, including the signs to watch for, how affects it people differently, and what we can take to prevent it. Gallup-Certified Strengths Coach Becca Syme holds a master's degree in her field as well as fourteen years of experience in coaching for success. Syme helps authors learn how to lean into their strengths, discovering the way they work best.
❖It's All Just a Draft. Written by Tobias S. Buckell.
It's All Just a Draft is a guide to the business of writing with a unique focus–helping authors decide what works best for you. Buckell is an NYT Bestselling Author and World Fantasy Award-winner who is both traditionally and independently published. Buckell is a successful blogger and frequent speaker at writing workshops and universities. This book is a collection of Buckell's essays and speeches, including snippets and insights from his personal life, and plenty of writing tips.
❖Playwriting: The Merciless Craft: Comprehensive Techniques for Mastering Beginning, Intermediate, and Advanced Playwriting. Written by Carol Wolf.
Carol Wolf is an accomplished playwright and theatre veteran. Her plays have been produced on both coasts and five continents. She has also worked on films and video games and has won the L.A. Drama Critic's Circle Award, the Bay Area Critic's Award, and the London Fringe First. I had the good fortune to attend a Worldcon 76 workshop where Wolf was a panelist. Immediately after hearing her speak, I ran over to the dealer room to buy her book. Playwriting: The Merciless Craft has a special place on my "arms reach" shelf.
❖The Heroine's Journey: For Writers, Readers and Fans of Pop Culture. Written by Gail Carriger.
Gail Carriger's wildly funny paranormal and steampunk novels are loved and adored by her devoted readership. Carriger has penned over a dozen New York Times best-sellers and published in many languages. The Heroine's Journey offers a fresh and insightful analysis of a classic storytelling trope, as well as suggestions for improving your writing.
❖Three Story Method. Written by J. Thorn with Zach Bohannon.
The introduction of Three Story Method poses the great question that all fiction writers ask themselves at some point in their careers: "How do you turn an idea into a novel?" The authors are forthright when they state that there is no magic formula; however, the solution provided is far superior. Three Story Method is a process for creative development based on the most effective storytelling methodologies in history going back to the principles of Aristotle. J. Thorn holds is a full-time author, a part-time professor at John Carroll University, a co-owner of Molten Universe Media, as well as a podcaster, FM radio DJ, and musician. Co-author Zach Bohannon writes post-apocalyptic sci-fi, horror, and fantasy fiction. He is a co-owner of Molten Universe Media, a hockey fan, a drummer, and an avid gamer.
❖Prosperity for Writers: A Writer's Guide to Creating Abundance. Written by Honorée Corder.
Honorée Corder has authored dozens of books on the business of successful writing. Corder and her business partner, Hal Elrod, are business partners in the well-known The Miracle Morning book series. Prosperity for Writers provides an overview of the tools and techniques to help elevate your career goals to the next level. Corder's publishing credits include You Must Write a Book, Vision to Reality, Prosperity for Writers, Business Dating, The Successful Single Mom book series, If Divorce is a Game, These are the Rules and The Divorced Phoenix.
❖Taking the Short Tack: Creating Income & Connecting With Readers. Written by Matty Dalrymple with Mark Leslie Lefebvre.
Taking the Short Tack is all about the genre of short fiction. Short fiction is an art unto itself, requiring discipline and brevity. Whether you are a short-form author seeking to expand your horizons or a long-fiction author interested in exploring new opportunities, this is a comprehensive resource for you. I am thrilled to have suspense thriller author Matty Dalrymple and her co-author Mark Leslie Lefebvre joining us in Write for the Win.
* * *
For StoryBundle, you decide what price you want to pay. For $5 (or more, if you're feeling generous), you'll get the basic bundle of four books in any ebook format—WORLDWIDE.
Author Smart Boot Camp by Michelle Fox
Taking the Short Tack by Matty Dalrymple with Mark Leslie Lefebvre
Super Structure by James Scott Bell
Playwriting: The Merciless Craft by Carol Wolf
If you pay at least the bonus price of just $20, you get all four of the regular books, plus SIX more books, for a total of 10, and a code for a free course!
It's Just a Draft by Tobias S. Buckell
Wide for the Win by Mark Leslie Lefebvre
Prosperity for Writers by Honorée Corder
Three Story Method by J. Thorn with Zach Bohannon
The Heroine's Journey by Gail Carriger
Dear Writer Are You in Burnout by Becca Syme
Empower Your Writing: Coupon Code for a Free Writing Course by Margie Lawson
This bundle is available only for a limited time via http://www.storybundle.com. It allows easy reading on computers, smartphones, and tablets as well as Kindle and other ereaders via file transfer, email, and other methods. You get multiple DRM-free formats (.epub, .mobi) for all books!
It's also super easy to give the gift of reading with StoryBundle, thanks to our gift cards – which allow you to send someone a code that they can redeem for any future StoryBundle bundle – and timed delivery, which allows you to control exactly when your recipient will get the gift of StoryBundle.
Why StoryBundle? Here are just a few benefits StoryBundle provides.
Get quality reads: We've chosen works from excellent authors to bundle together in one convenient package.
Pay what you want (minimum $5): You decide how much these fantastic books are worth. If you can only spare a little, that's fine! You'll still get access to a batch of exceptional titles.
Support authors who support DRM-free books: StoryBundle is a platform for authors to get exposure for their works, both for the titles featured in the bundle and for the rest of their catalog. Supporting authors who let you read their books on any device you want—restriction free—will show everyone there's nothing wrong with ditching DRM.
Give to worthy causes: Bundle buyers have a chance to donate a portion of their proceeds to Girls Write Now!
Receive extra books: If you beat the bonus price, you'll get the bonus books!
StoryBundle was created to give a platform for independent authors to showcase their work, and a source of quality titles for thirsty readers. StoryBundle works with authors to create bundles of ebooks that can be purchased by readers at their desired price. Before starting StoryBundle, Founder Jason Chen covered technology and software as an editor for Gizmodo.com and Lifehacker.com.
For more information, visit our website at storybundle.com, tweet us at @storybundle and like us on Facebook. For press inquiries, please email press@storybundle.com.